March 21, 2020
COVID-19 Update from Town Hall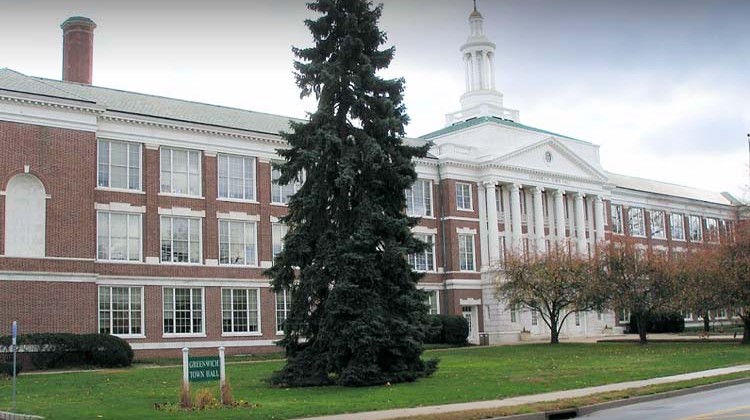 The following was sent to the Greenwich Sentinel from First Selectman Fred Camillo.
Here an update from First Selectman Fred Camillo on the Town's response to the COVID-19 pandemic and the needs of our residents. 
To lead by example for social distancing, we are issuing this announcement electronically. The updates also will be posted on the Town website's dedicated page (www.greenwichct.gov/covid19) for COVID-19 information. 
First Selectman Fred Camillo, in consultation with his emergency management team, has ordered Town Hall closed to all employees, effective at 10 a.m. Monday, March 23, 2020. 
These changes will remain in effect through April 22, in accordance to the order issued by Gov. Ned Lamont. 
All employees are expected to work from home and be available by phone and email during business hours. Department Heads and Supervisors shall provide guidance and responsibilities to employees based on operational needs. Given the unprecedented fluidity of this situation, expectations and operations may change at any time. 
So that employees are able to telecommute which will enable us to provide municipal services to the extent possible, Town Hall will be open to employees only from 7 a.m. to 10 a.m. Monday, March 23, 2020, so they may retrieve the items necessary to be able to telecommute. At 10 a.m., access to the building will be limited to department heads only and Health Department employees.
All Police and Fire sworn personnel, including Public Safety Dispatch, will continue to work their assigned schedules.

 

DPW's Sewer Division will continue to staff its operations, adjusting staff levels to the extent possible, based upon its needs.

 

To help reduce the public exposure to the coronavirus, the Holly Hill Transfer Station will be open. We ask that all users abide by traffic arrangements and staff direction to maintain proper distancing. If you can wait to come to Holly Hill, please do so!

 

The Griffith E. Harris Golf Course will close at the close of business, Sunday, March 22, 2020.

 

The Parks & Recreation Department will continue to staff its operations at Town parks and beaches, and monitor attendance.

 
"As we continue to monitor the growing numbers of those infected with the COVID-19 virus, it is imperative that the Town continue to operate as safely as possible and provide necessary services to our residents. To that end, we are making these temporary adjustments to our operations," First Selectman Camillo said. 
"This is a difficult decision but a necessary one to ensure the health and safety of our employees and our residents," Mr. Camillo said. "I ask our residents to continue with their civility and patience as we navigate these uncharted operational waters. It may take longer than usual for us to respond to each query but be assured we are doing our very best to maintain municipal services." 
The Greenwich Department of Health continues to monitor patients who are at home, investigate patients contacts with follow up as needed, as well as maintain patient public health nursing services to the elderly and homebound. 
Patient caseloads are in flux making it difficult to report exact real time positive cases from the local level, according to Health Director Caroline Baisley. As of Friday March 20, 2020, there were approximately 25 cases reported in Greenwich. 
The Health Department will continue to receive residents' calls and answer concerns on designated phone lines: 203-622 -7865, 203-622-7703, 203-622-7614, 203-622-7842 and 203-622-7836. For more information on limited services during this time please visit the Department of Health's webpage . 
As of Saturday morning, Greenwich Hospital reports their tests have returned 64 positives with nine Greenwich residents testing positive. Fourteen patients are 14 hospitalized. These people come from all over the state as well as Westchester County. As more testing is available, we expect to see more patients test positive. 
Please reach out to your doctor or healthcare facility if you have an upcoming appointment for the latest information on hours of operation and visitor restrictions. Many offices are now offering telemedicine services during this time. 3 
If you think you have COVID-19 symptoms, call your doctor or healthcare facility before visiting. 
If you have questions about COVID-19, call 833-ASK-YNHH (833-275-9644), or check the website: https://www.ynhhs.org/patient-care/covid-19.aspx 
Mr. Camillo also reminds residents to maintain social-distancing of at least six (6) feet and not to congregate in groups of more than five (5) people. There are many reports of groups gathering for pick-up games and athletics in various parks and fields, and gatherings at the beaches. 
Mr. Camillo reiterated, "If there continues to be an issue with groups gathering in the parks and beaches, I will close all of those facilities as well." 
The Police Department reminds residents that if you are experiencing mild symptoms of illness and are not in a high risk group that you contact your personal physician rather than call 911. If you have mild symptoms, do not go to the emergency room before contacting your doctor for direction. If you have any serious symptoms, please do not hesitate to call 911. Please save 911 for real emergencies. 
Other resources for residents: 
For those residents experiencing challenges with food, finances, and living arrangements, please call the Department of Human Services at 203-622-3800.

 

In addition to social distancing protocols, residents are encouraged to review CDC guidelines on preventing the spread of COVID-19.

 

If you experience price gouging, please contact the State Attorney General's Office which has a dedicated phone line and website to collect information: 860-808-5318 or online at https://www.dir.ct.gov/ag/complaint/

 
Tags:
Covid-19
,
Department of Parks and Recreation
,
Department of Public Works
,
Greenwich Fire Dept.
,
greenwich police
,
Greenwich Town Hall