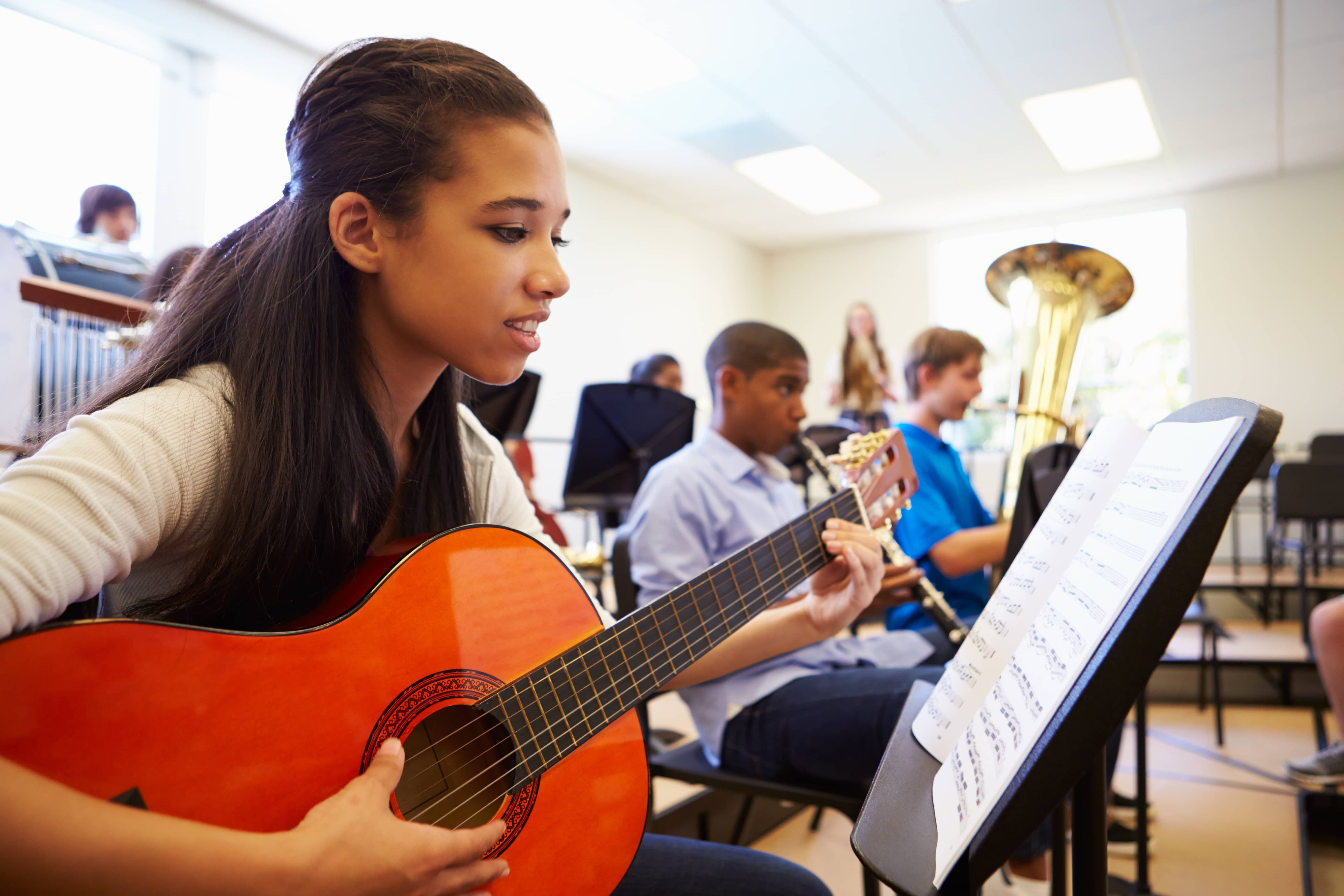 By: Julie Faryniarz
"Music creates access. It is about multi-culturalism and allowing many points of view to come to the table." Laura Newell, Arts Coordinator, Greenwich Public Schools.
In 2006, the Greenwich Alliance for Education ("Alliance"), developed our first program called Tuning In To Music ("TITM"). Joanne Zammit, Alliance founder and TITM founder, said "prioritizing this program was about balancing the situation." At that time, there was a very low participation rate of students living on the western side of town in the high school music ensembles. To participate fully at Greenwich High School, as good musicians, many students took private music lessons outside of the school day to build their musical proficiencies. Our founders established the arts, including music, as an Alliance value and we believe all students should have a chance to enjoy and actively participate in the arts regardless of their socio-economic situation.
The "Ten Lessons the Arts Teaches" (Elliot Eisner, 2002) outlines many important reasons why we value arts education. Here are some of his lessons:
• The arts teach children to make good judgements about qualitative relationships
• The arts teach children that problems can have more than one solution
• The arts celebrate multiple perspectives
• The arts teach children that complex forms of problem solving are seldom fixed, but change with circumstance and opportunity
• The arts help children learn to say what cannot be said
TITM has funded over $700K in free instrumental music lessons for over 800 students who are eligible for free or reduced price lunch in 4th through 12th grades. Students are nominated by their Greenwich Public School music teachers to participate in the program and receive private, semi-private, or orchestra-style lessons, depending on their music level. An annual recital showcases the student's talents for their parents and the community. TITM students must participate in their school's music ensembles and continue to demonstrate a commitment to playing and improving with their instrument.
Ken Kuo, President of CT School of Music, helped design and administers TITM. He believes so strongly in offering this opportunity to students because music is a universal language and no matter the age of the student, it allows them to express themselves. Music education develops discipline, fine motor skills and self esteem. Ken feels that everyone has the right to enjoy music and that it provides the opportunity to unify and play together.
"Music education has been a part of my entire life", shares Laura Newell. "As a first generation American, it was important to my family to preserve the Caribbean culture in our home. Music was something I connected to instantly and brought our family together in so many ways. This connection encouraged me to pursue music as a career. In education, my goal is to highlight the importance of music, either as a performer or consumer, and how your experiences in the music extends beyond the classroom."
I spoke to a parent of one of our former TITM students and he was remembering how magical it was for his daughter to play with TITM in a special collaborative performance with Jazz at Lincoln Center at Lincoln Center. He is sure that she will remember that day for the rest of her life. Other students have played at Carnegie Hall in the Middle School Honors Performance Series (honorsperformance.org)and at Western Regionals and the Strings Festival Orchestra. The Greenwich Symphony has partnered with TITM twice to offer an afternoon of master classes for all of the students.
We are fortunate to live in a community, like Greenwich, where our public schools invest in a strong and varied music and arts curriculum from Pre-K to graduation. The Alliance remains committed to making sure make sure that all of our students, regardless of their socio-economic situation, can access all the benefits this curriculum can offer them.
I have been thrilled by the progress I have seen in my students as a result of the Tuning In To Music program. This program clearly helps students to feel more confident in their playing, fostering a love and enjoyment of music at Western Middle School. From beginners to more advanced players, this program addresses the individual needs of all students. Students report positive experiences from their lessons and are grateful for the extra help. Thank you for all that you do, Tuning In To Music!-Jillian Corey, WMS Orchestra Director
Thank you Tuning In To Music for supporting my students with private lessons! They are all more inspired to practice and their technique and note reading skills have really improved. This has brought my program at school to a significantly higher level. -Lisa Wolfe, Hamilton Avenue Orchestra Director