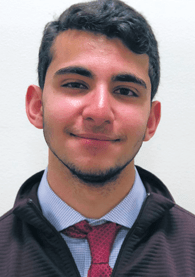 By Zane Khader
I can't wait to go to college.
It's not that I haven't enjoyed all that I've done as a student in the Greenwich Public Schools, but I truly feel as though adolescence has overstayed its welcome. Besides, starting anew is a very satisfying experience; it makes sure you're constantly focused and never complacent with your former reputation—the epitome of the phrase, "You're only as good as your last success." Perhaps this is abnormal, but I'm excited to be able to leave behind the "Zane Khader, Student Body President of Greenwich High School" persona and build an even more distinguished and multifaceted identity in college.
I'd also say I am now at the point where my ambitions have grown beyond my opportunities. In Greenwich Public Schools, we receive a wonderful education that contributes towards the development of a very well-rounded 21st-century citizen of the world. As you might imagine, that sort of globalized thinking might even spark great innovation. And, while GHS offers various opportunities to "feel out" what it means to be an entrepreneur, it isn't entirely reasonable to assume that any student could start and run an actual company if they wanted to for various social, legal, and financial reasons. This is where the dilemma comes into play: a high school student might be educated enough to have a great idea and want to put their entrepreneurial plans in motion, but they either aren't willing to accept all the risks that come with it or don't have the complete knowledge on where to start. This predicament, in which a student is ready to be an innovator but not an entrepreneur, can lead to great dissatisfaction and apathy towards schoolwork. It can even cause the dreaded "senioritis."
Take me, for example. I dedicate several hours a week to innovative thinking, wherein I consciously pay attention to certain successful trends within a particular domain and try to create my own product/service that I think would encompass many successful elements into a final product or service. With this deliberate effort, I have come up with several ideas, like a financial services company that would change the way consumers interact with local businesses, the foundation for a character-focused story based on a fictional medieval Middle East with some technological twists (think: Game of Thrones with more sand and camels), and a product that would combat the rapid spread of coronavirus in a modern, fashionable way. But, with every idea I come up with, my distress at feeling chained to my current obligations grows—it's a constant reminder that I am incapable of pursuing any of them with the resources I currently possess. I can recall several instances where I came home from school and upon being asked by my father, "How was your day?" I simply shrugged and said, "Unfulfilling, but we're getting through it," as though I were in limbo. As I've said, it isn't that I don't find value in what I'm doing, but my perspective on what I could be doing instead has upscaled the scope of my aspirations.
While it is inevitable that young people begin to think beyond high school and into the professional world, the pressure to leave a mark on the world only seems to be accentuated by the seemingly intensifying impact of youth advocates around the world. It's hard not to compare the impacts of Greta Thunberg, a seventeen-year-old who is heading a global youth movement on environmental reform and earned Time's Person of the Year in 2019, or those of Charli D'amelio, a fifteen-year-old from our very own Greenwich who has amassed over 25 million followers on the social media platform TikTok, to my own comparably lack-luster accomplishments and feel a sense of inadequacy. I suppose this draining eagerness to achieve greater things is all part of the notorious adolescent search for identity.
Although there is no particular set of solutions that can solve all of the quandaries I've touched upon, I would be remiss to not share some ideas for what could alleviate certain portions of the ambitious student's dilemma. The expansion of opportunities for students, especially seniors, to engage in real-world problem solving with actual businesses can certainly be beneficial to both students and firms, such as with the creation of a more streamlined system of allowing students the opportunity to graduate early and spend their second semester on a service-based internship or working on an entrepreneurial venture could be a good place to start. Or, in line with some new university programs, a system could be implemented that would allow students the option of performing online or local internships for credit. As the demand for innovation increases, so, too, should the need for an adaptive curriculum that provides students with more opportunities to take innovative risks and engage with real-world businesses.
Zane Khader is a current senior (GHS '20) at Greenwich High School who serves as the school's student body president. For three years prior, Zane served as his grade's class president, and he has been a part of the leadership of more than a dozen different clubs at the high school.