February 4, 2020
GFD Promotes Veteran, Swears-In New Recruit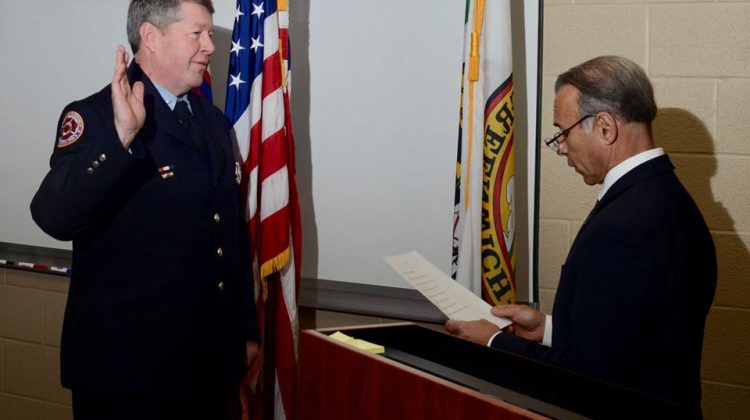 By Richard Kaufman
It was a joyous occasion last week inside the public safety complex on Bruce Place, as the Greenwich Fire Department celebrated the promotion of a decorated firefighter, and the swearing-in of a new recruit.
Mark Dawson, who has been with the department since 1999, was promoted to the Fire Marshal's Division as a fire service inspector. Gary Benson, who comes to town after working as a volunteer firefighter in Stamford, was sworn-in by First Selectman Fred Camillo. This was the first such ceremony for Camillo in his new role as the town's chief elected official and acting fire commissioner.
GFD Chief, Peter Siecienski, welcomed those in attendance to the department. He praised the roughly 40 firefighters at the ceremony for the work they do to keep the town safe.
"We're here to support you in every manner that we can. We're a family in here. You're in an organization that consistently tops the citizen satisfaction survey in the town of Greenwich," Siecienski said to Dawson and Benson. "Our firefighters and officers go the extra mile every day, and they do so to make somebody's day better. I couldn't be more proud of what we do on a daily basis here."
Dawson, a second-generation Greenwich firefighter, was born and raised in town. His father, William H. Dawson, was the Chief of the department in the 1960s and early 70s. Dawson entered the fire service in 1977 as a volunteer at the Sound Beach Station, and served as their District Chief for seven years before being hired in 1999 as a career firefighter.
Dawson has served as an adjunct instructor at the Connecticut Fire Academy. He has experience in search and rescue operations, after joining FEMA's Massachusetts Task Force in 1993 as a rescue specialist, tech search specialist, canine search specialist, chief evaluator and instructor. During his years of service, Dawson has been deployed to events like the Worcester Cold Storage Fire, Ground Zero following 9/11, and a number of hurricane locations.
Before moving out of town to Southbury, Conn., Dawson served on the Greenwich Representative Town Meeting for 14 years.
Siecienski called Dawson's new role "one of the most challenging and responsible jobs that we have in the fire department."
"The enforcement of the life safety codes and standards and public fire education are paramount to the quality of life here in Greenwich," Siecienski added.
Dawson said that he's up to the challenge.
"I'm looking forward to entering my new chapter in my career. When you start out as a volunteer and you work your way up and you become a career firefighter and you're so used to answering alarms, now I'm the guy that's going to be investigating those alarms," he said. "I'm also helping these guys be more safe out there, identifying other problems and those types of things on a daily basis."
Benson was born and raised in Stamford, and graduated from Stamford High School. He comes to Greenwich after having been a volunteer at the Turn of River Fire Department. Several of his former colleagues were in attendance last week for his swearing-in.
Benson is certified as a Firefighter II, Emergency Medical Technician, Fire Service Instructor, and a Fire Officer. He's also a maintenance technician, who is mechanical inclined and skilled in building operations systems — something that Siecienski said will be useful to him out in the field.
"We don't make an investment in our firefighters as a job. This is a career. We have expectations, and our expectations are quite simple. We expect that you're going to continue to develop and continue to perform at the highest level that you possibly can," Siecienski said to Benson. "You're going to be part of the most highly trained and competent fire rescue team in the business. By all accounts, you have the capabilities to excel. We're going to count on that."
Siecienski also spoke to Benson's family, who were seated in the first few rows.
"We're going to provide the best training, the best equipment, the best support and the crews to work with here and keep [Gary] as safe as possible. It's a hazardous position, but we make the best of it," he said.
Benson said becoming a firefighter was a "dream come true", and that he looks forward to serving the town of Greenwich.
After the ceremony concluded, Dawson approached Benson and told him to act like a sponge, and soak up every lesson and experience, as he embarks on his new chapter in fire services.
"[Mark] has years of really invaluable experience. He gave me some invaluable advice," Benson said.
Camillo thanked the department for all they do, and wished Dawson and Benson well.
"On behalf of 63,000 people in Greenwich who go to bed every night safe because of the work you all do, thank you," Camillo said. "The people of the town of Greenwich truly do appreciate you."
Tags:
GFD
,
greenwich
,
greenwich fire department
,
Town of Greenwich