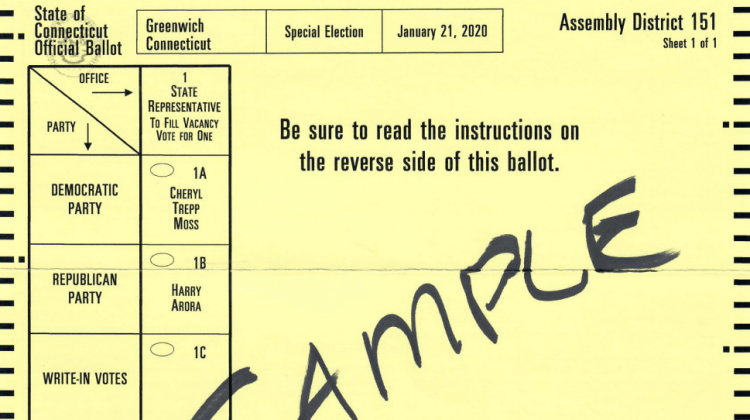 On Tuesday, Jan. 21, a Special Election for the 151st State Assembly District will be held to fill the seat in Connecticut State Legislature vacated by now Selectman Fred Camillo. The candidates are Democrat Cheryl Moss and Republican Harry Arora.
The successful candidate will serve the remainder of Camillo's term. All State House of Representatives' seats in the 149th, 150th, and 151st Districts will be up for election or re-election in November 2020.
This election applies only to residents of the 151st Assembly District. Voters may check to determine if they live in District 151 by checking the State's legislative district map at cga.ct.gov/red2011/Documents/2011MAPHOU/20112011MAP-20111201_District 151.pdf
The Greenwich League of Women Voters has created a Voter's Guide containing important election and poll information, as well as information about the candidates. This Guide is available at the League's website at lwvnet.org/lwv/ct/greenwich/files/voters_guide_2020final2.pdf. Voters may print the Guide and take it into the voting booth with them.
January 14 was the last day to register for this election.
Voters may request applications for Absentee Ballots by visiting the Town Clerk's office at the Town Hall or by calling 203-622-7897 or online. Applications are available in English and Spanish. Completed applications should be delivered in person to the Town Clerk's office at 101 Field Point Rd. Once the application is received by the Town Clerk, she will mail the ballot to the address specified on your application. Ballots must be received by January 21 to count in the election and can be dropped off at the Town Clerk's office or sent in the mail, should be mailed by January 16.
Special Elections and off year elections are often poorly attended by the voters. However, decisions made in these elections will have a significant impact upon the decisions made by the state legislature in the years to come. Voters are urged to participate.