January 15, 2020
Eastern Middle School 8th Graders Present Aida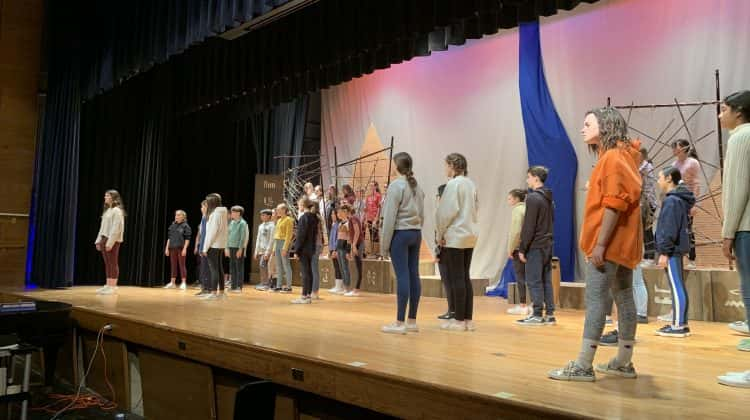 By Richard Kaufman
Since September, Eastern Middle School's eighth grade Show Chorus Class has been working on a production of Aida, the Elton John and Tim Rice musical based on the 19th century Verdi opera of the same name.
It is showtime this week, as the curtains open on Thursday at 4:30 p.m. in the school's Lee Book Auditorium. The show will take place again on Friday, Jan. 17, at 7:30 p.m., and Saturday, Jan. 18, at 3 p.m. Thursday's tickets are $10, and Friday and Saturday's tickets are $20. Tickets are sold online and can be purchased at easternmiddleschool.ludus.com.
The musical features 62 students in total and is directed by EMS music teacher, Matthew Tracey, along with assistant, Jennifer Badillo. Scott Sisbarro, of St. Saviour's School of Dance, provides the choreography.
Tracey said he has enjoyed working with the students this year on the show, which is centered around a tragic love triangle that takes place in ancient Egypt.
"Every year we face new creative challenges depending on the material of the show, and the makeup of the students performing it. This year is no different," he said. "It's been so much fun watching the students discover some of the more subtle aspects of our story, and then having them ask questions on how that relates to their individual characters. Students discussions of the book this year have been phenomenal."
The show is considered to be advanced for the 8th grade age group. Tracey added that the students have embraced the challenge of putting it all together.
"Back in September I was curious if our students could take on the dramatic tone that underscores this show — teenagers and a tragic love-triangle. However, the more we discussed and dissected the roles, the culture, and the history behind our story the more invested they became in wanting to tell it accurately.  I could not be more proud."
In order to prepare for the production, students in the Show Chorus Class had to learn about what life was like in ancient Egypt, the timer period in which the show takes place. The students had to research information on daily life, politics, architecture and even what the food was like.
Eighth grade student, Ben Lawler, plays Radames, captain of the Egyptian Army, who falls in love with, Aida, a captured Nubian woman.
"It's been a lot of work. It's a really big role for me. It's been a really great experience," Lawler said, noting that he wants to pursue acting next year at Greenwich High School. "I enjoy being able to create that character and create your own actions to get enveloped in that character."
Cate Adorney plays Pharaoh Amneris. She credited Tracey with preparing her for one of the lead roles.
"He's been a big help. When I came in, I wasn't very diva-like. He's helped me with my singing, too," she said.
Madeline Phillips, who plays Aida, said it's been a little "overwhelming" being the lead character. "It's taken a lot of preparation," she added. "Aida is a very outspoken leader character, and I feel like that doesn't necessarily always match my personality. It's been fun to get out of my own skin and play this character that's so different than who I am."
The show has brought the 8th grade class closer together, Phillips said. "We've all become friends through the show. It's been good getting to meet other people."
Now finally, after months of preparation, it's time for the curtains to come up.
"I call it the 'puzzle-making process,'" Tracey said. "We rehearse for five months, and oftentimes out of sequence. The most enjoyable aspect for me is watching all of those pieces start to come together in December/January and watching the joy of story-telling take hold of our students."
Aida Synopsis
The Musical opens in the Egyptian Wing of a modern museum, and a man and woman touring the exhibit catch each other's eyes. A statue of the female Pharaoh Amneris (Cate Adorney) comes to life and transports them to ancient Egypt.
There we see Radames (Ben Lawler), captain of the Egyptian Army, and his men returning from an expedition through the land of their long time enemy Nubia.
Radames is captivated by one of the Nubian women captured, Aida (Madeline Phillips). Radames saves Aida and her companions from certain death in the copper mines by sending them to the palace groundskeeper instead. He also ensures that Aida serves as a handmaiden to his betrothed Princess Amneris.
Radames' father, Chief Minister Zoser (Jacob Winston), greets his son with news that the Pharaoh (Zachary Libow) is dying and that Radames must prepare to become the next leader of Egypt. Unbeknownst to Radames, his father is secretly poisoning the Pharaoh in order to accelerate Radames' ascension to the throne.
Radames' Nubian servant, Mereb (Adam Walker), is a young man who has learned the tricks of survival in Egypt.
While delivering Aida to the princess, Mereb recognizes her as the daughter of the Nubian king under whom he had served, and Aida commands him to keep her identity a secret.
Aida is taken by Mereb to the Nubian camp, where she reluctantly submits to her people's pleas to lead them, and when she implores Radames to help the Nubians, he opens his heart by giving his possessions to them and declaring his love for Aida.
Unable to fight her feelings any longer, Aida falls into Radames' embrace. Their bliss is interrupted by news that Radames' armies have captured Amonasro (Greg Bound), King of Nubia and also Aida's father.
Rallying her people, Aida assures them that Nubia will never die.
Meanwhile, Zoser discovers Radames' affair with Aida and warns his son that it could cost him the throne, but Radames no longer shares his father's ambitions.
After an emotional bout with his son, Zoser orders his men to find Aida and kill her.
When Egyptian soldiers arrive at the Nubian camp seeking Aida, another Nubian, Nehebka (Ziyi Yan), sacrifices herself so that the princess can live. Radames informs Aida that he is calling off the wedding but Aida knows that this would ruin her father's planned escape and tells him he must go through with it.
Radames agrees, on the condition that she escapes to freedom on a boat he will provide.
The heartbroken lovers part, but Amneris has overheard their entire conversation and tries to face the fact that her upcoming marriage is a sham.
News of Amonasro's escape disrupts Amneris' wedding. Radames learns the truth of Aida's identity when he arrives at the docks just as she is about to board his boat to escape with her father.
In the ensuing chaos, Mereb is mortally wounded by Zoser, and Radames makes possible Amonasro's escape by cutting the rope tied to the dock, but Aida stays with Radames and a dying Mereb.
Zoser flees, and Radames and Aida are then arrested for treason. At the ensuing trial, Pharaoh announces Zoser's apprehension and sentences both Aida and Radames to be buried alive.
Amneris reprises her role as a future Pharaoh by convincing her father to let the lovers die in the same tomb, an act of mercy for two people she has come to love.
Facing death, Aida looks to Radames for strength.
As they are slowly deprived of light and air, Radames swears he will search through a hundred lifetimes to find her again if he has to.
Back in the contemporary museum, the spirit of Amneris reveals that as she became Pharaoh, "the lovers' deaths gave birth to a reign of peace" between Egypt and Nubia. She watches as the modern man and woman are strangely drawn to each other. They are the reincarnations of Aida and Radames, finding each other in a new beginning.
Tags:
Aida
,
Eastern Middle School
,
EMS
,
greenwich
,
riverside
,
Town of Greenwich