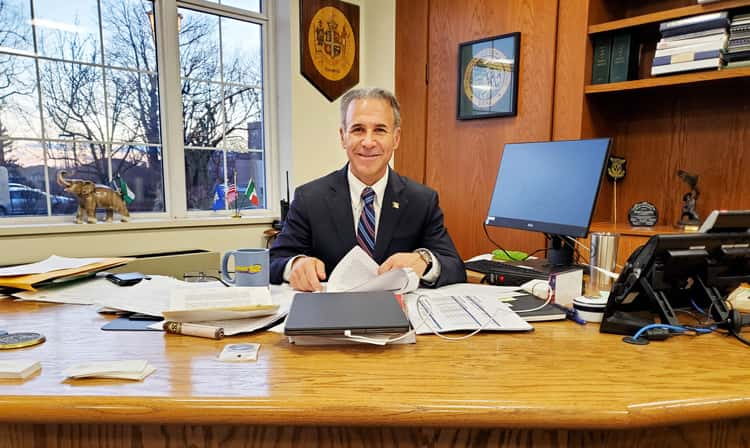 By Paul Silverfarb
You'll have to forgive Fred Camillo. When you stop by his new office on 101 Field Point Road, the shelves are a little bare. His desk is full of papers and the office still has that feel like it hasn't been lived in yet.
That will be addressed over time and when Camillo has a chance to take a deep breath. Around two months into his tenure as the new First Selectman of Greenwich, Camillo feels like a pitcher toeing the rubber on only three days' rest. He is attending countless meetings, on his phone all the time, traveling throughout town to a plethora of events, and just soaking in what a day in the life of the first selectman is like.
And that's music to his ears for the lifelong Greenwich resident.
The chairs in his office are more of a Kansas City Royals baby blue and not his preferred New York Yankees midnight blue. But Camillo, a diehard New York Yankees fan, joked that it's a problem for a different day.
"It's been a whirlwind, this month in particular with the budget, but it's exciting," Camillo said. "I'm really enjoying it. I just wish my dad was around to see it. I learned from my dad that you have to overcome things in life. I saw a lot of tragedy when I was young and my dad still got up and went to work every day. But it's a tribute to every single person that ever helped me get anything."
While he loves the fast-paced atmosphere of his job and having people coming in and out of his office, Camillo said that he gets most of his work done on nights and weekends, taking advantage of a subdued Greenwich Town Hall.
"The emails and text messages build up because during the day I go from one meeting to another," Camillo said. "Roger Pearson, a democrat and former first selectman, lives in Kentucky now and was talking to me on the phone the other day and told me that it took him three months to find his way. It gets overwhelming. He said that you learn how to better manage your time, get to more things, be more efficient. Being a legislature was a great job and I loved it, but it's very different than being the executive of the town. Still have to make decisions, but now you can have a quicker and more immediate impact."
Because of his busy schedule and learning the ropes, the First Selectman's office is looking a little stark. Sure the town, state, and American flags are there, as well as a detailed wall map of the town. Then there's a few keepsakes from his days in Hartford as the State Rep. from the 151st District, a framed quote from legendary NFL head coach Vince Lombardi and a picture of his dad with the words: "pride" and "honesty" on it.
But in the short time that Camillo has occupied the office, his collection is slowly starting to expand.
"There's a ball signed by Aaron Boone that says good luck in the election," Camillo said. "I dropped the puck at the Winter Classic and they gave me that. I also have a new fire hat that the fire department gave me. It's getting there…little by little."
Camillo said that he's currently preparing a budget that will be presented later in the month, implementing the items he ran his election on, restructuring town government, and redoing some of the downtown district. And that downtown district change is something that Camillo, who calls it a 10-year plan, is taking great pride in early in his tenure as First Selection.
"You just can't do it right away," Camillo said. "We're getting started on it this year, but I think it's a decade endeavor. People will start to see, little by little each year, improvements and something tangible. I think they are going to like the change and at the end of the day I think Greenwich is going to be even more attractive place than it already is. To me it's the best town in the nation."
Camillo said that, like his favorite baseball team, he's not going to rest on the town's laurels.
"The Yankees don't just say that they won 27 world championships," Camillo said. "They are always trying to improve their team. We are going to improve our team in Greenwich even more and we are going to do it with the buying in of everybody."
When Camillo says everybody, he truly means it. He wants a complete team effort. Camillo could have had a fellow republican as his first appointment, but it was a democrat, Howard Richman, that was appointed to the Board of Assessment and Appeals. Just like he did when he was a state rep up in Hartford, he also sends out an e-blast every Friday called Community Connections from Fred that keeps the town residents afloat of the happenings at Town Hall.
"As [Fiorello] La Guardia said: 'There's no Republican or Democratic way to pick up the garbage.' So we are going to do that."
In addition, Camillo has made it a priority to have all Board of Selectmen members meet up and stay in constant communication.
"At the end of the day, like Ronald Reagan said: 'A lot gets done if no one cares who gets the credit.' I just want this first term to be very successful," said Camillo.
While Camillo and Selectwomen Laura Rabin, a fellow republican, can meet any time they want, they can't do the same with democratic Selectwomen Jill Oberlander. Camillo has to have a public notice.
"It's really unfair to Jill and it's not helpful to me as First Selectman because I can't avail myself of her skillsets," Camillo said. "So what we did was, in addition to the two monthly Board of Selectman meetings, we have now instituted a weekly Board of Selectmen workshop every Monday morning at 11:30. Anybody can come and it's in my office. We update each other on what we are doing and talk about other things. We invite the public in as well. It's informal and if we have to vote on something, we will put a notice out. It's about an hour long and it's already paying dividends. This is another way of bringing town government to the people."
As the new First Selectman in Greenwich, Camillo said that he knows he will be tested, both from within town hall and beyond. He believes that the key is to be open, assessable, and honest, but also remain firm.
"People need to know that you have a good ear, that you're always going to have a door open for them to come in even if you disagree on things," Camillo said. "While being a gentleman, you can't be a doormat. People have to have respect for you too. They need to know that you mean business but you're always going to be fair and honest."
The schedule has been nonstop for Camillo. But, at just before turning in for the night or during one of those quiet moments when he's alone in town hall at night, the first selectman thinks back to that surreal election night in November when he was voted in as Greenwich's newest leader.
And he still hasn't fully wrapped his head around it.
Because he didn't want to set himself up for disappointment, Camillo said that he never thought about coming home with the election night victory. Then the first batch of results came in that were better than he expected. More results followed suit. Next thing he knew he was driving to the Arch Street Teen Center as the newly elected First Selectman of Greenwich.
But he admitted the night was far from perfect. Mere moments after making it inside the Teen Center, RTC Chair Rich DiPreta said a few short words and then introduced Camillo to the excited crowd in attendance.
"It was crazy," Camillo said. "I didn't formulate my thoughts yet and my body was shutting down because I was up since 4:30 a.m. and I was exhausted to begin with."
Camillo walked down the stairs of the Teen Center, hugged a plethora of people and shook a bunch of hands, stepped on to the stage and looked out at the raucous crowd. It was then that Camillo admitted had a moment he will laugh about for a long time.
"There were a ton of people there and it took me about 30 seconds to get going," Camillo said. "I was fine, but then I looked around, saw the screen next to me and I was on there. News 12 had me speaking. And I kept looking to see if it was live or a delay. I was going back and forth, looking at the screen and the crowd. Then I realized that I can't keep doing that because it looks obnoxious that I'm looking at myself."
After the first selectman-elect finished his thoughts, he looked at the crowd and it was that moment that brought Camillo a great sense of pride.
"Seeing all the happy people there that were friends, family members, and supporters was a great feeling," Camillo said. "I was happier for them because at the end of the day it was the people that you represent, the cause you stand for, and the issues that you run on. When I walk to the gym in the morning or go to the diner or a deli and people come up to me that I don't know, they are happy and talking. They aren't happy to see Fred Camillo. They're happy to see the First Selectman. It's the office and not the person. I get it and I am proud to be the present occupant of the office."
After the excitement of election night calmed down and Camillo was able to take a couple of deep breaths, he had sort of a bittersweet moment. While on cloud nine that the Greenwich native will shortly take office, that meant that he had to take the drive up to the State Capitol in Hartford. Not to represent the 151st District but to clean out his desk and leave the building that he has called his second home for over a decade.
"They become your family away from home," Camillo said. "The last month of session you are with your colleagues all the time, day and night. I'll never forget those 11 years and there are some of the greatest people I've ever met, and they are lifelong friends now. I'll miss it. Walking into that building is special. There's something about it with all that history. We live in a wonderful state and there's a lot of potential. I'll look fondly on it."
While Camillo loves his new office, he insists that it's not really his.
"I tell people that it's not my office. It's the people's office and I love being the present occupier of it, but it's not mine," Camillo stated. "It belongs to everybody and I'll try and keep it clean."
And to say that Camillo isn't humbled by having the opportunity to lead Greenwich would be a massive understatement.
"It still kind of hasn't set in yet," Camillo said. "I'm the First Selectman of my hometown in probably one of the most significant towns in the United States. It's well-known and always has been a leader. Some wonderful people have been born and raised here. Some wonderful people moved here. It has a great history. So to even be mentioned with a lot of these people is a great honor for me."