January 14, 2020
Naturalist Extraordinaire Ted Gilman stepping away from his Audubon Greenwich family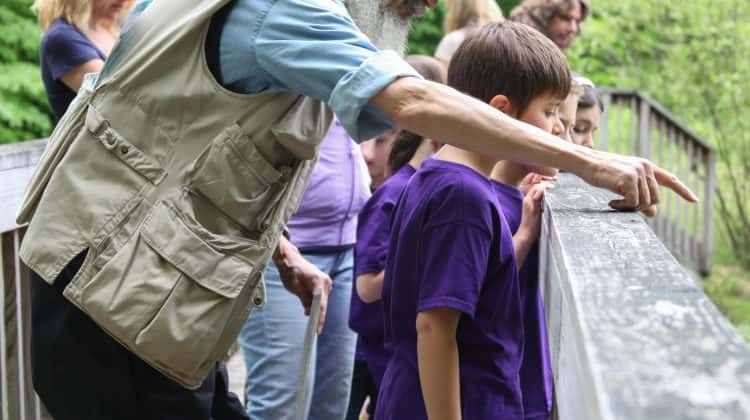 By Anne W. Semmes
Ted Gilman is a walking legend with his John Muir white beard and merry all-seeing eyes, having inspired generations of nature lovers, particularly bird enthusiasts, for nearly half a century. Tomorrow, Audubon Greenwich is celebrating Senior Naturalist and Education Specialist Gilman with an open house at the Audubon Center – he is retiring at the end of January.
Gilman paused in his packing to share some of his memorable "spots of time" over 43 years at the Center (plus three prior summers teaching at Audubon's Hog Island Camp in Maine). It was while teaching at that summer Audubon camp in Maine that Gilman first experienced being in "the Audubon family."
"It is a theme that has continued to this day," says Gilman, of "being in a community of learning, sharing in the wonders of the natural world. Exploring together, learning from one another…be it the instructors or the students, spreading back out to our communities."
Gilman was given a home at the Center for the duration of his years at Audubon, albeit "built before the revolution, in 1746," he shares, with its own natural history. There was the red fox he espied from his kitchen window "drop down the driveway, then pause to let the traffic go by;" finding in the basement " tiny ring neck snakes;" then hearing "in the middle of the night and thinking it was flying squirrels scuffling around in the chimney."
Gilman marveled at the landscape that came with his position. "Being one of the higher hilltops in town, it is a spot where birds will settle in in the morning or stop off." Especially, that "classic spring migration that people enjoy, with warblers and tanagers, and Baltimore orioles. And since we're not so far from Long Island Sound, we get common loons flying over regularly as they are taking off from Long Island Sound, or the ocean, and they're just starting to come up over the land headed north, so they're not very high…and you have the fun of hearing the return of the first Phoebe, the first redwing blackbird, the Louisiana water thrush singing down by the river along Byram Road."
When Gilman wasn't teaching in the Center's various programs or leading bird walks, he would maintain a daily record of birds seen – producing a monthly check list kept on display. Included were sightings by "other observers, be it on walks on their own, or people on one of the early morning bird walks on Saturday mornings."
But it was Gilman's "Natural History Notes" that would memorably end the Audubon Center's monthly newsletter of his "images of the natural goings on in this place," he shares, such as "the booming of the ice when it's changing temperature in the middle of the winter, or the sound of the spring peepers, or the images of hawks flying over in the fall, or katydids calling in the summer." Add an image from a Spring 2007 newsletter: "wide-eyed young gray squirrels taking their first peek out of their natal nest to view the world of tree branches, tree-trunks and forest floor which will soon become their playground as they dash about and explore what it is to be a full-fledged acrobat of the woodland world."
Then there are those wonderment spots of time of children's observations. The Center was hosting a fall staff picnic for members of Audubon New York who had brought their children along. "We had discovered the recent molt of a katydid," shares Gilman. He showed "this bright little four-year-old this empty skin that still showed all the details of the insect it used to be covering. And she wisely said, 'It's an insect ghost!' How much more succinct can you get?"
Another favorite: Gilman is talking "ecology and conservation and such" with a cub scout who offers his understanding that, "conservation is when you realize that something that we're doing hurts the world, and we stop doing that." Read, says Gilman, "Simple basic wisdom."
How many times has Gilman led the way to discovery, but he keeps that aha moment along an Audubon trail when that Audubon member finally finds the Hairy Woodpecker, exclaiming, "Oh yes, I see it now!"
Surely, there have been many aha birding moments on Gilman's early spring morning bird walks in the Audubon Fairchild Garden. "The open, wet meadow area is a wonderful spot to see orioles – they're singing and chasing back and forth, and often the chance to watch a female gathering material for a nest." Those arriving orange and black Baltimore orioles, scarlet tanagers and rose breasted grosbeaks he's tagged "eye candy." "One of the things I tried to get folks to do over the years," he says, "was at the beginning of each walk to have folks just stop and look at the state of the progression of the flowering and then the leafing out of the trees and to link that with the availability of food for the migrating birds."
When Gilman first arrived in Greenwich, he participated in the Christmas Bird Count he calls "one of the longest running citizen science projects in the world." He was out there in the predawn hours, "trying to both call for and just listen and look for owls, to get some sense of their population area." Gilman is known for his extraordinary mimicry of screech owl calls, "to lure them in on night walks." He attributes his mimicry to being able to "whistle moderately well. I was given a mouth that enabled me to roll my r's." He's found mimicry "can be a fun, added element to the teaching," but he cautions that whether its "hooting to an owl, or using an old fashioned tape recorder, or a modern digital device we need to realize it's a double edge tool. It needs to be done with a sense of what impact is it having on the bird."
Gilman cites the annual fall Quaker Ridge Hawk Watch weekend as formidable "Audubon family" bird watching time. "Once children are say up to the age of maybe eight or nine, and can effectively use binoculars, and have the patience to be waiting and watching, then you really do get to see the drama of these large exciting birds of prey. Traditionally, there's been this welcoming atmosphere of, "Wow, come enjoy the spectacle, come be a part of this effort."
The Hawk Watch of September 14, 1986 measures in Gilman's memorable spots of time. He tells it as if yesterday. "We were right in the middle of the peak migration time for the broad-wing hawk, which is our most numerous species. As with an expressway, you can get an accident which clogs things up sometimes for hours. In this case, it was wet rainy weather for several days…But then the weather fully cleared and the winds were right and the clouds were there and so on Sunday, the 14th, it started off pretty strong, and then in the afternoon, the tidal wave of birds came, and we had a total of 30,535 broad-wing hawks."
But, now, as with the hawks, it's time for Gilman to move on. "I've been blessed with good vision and good hearing," he reflects, "and a wonderful team of mentors have guided me, and access to natural areas to experience the natural world." His hope is, "if people have an appreciation of wonder for the natural world, that can inspire them to care for it. So, we need to continue sharing the wonders of the natural world, be it a Baltimore oriole or bumblebees or butterflies or beautiful flowers, whatever it is, to get people to appreciate and value that richness of the natural world. But, building on that, to realize they need to be active stewards and caretakers, not only for themselves, but for the generations to follow."
On Saturday, January 18, from 2 – 6 p.m., the Greenwich Audubon Center will host a special celebration to honor Senior Naturalist and Education Specialist Ted Gilman. In the event of inclement weather, the event will be held on Sunday, January 19 from 2-6 p.m. To RSVP, please contact Caroline Bailey at Caroline.Bailey@audubon.org or call 203-900-3349.