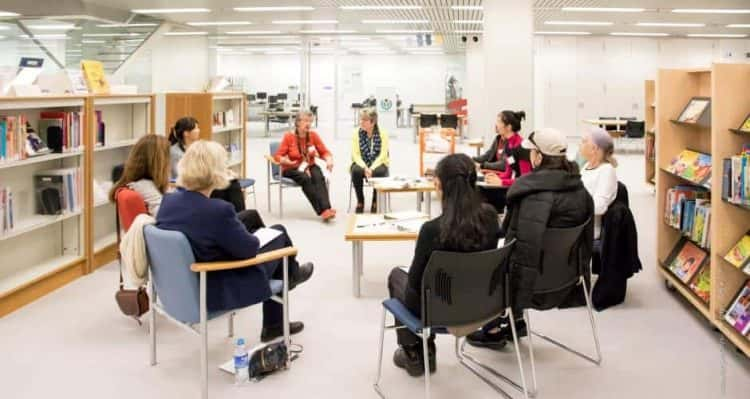 The Friends of the Greenwich Library will continue a new session of 'Time to Talk', a new walk-in conversation series to support area English language learners. The volunteer-led series will be held twice per month at the Byram Shubert Branch Library on Tuesday evenings at 6:30 p.m. starting Jan. 14.
The goal of Time to Talk is to help language learners improve their communication skills, learn more about American culture, and feel more comfortable in their community. Peer to peer conversation offers an opportunity to practice casual language in a less formal environment than a classroom. Volunteers facilitate conversations on everyday topics such as doctor's visits, grocery shopping, and finding housing or work. The series was modeled on a similar program developed by Ferguson Library in Stamford.
"The Friends are very excited to launch this pilot program at last. Together with the Director of the Library, Barbara Ormerod-Glynn, The Friends have aspired to offer an ELL program for many years, but now is the moment the idea will come to life. Our intent is to gradually grow the program and become an important resource for an underserved segment of our community that we are eager to welcome into the Library," said Hilary Martin Lea, Chairman, Friends of the Greenwich Library.
Time to Talk meets two key goals in Greenwich Library's 2018-2022 Strategic Plan: to offer high-quality, culturally rich programs that reflect community needs and interests; and to support contemporary skill development and literacy of all kinds.
This series is open to all and registration is not required. Program dates: Jan. 14, 28; Feb. 11, 25; March 10, 24; April 7, 21; May 5, 19; June 2, 16.
Time to Talk is made possible through the support of the Friends of the Greenwich Library and contributions by generous donors. For more information, contact the Friends Office at 203-622-7938.