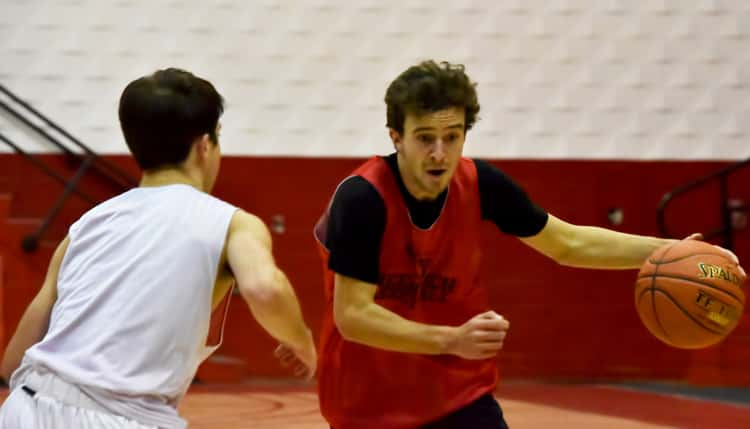 By Paul Silverfarb
While the disappointment of last year is still fresh in the minds of the players and coaches from the Greenwich High School boys' basketball team, they are more than ready to write a new chapter this season.
With its depth, an experienced and highly-talent backcourt, and emerging forwards and center, head coach Chris Lovermi and the rest of the Cards have some lofty expectations.
"We want to try and build something here," Lovermi said. "Last year was a great first step. We are certainly going to miss those seniors that graduated last year, but I think it's a challenge to the boys that we have this year, that we want to take what we did last year and take it to the next level. And that's exactly what it's all about when you're building a program."
Last season with Lovermi in his first year as head coach of GHS, the team finished the regular season 12-8 and earned a No. 14 seed in the CIAC Division II playoffs. But the team was bounced in the first round, falling to Xavier at home 56-48. It capped off a frustrating end of the season for Big Red, as not only did they not go far in the state playoffs, but they missed the FCIAC playoffs by one game.
"We missed the FCIACs by one game and we had an early exit in States, so ever since then we have been pushing the weight room and running non-stop," said senior co-captain Chris Genaro. We can't wait to get back out here and show the league what we are made of."
And it was the Feb. 11 game against Fairfield Warde that still eats at Lovermi and the Cards. Last year at home they fell in double overtime 68-66 in a game that Lovermi believes should have gone in favor of GHS.
"It was a game at home that we lost in double overtime and we probably should have won," Lovermi said. "I think that game still leaves a bad taste in my mouth. It serves us now as motivation. In the FCIAC, your homes are important, and you have to win at home because it's very much a challenge when you're on the road."
Instead of dwelling on the past, the Cards are using the disappointments from last year as motivation for this year.
"Last year is a huge factor," senior co-captain Max Steinman said. "We were all pretty upset over last year because we knew that we could have gone so much farther, both at the FCIAC and state level. We are ready to go this year. A lot of the guys are still pissed off from last year and that just fuels our season."
Although the Cardinals have only been two weeks into the preseason, Lovermi is impressed with the amount of improvement shown by the team.
"We have a lot of new faces and are a little young at spots, but you can see the difference by looking at our first and second scrimmage," said the head coach. "We have really improved. For us, it's all about being better tomorrow than we were today. That's how we are looking at it. I am really pleased so far."
Leading the way this year for GHS will be the senior captains of Genaro and Steinman.
"It feels great to lead this team, "Steinman said. "We have a lot of young guys and there's a lot of leadership to be done, but we have some great depth and there are guys that are pointing stuff out to me. Everyone is taking a role at being a leader. I think we are looking good. I see a lot of hustle out there. We have great coaches that push us during practice and that's a big thing for us to be successful. We have a lot of depth, especially at the guard position."
Lovermi said that while his two captains are dominant on the field at the guard position, it's what they bring to the table between games that sets the team up for success.
"They are both four-year players and three-year varsity players," Lovermi said. "We have a lot of young guys out there and when we get into the middle of the FCIAC season, we are going to need those two seniors and leaders to step up for us. They mean everything to us right now."
With both Genaro and Steinman leading the way, the Greenwich guard play will be one of the team's biggest strengths.
"We can't wait to get the season going," Genaro said. "We had a disappointing ending to our season last year. We lost a significant number of guys to graduation, but we have some new guys coming in and we have experience in the backcourt. Max and I really look forward to pushing these guys and having a great season. I am loving everything that I am seeing so far. The bigs are stepping up and are becoming just as good as what we had last year."
However it's the improvement of the forwards and center that Lovermi hopes will make a big difference.
"We knew coming into the season that we are deep in the backcourt," Lovermi said. "We can go five or six deep. Genaro and Steinman are going to be called upon to do a lot of different things. But what makes it great is that we don't have to solely rely on them. Daniel Lustosa, AJ Barber, Manny Cuellar, and Teddy Hasapis are all going to play big minutes for us. We have depth and versatility at the guard position. We are going to pressure teams and not be tired in the fourth quarter."
Greenwich's biggest question heading into the season is its front court, as they lost. We lost Chris Mark, Oliver Milledge, Gavin Muir, and Brian Ricks last year to graduation. However, Big Red's biggest questions are being answered early this preseason. Matt Pilc, Chason Barber and Mason Muir are stepping up their games and are coming a force under the basket and in the paint.
"We really didn't know what to expect," Lovermi said. "Right now, if they can improve just a little bit every day, they are going to be really tough come February. The three of them are quite athletic and versatile. That's going to help us with a lot of different things on the court and cause problems for our opponents."
"Our athleticism is great this year," Steinman said. "Our guards are great, but our bigs are doing a great job as well. They are young but they are strong and helping us out a lot."
And as always, Greenwich High's success will be because of its defensive play, something that Lovermi consistently stresses to his young flock of Cardinals.
"It's going to be our bread and butter, as it always is," Lovermi said. "We are going to put a lot of pressure on the opposition. We have a lot of expendable parts in the backcourt to apply that pressure. If our big guys can play and contribute, we may have something here."
While Greenwich has the pieces in place to make a run at both the FCIAC and class LL postseason, Lovermi said that the lack of varsity experience is something the team needs to be aware of.
"We need to know how to come out every game at a higher level," Lovermi said. "We need to practice at a higher level and be more consistent in terms of effort. Once we get it going it's not a problem. But getting it going is a little bit of a learning experience. Other than that, it's all about continuing to work hard, work as a team, and work as one unit. Everybody has to accept their role because we are going to have 10 or 12 guys that can play."
And the Cards really don't have a chance to relax this season, as the FCIAC is once again strong. While there might not be a standout team as of the preseason, the FCIAC is full of talented squads that are all going to be fighting for the eight playoff spots.
"There are no days off when you're playing in the FCIAC," Lovermi said. "I say it all the time. On any given day we are playing, it's a battle. It's all about who can keep their head above water. There really isn't that superior team out there and there is a lot of balance. I think there's a spot for us if we continue to improve. We are hoping to be in the FCIAC playoffs this year."
And Genaro certainly has high expectations for his squad as well.
"I would love to win a championship here," Genaro said. "If you're not trying to win a championship, then don't play basketball. We are looking to make a run in the playoffs and our end goal would be to win a championship."