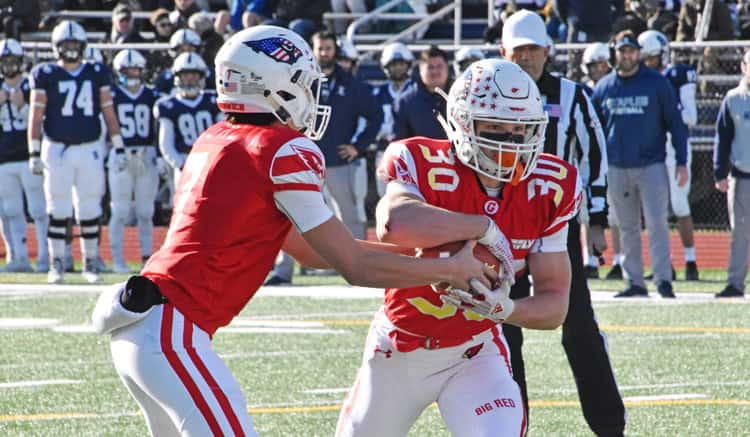 By Paul Silverfarb
The Greenwich High School football team easily turned aside Staples High School during Thursday morning's annual Turkey Day game, winning 38-14.
"This is awesome," said senior captain Edward Iuteri. "This is my favorite time of the year. I get to play football and then have Thanksgiving dinner. Nothing beats it. I think we played great today because we started off fast and had the momentum. Our special teams, offense and defense builds off each other's momentum."
Big Red, who built a 24-0 lead at halftime, was led by AJ Barber, who caught three of the four touchdowns thrown by starting quarterback James Rinello. In addition, Hunter Clark was lights out running the ball and picked up a 35-yard touchdown.
"Right now we are really happy with the win," said GHS head coach Anthony Morello. "We are, for the most part, healthy and just happy to be back in the playoffs. Staples played us tough early on, but we moved the ball the way we wanted to offensively and made a commitment to the running game. It's been a few weeks since I felt like we put together a good four quarter and I think we did that today. We are happy with the result."
With the victory, Greenwich picked up the unlikely scenario for its first round playoff game in the CIAC class LL tournament. With New Canaan stunning Darien 20-0 and Southington winning a thrilling double-overtime contest against Cheshire, the Cards will be on the road Tuesday night and battle the Blue Wave in a rematch of the 2017 class LL championship game.
To read more on the Thanksgiving game, including more stats and interviews with members of the Cardinals, check back at Greenwichsentinel.com