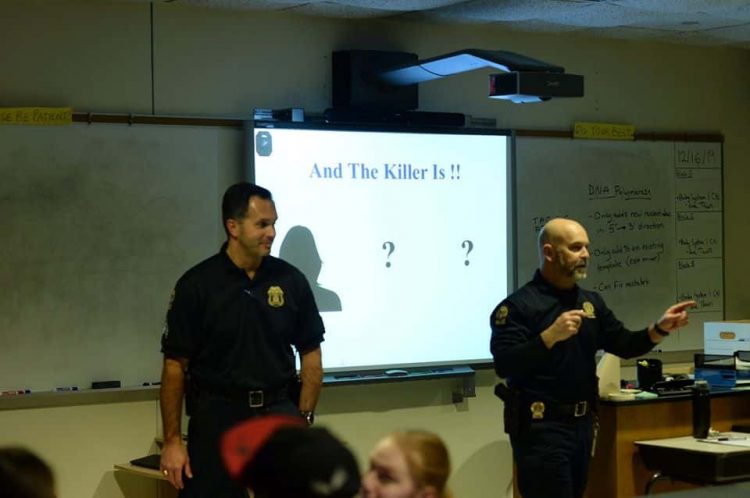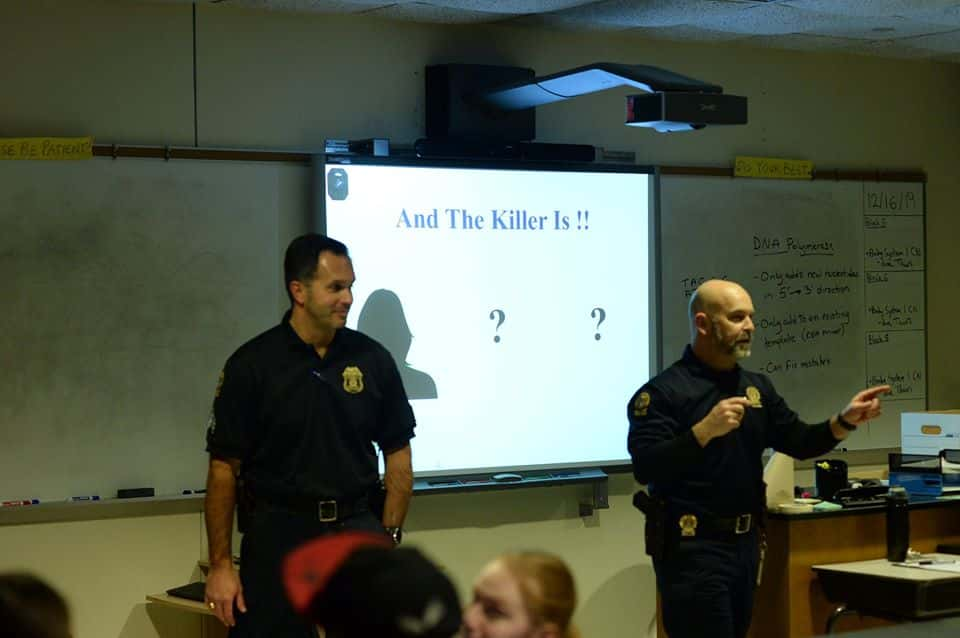 Richard Kaufman
A classroom inside Greenwich High School turned into a working Crime Scene Investigations Unit earlier this week, as students were treated to a visit from two Greenwich detectives.
Det. First Grade Bill Weissauer and Det. Sgt. Pierangelo Corticelli, both a part of the GPD's Forensics Section, first gave a powerpoint presentation to forensics students.
Weissauer and Corticelli shared their experiences and expertise to shed light on how they use forensic science. Both officers are considered to be Forensic Generalists in the field, rather than Forensic Specialists, meaning their knowledge expands across a wide swath of topics within forensics.
"There are so many specialties within forensic science. We have to know about everything. When we process crime scenes, we only have one shot to do it, and we have to decipher what's important and what's not important, filter out the noise, process the scene and get as much evidence as we can," Corticelli told the students, reminding them that they don't have to become sworn officers to pursue a career in forensics. "We go a mile wide but only an inch deep. A forensic specialist goes an inch wide, but a mile deep in their specialty."
The powerpoint featured real life crime scene photos from past Greenwich cases, which have been adjudicated. Students learned how Weissauer and Corticelli process and protect a crime scene, and why grid, line and zone searches are effective for different scenarios. The students also learned about analyzing gunshot wounds, and informational and conditional evidence.
"I wanted the students to see how forensics is used in real life. I make up crime scenes for them to do in class, but I wanted a more authentic experience for them," said forensics and biology teacher, Daniel Bloom, who took part in the GPD's Citizens' Police Academy.
Bloom is also the advisor for the student-led Murder Mystery Club, which Weissauer and Corticelli also visited.
The students, some of whom take forensics classes, were separated into five teams, and they were given details of a fictional crime that they had to solve over the course of an hour.
The crime originally looked like a suicide, but after analyzing crime scene notes, detailed profiles and interviews with three potential suspects, cell phone data and phone records, the students determined that a homicide had taken place, and the correct suspect was arrested.
"It was fun. It was really engaging," said Andrew Alford, a GHS senior, after the activity. "I had to think a lot about it and it made me work. I like puzzles, so I like a good challenge."
The club was formed by seniors Natalie Basile, Julia Marcussen and Cynthia Chen a few years ago.
"I knew we had forensics classes here, but I wanted to do more because they're only semester classes," Basile said. "I thought it was also a fun way to meet people."
Basile has an interest in pursuing a career in forensics in the future.
"I really like psychology, and I really like science. I think forensics is kind of just a really good meld of the two," she said.
For Weissauer, he enjoyed seeing the excitement and engagement from the students.
"You get into the routine of the mundane, and you forget what excites you about your job. When you do this, it reminds you of why you do your job a little bit. You see the excitement from them, then you get into it," he said.
Weissauer said he hoped his visit would really show the students what the GPD Forensics Section does, and how it's different from what they might see on television.
"And to ground them into the fact that there's a real person involved in these crimes, and these are the things that go on sometimes," he added.
The GPD offers general internships to both high school and college students, who can spend time working in each section within the department. For more information, contact the GPD at 203-622-8000.