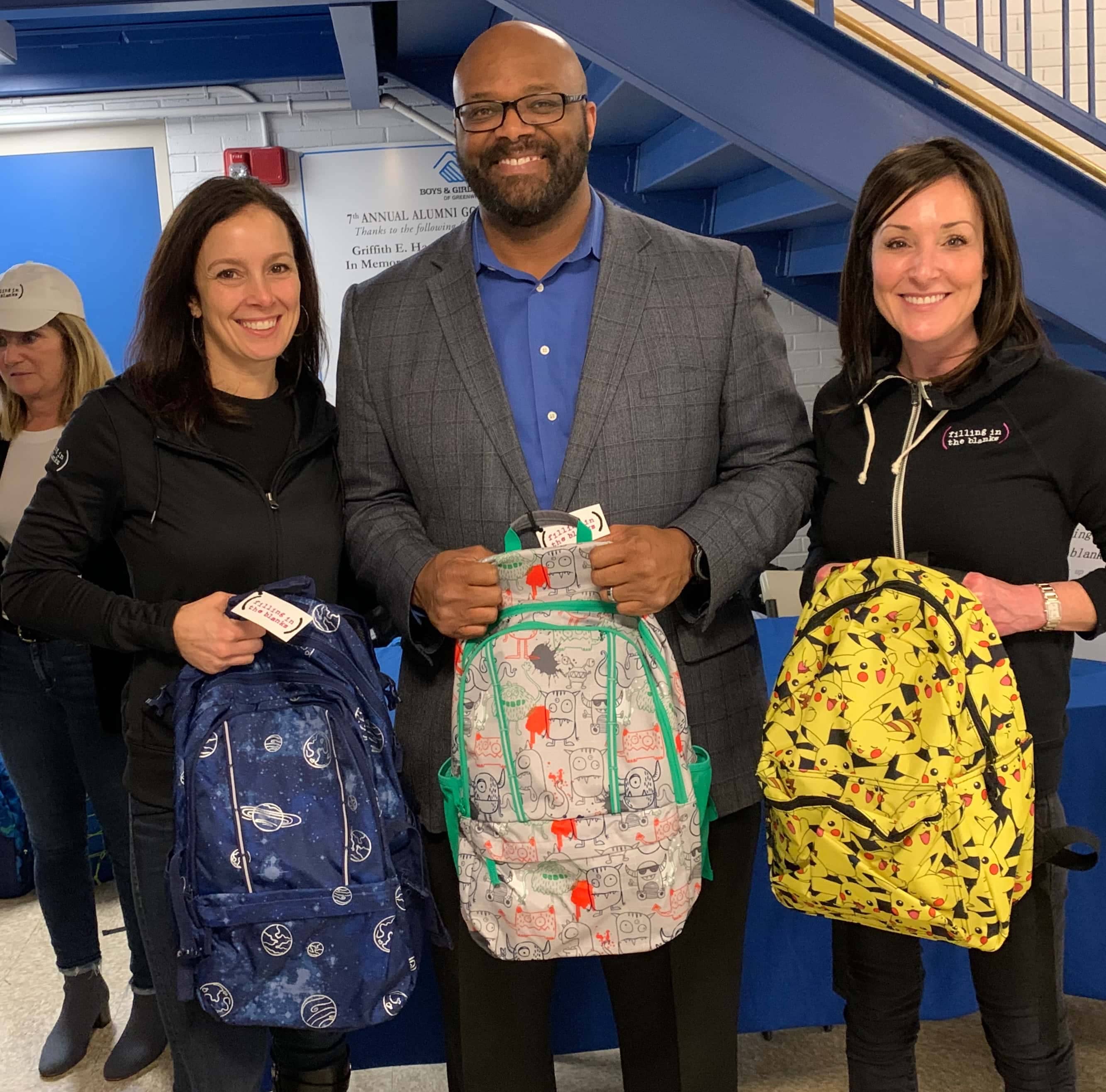 It's the season of giving, and one local organization is doing its part to help those in need.
On Tuesday at the Boys and Girls Club of Greenwich (BGCG), members from Filling in the Blanks, a nonprofit organization based in nearby Norwalk that aims to fight childhood hunger, passed out over 100 backpacks filled with special items for the holidays to Club Kids who are a part of the Filling in the Blanks program.
Those in the program meet the criteria for free and reduced lunch. Each child received a brand new backpack filled with a new toy, book, gloves, hat and pancake mix/syrup as a fun item to take home and make with their family.
"This is a really nice event for all of our volunteers, and especially for us when we get to hand out the bags to the kids," said Filling in the Blanks co-founder, Shawnee Knight. Volunteers collect items throughout the year, and assemble the backpacks in Norwalk.
"It's really special to us," added co-founder Tina Kramer, on the holiday backpack giveaway. "We always say we can't imagine what it would be like for our kids not to have these things. It's very important for us to give back to our communities. It's a really good feeling."
Knight and Kramer, both mothers, started the organization in 2013 as a way to marry their love of community, children, food and charity, not just during the holidays, but year round.
Children who are a part of the program, from preschool through high school, are able to take home pre-packaged weekend meals every week, even in the summer. Most of these children get breakfast and lunch from school every weekday, but would go hungry over the weekends if not for the meals.
Since Filling in the Blanks began, 130,000 weekend meals have been delivered to children in low-income households, and the program has expanded to roughly 30 schools (four of which are in Greenwich) throughout Fairfield and Westchester Counties, and various camps, clubs and community centers.
The partnership with the BGCG began about a year ago after a donor put forth money that allowed the club to be recipients. Club CEO, Bobby Walker Jr., said the impact on needy families has been tremendous.
"The program here has grown by leaps and bounds. The most important thing is that there are a lot of families who get exactly what they need for their kids with food on the weekends. I had a mother tell me, 'Bobby, this is a game-changer for our family.' It's one less thing for her to worry about. As she's trying to figure out her family's finances, she knows that with this partnership that her girls are going to be taken care of," Walker said. "I talked to another mother who said this is the greatest thing for her family, because her young son has food for the weekend and she can worry about her older kids."
Walker added that he's hoping to see the partnership grow, as more families sign up and get involved.
"Our kids are the direct beneficiaries of this," Walker said. "We couldn't be any happier."
For more information on Filling in the Blanks and how to donate or volunteer, go to fillingintheblanks.org. For more information on how to join the program at the BGCG, go to bgcg.org or call the Club at (203) 869-3224.