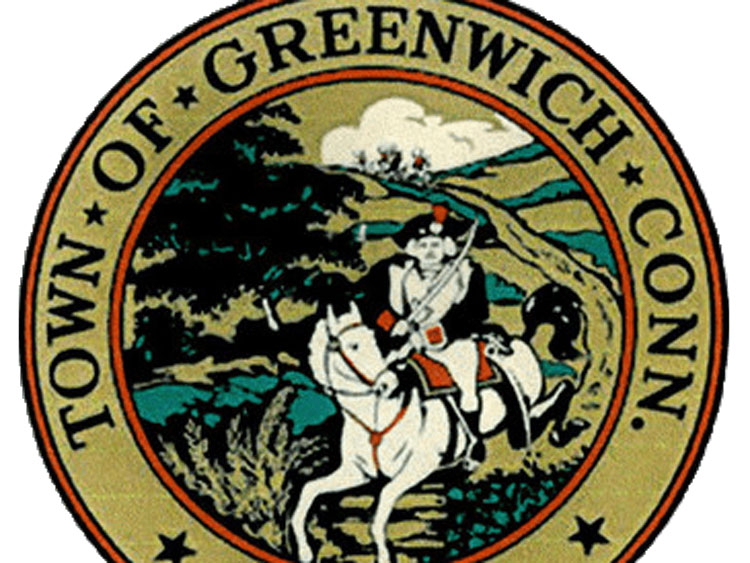 By Richard Kaufman
Greenwich Sentinel Reporter
On a cold, snowy Sunday evening, the newest Board of Selectmen for the Town of Greenwich was sworn-in in front of a large crowd at the Boys and Girls Club of Greenwich.
First Selectman Fred Camillo, and Selectwomen Lauren Rabin and Jill Oberlander, each took the oath of office, officially signifying the beginning of a new era in town. The ceremony was also historic, as this is the first time since 1923 that a newly-elected board does not have an incumbent from previous years.
Along with the community, several past and present Greenwich elected officials were in attendance. Camillo's longtime friend and former colleague in Hartford, Scott Frantz, was the master of ceremonies.
Camillo is now the first person in Greenwich history who has served as a member of the state legislature, Representative Town Meeting, and now first selectman. 
Standing in the same building where he played as a child, the Boys and Girls Club, then called the Greenwich Boys' Club, Camillo reflected on his family history in public service, and his thoughts on the future with his colleagues, Rabin and Oberlander.
"I never would've thought back then as a young boy that I'd be standing here getting sworn-in as the 10th First Selectman of the modern era for Greenwich, Conn., and following the footsteps of my forebearers and the trails that they blazed," Camillo said.
Camillo's grandfather, Robert, was one of the first members of Greenwich's RTM in 1933, representing Chickahominy. Al Morano, a cousin of Camillo's who also served on the RTM, became the first Italian American Congressman from Connecticut. 
"Public service meant a lot to them," Camillo added. "Everything is about public service; that's what they stood for, and when I look at Lauren and Jill, I know they stand for the same thing."
Although Greenwich has two tough years ahead, Camillo said, with regards to budgeting and other issues, hard decisions will be made with teamwork and collaboration. 
On the campaign trail, Camillo stressed the importance of utilizing Public/Private Partnerships, or P-Three, to get projects done in town. But on Sunday, he said he's asking the community for a different kind of P-Three.
"We're going to ask for Patience, Prayers and Participation. We're asking that of you because without that, we won't succeed. We're just servants of all of you," Camillo added. "It's going to be hard work, but as President Theodore Roosevelt said, 'The best prize that life offers is the chance to work hard at work worth doing.'"
Camillo also thanked and praised now former First Selectman, Peter Tesei, for his years of service to the town. Tesei became the youngest member of the RTM at the age of 18, and has spent nearly his entire adult life serving the town. He served a record six terms as Greenwich's chief elected official before stepping aside this election.
"Thank you for all you've done," said Camillo
Oberlander, who ran against Camillo for first selectman, is in the minority on the board as a democrat. She called it "an honor" to represent the people of Greenwich, and thanked the public for placing their trust in her.
"The most important roles in my life have been as a mother and as a daughter. But the most important lessons I learned were from my parents; namely, get up everyday, work hard, do your best, be honest, kind and generous to others. Some days you'll succeed, and you'll fall short, but either way, you get up the next day and try again," Oberlander said. "That's what I will do as your elected representative on the Board of Selectmen."
Rabin, who was Camillo's running mate, also spoke briefly after getting sworn-in and said she hopes that every town employee, and all the members of various boards and commissions can accomplish success together.
"We are going to continue the great work of all the selectmen and selectwomen that went before us, and serve our community and meet your expectations," she said. "I'm so honored to be standing on this stage; it's a privilege that I don't take for granted. I'm going to work hard day-in and day-out over the next two years."
Greenwich residents, Gov. Ned Lamont, and Congressman Jim Himes, were also at the ceremony.
Lamont, who worked with Camillo in the State legislature for the past year, is a former Selectman in town, and he spoke briefly and congratulated the newly elected board.
"It's hard work being in public office. I want you to respect each and every one of the hard decisions that these folks have got to make," Lamont said to the crowd.
According to the town website, the newly-elected Board of Selectmen will have its first official meeting on Thursday, Dec. 12 at 10 a.m., in the Town Hall Meeting Room.
For a more expanded story, be sure to check out this week's Greenwich Sentinel.