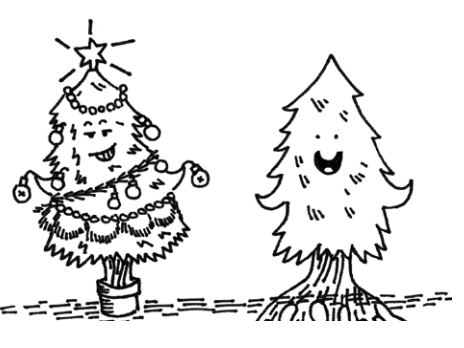 A Christmas tree is glittery and beautiful, and unaware that it has been cut off just above the roots. Similarly, we humans enjoy decorating ourselves with clothing, social status, accomplishments, and possessions. It is good to enjoy these things. Just remember that they are decorations. They are not our real substance.
Friendship, family, faith, and service to others—these are substance, not decoration. They are the roots that help us flourish. They provide meaning, connection, and purpose.
Fashions and fame, like decorated Christmas trees, are only with us for a season. People of substance, like healthy trees, grow for many years and give shelter and shade to others.
Alyssa refers to friends who remind her of Christmas trees as "shiny people." These are people she can't get close to because they are intent on impressing her with their beautiful lives. She decided for herself to focus on being a blessing to her friends instead of impressing them. As she did so, the roots of her confidence and well-being grew deeper..
This is an excerpt from The Waterwheel by local author, Jill Woolworth, available through Amazon. Alternatively, we encourage you to shop locally where it is also available at Diane's Books or Dogwood Books and Gifts).