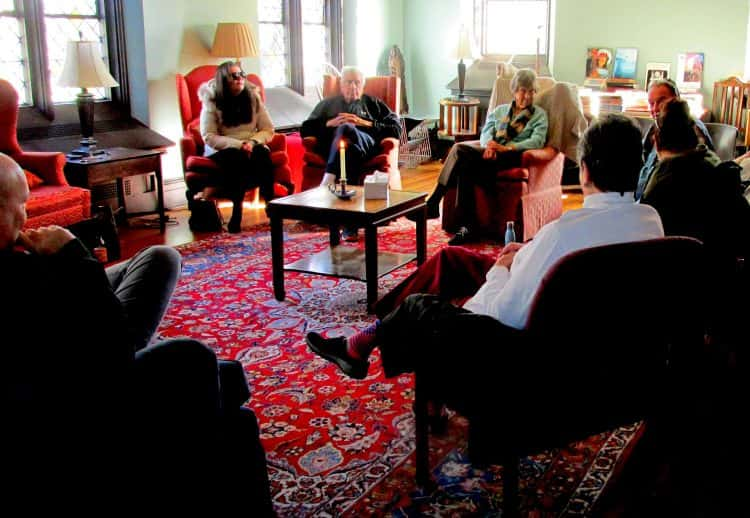 … Where Often is Heard the Encouraging Word
By Anne W. Semmes
Each Wednesday noon they trickle in to a room of books and glittering stained glass windows tucked into the Christ Church Greenwich Parish House. They come for an hour and a half of support from their peers for their life challenges. There to give them insight, for free, are Dr. John Tamerin, psychiatrist, and Mary Cattan, pastoral psychotherapist, and when the candle is lit, the conversations begin.
"So, how's your week been," says Cattan to the gentleman Jim, on the couch. Jim reports progress on making a new life for himself, with plans to end that non-working relationship, to sell his house, and possibly move to another town. Across the room, Jennifer gives him a big smile. The week before she had challenged Jim with, "Don't come back here until you stand up for yourself."
Nearby, Serina is aglow with how well her mom is dealing with her dialysis after dealing with cancer. Serina had earlier shared rescuing her mother after she fell, by calling 911, how she feels "equipped to handle emergencies." Serena, herself, in her early 50's, was "rescued" by her parents from a mental institution, and was experiencing a more accepting mother. Dr. T. as Tamerin is called, says she's "come a long way" from at first being at odds with her parents. "So, how do you feel about yourself now?" he asks. She answers, "I am feeling dignity, honor and gratitude."
Martha, who's attended the group since her husband's death four years ago, reaches out to nearby Jane for news of her alcoholic daughter-in-crisis. "So, how did things go?" Dr. T had suggested to Jane she take Mark – one of the group's success stories with his recovery from major depression – with her on her next visit to her daughter for encouragement for her daughter to get help with her drinking. "The visit went well and Mark was great to give his time," Jane shares. But she reported no change with her daughter seeking help. "You did what you could," says Dr. T. who often advises taking action.
Dr. T. is better known for hosting a Friday afternoon support group for decades for those with bipolar and depression in his backcountry home, also for free. But he saw the need for another kind of support group with "integrated psychological and spiritual elements to address the emotional pain that so many people feel but which often leaves them feeling isolated or perhaps embarrassed to discuss openly and comfortably with others." He knocked on Christ Church Greenwich's door where Mary Cattan served as Spiritual Director, and the group was created three and a half years ago.
"John is a spiritual person," says Cattan. So, in the group, "Spirituality is welcomed, but not pushed." And with Cattan came the candle she lights to kick off the meeting. "We're in this human experience together, all the way – we're shedding light on ourselves. We need our masks in the world but we also need a place to take off our masks for who we are underneath, a place where we can share the tender parts of ourselves, the things we're concerned about."
Jennifer is divorced and in a new relationship after 14 years and has been with the group since its inception. "Instead of talking with a girlfriend I get different people's reactions and points of view. If they all say the same thing, that helps. Dr. T brings everyone into the discussion. You talk about things you never thought about…that you're dealing with. I shared my dog dying. I was coming to the group crying, hysterically." Jennifer "loves the spiritual aspect" of the group.
Jim, who has a bit of a drive to attend the group, has been coming for a year, but early on in his life had benefitted from Dr. T's counsel. He cites the "great diversity" in the group. "There are people excelling and people struggling. Dr. T. has given all of us a place to be humans." He adds, "There are a lot of robotic people going around on autopilot, not sharing their life." He's thankful the group is gratis "I don't have the funds to pay for individual therapy sessions."
"I call it life support," is how Martha describes the group during a visit at her Greenwich condominium. The newly widowed Martha had received "phenomenal support" from the group, especially from that "young man in the financial world. He offered to go for a walk with me. He gave me emotional and physical help." Martha also has an adult daughter with special needs. She gets help "drawing the line" with her daughter's behavior," and support for "taking care of self."
Martha voiced praise of Mark's support on the fourth anniversary of her husband's death. Out for lunch with her daughter at her daughter's favorite diner, Mark arrived with her daughter's "favorite sandwich."
"I'm the reach out ambassador," Mark offered to this reporter at the last group meeting. Mark readily shares how both Dr. T's Friday group and the Wednesday support group saved his life." He now spends much of his time (when not as Uber driver) working with/for people with emotional needs. He sees the Wednesday Support Group offering a "commonality of the human struggle." "At first it was called the pain group," he says, but with joys often shared, that name was dropped. His elected name he says with a smile is "Friends of Martha group," for Martha's warm welcoming of newcomers.
Mark has learned, "If you come into the group, lead by example – show people how to share, that crying is courageous. That's what Dr. T wants to tease out of people. You need to share your vulnerability. People who open up soon realize they belong."
Cattan cites the group size as varying from half a dozen to 16 or 17 at most. "Their ages are from 18 to 80. People come and go," she says, but, "People get more out of it if they stay with it. They come with life issues, people preparing to die." Martha told of a woman in her 80's ill with cancer, brought by her daughters to the group, being asked by Dr. T. to share her "phenomenal story." At her death the group attended her funeral.
"People are lonely in this world," Cattan tells. "They are lonely locked inside their houses, locked inside their hearts."
Dr. T. called the group an "outpost. "There's a need for other churches and synagogues to have similar support groups," he says. "People feel isolated. They need peer support. People don't come to enhance their ego. To me that's spiritual. I feel it's a very spiritual place."
Reporter's note: Some names and details have been changed to protect identities.
For more information on the Wednesday Support Group call Mary Cattan at 203-862-9161.