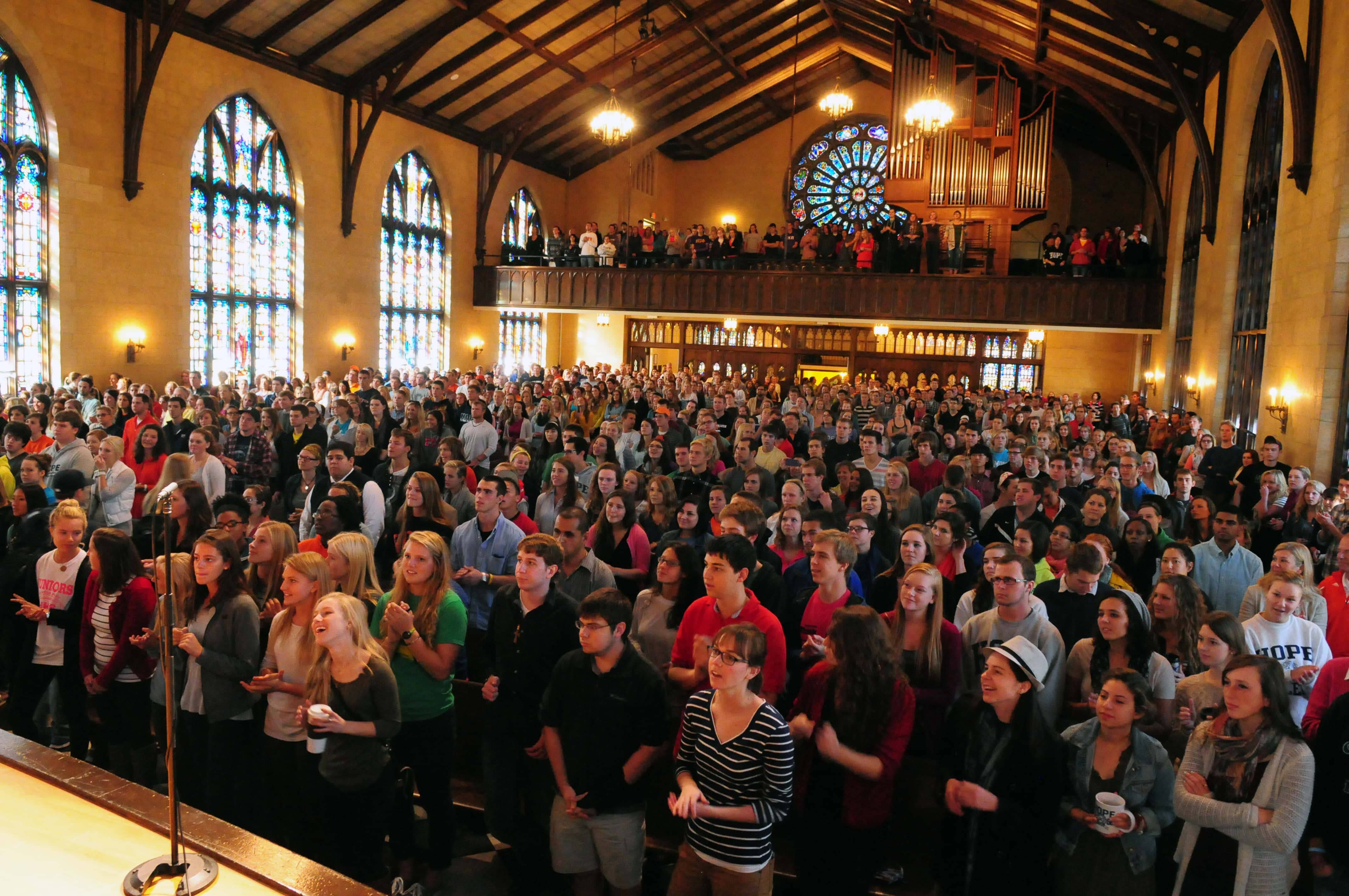 By Rev. Dr. Nathan Hart
People do strange things when they're anxious. The recent college admissions scandal has proven this to be true. The level of anxiety about getting our kids into the "best school" is so high that we'll do almost anything to make it happen, even break the law or spend illogical amounts of money.
I recently asked a high school junior how her college search was going. She replied, "My parents are freaking out but I'm trying to be chill about it."
Her experience is unique only because she's still "chill about it"—at least for now. According to the National Institutes of Health, one third of American teenagers are diagnosed with anxiety disorders. This startling figure has risen by twenty percent in the last five years alone.
What caused this anxiety epidemic and the strange behaviors resulting from it? It may be that we are seeing early signs of what historians call "societal collapse." Societal collapse occurs like a slow-moving earthquake as the cultural bedrock, made up of local communities—churches, synagogues, social clubs, and even neighborhood friendships—begins to fracture along fault lines. Sooner or later, the earthquake causes a tsunami of society-wide division and distrust. Newly isolated, we each turn our lonely eyes to the shiny electronic devices in our hands in a vain search for connection, but our souls are left feeling like anchorless ships.
Some local communities are still intact. In these groups, young people feel cherished, loved, and affirmed for who they are at an early age. At our church, for example, when a child is baptized or dedicated, the pastor walks up the aisle, holding the child, and invites the adults to play an active role in supporting and surrounding the family in the years ahead. If the congregation truly responds to this invitation, children are brought up knowing there is a place for them in this world.
A child who grows up without such a caring community learns that he or she must fight for survival in some kind of socially Darwinist wasteland. While getting into the best college may appear to be a solution to their understandable anxieties, it often only exacerbates them.
But there is hope. Some families are re-prioritizing their schedules around more holistic goals for their kids. They're realizing that success is ultimately unfulfilling if it is not accompanied by authentic connection and meaningful mission. Small, religiously affiliated liberal arts colleges, which are often less stressful to get into, offer these things. In my own story, I went to Hope College, a four-year liberal arts college in Michigan.
Hope College is a place that combines premier academic excellence with a deeply anchored faith community. It offers access to faculty, including collaborative research opportunities not possible in larger schools, and produces a nationally impressive rate of future PhDs and MDs. But its greatest asset is not even its academics. Hope's chapel services, which students voluntarily attend, are standing-room-only events with relevant talks and music led by the students themselves. Can you imagine thousands of college students willingly packing themselves into a gothic-style chapel four times a week? To this day, every time I visit a Hope chapel service, I am moved to tears. The students are bright, motivated, and more importantly, emotionally and spiritually whole. My four years as a student there were not only academically informative, they were spiritually transformative. In many ways, Hope College made me the person I am today.
You might read about a place like Hope College and think, "Sounds nice, but for our family, we're aiming for a more prestigious brand name school." Well, after I graduated from Hope College, I went on to earn a Masters from Princeton Theological Seminary, and my good friend Matt Scogin went on to Harvard Kennedy School of Government. Matt and I both believe that our transformative years at Hope College holistically prepared us to navigate the unique challenges of life at those "brand name" schools and beyond. In fact, after an illustrious and varied career on Wall Street and in high governmental positions, Matt returned this year to lead Hope College as its new President.
At its founding in 1866, Hope College was named after a verse in the Bible that says, "We have this hope as an anchor for the soul, firm and secure." (Hebrews 6:19)
There aren't many places like Hope College that offer secure anchors for anxious souls, but they do exist.
For your teenagers, and for all of society, put one or two of them on your list of schools to visit or support. And if you're in a stage where there are no young people in your life, consider joining (or re-joining) a local community where your presence and friendship can offer hope to the next generation.