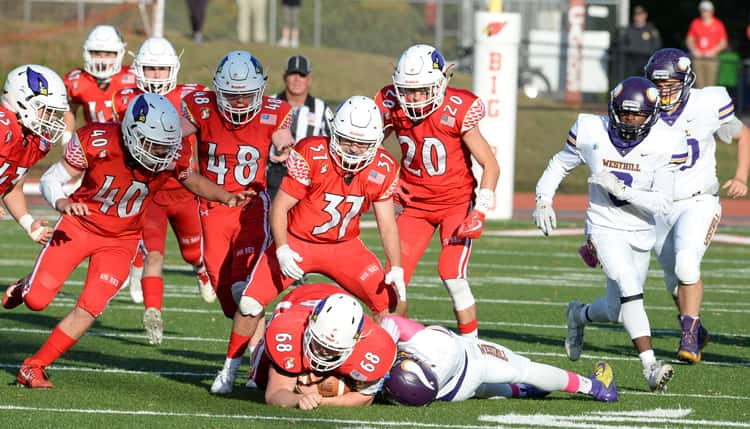 By Paul Silverfarb
The Greenwich High School football team certainly gave its hometown fans and a packed Cardinal Stadium something to cheer about Saturday afternoon. Scoring early and often, the Cardinals had a homecoming to remember and blasted Westhill High School 50-6.
"It meant a great deal for us to win on homecoming," GHS head coach Anthony Morello said. "It's an exciting time. For the kids to have success on homecoming was wonderful. It was a great day overall."
While winning during homecoming was a great feeling for Morello and the rest of Big Red, they know that they have little time for celebration as the highly anticipated showdown with Darien High School is up next. However, the top priority on homecoming was to take care of the Vikings.
It was a complete team effort for the Cards, as seven different people found the end zone against Westhill on Saturday. On the ground, quarterback James Rinello connected on a 26-yard touchdown run. Not to be outdone was James Babb, who ran for a 3-yard score, and Jonathan Alexandre connected on a 2-yard touchdown.
The receivers for Big Red were also coming up with the big play against the Vikings. Daniel Perez got things going for Greenwich and opened the scoring by connecting on a 74-yard touchdown pass from Rinello. Also coming up bug was A.J. Barber, as he found the end zone on a 39-yard completion from Rinello. Matthew Pilc got into the scoring scene with a 13-yard reception for the score.
Rinello finished the day going 5-for-5 for 140 yards and threw no interceptions.
"James has completely exceeded expectations to this point," Morello said. "He has taken the bull by the horns and is running with it. His completion rate is over 70%, he's getting first downs and is being a total leader, both on and off the field."
And, if that wasn't good enough, Hunter Clark grabbed the Westhill punt at the Greenwich 37 and darted down the field for a touchdown, giving GHS a quick 14-0 lead.
A big difference in Saturday's game was the way that Greenwich dominated in the first quarter. In the past few contests, Big Red was slow out of the gate. That wasn't the case against the Vikings, as the Cards threw 34 points on the board in the opening quarter.
"That was encouraging because we have had some slow starts offensively this year," Morello said. "A lot of that has been credited to teams that we played. Some teams have thrown curveballs at us in the first quarter by showing us looks that we haven't seen before. Fortunately for us, Westhill came out in a look that we were prepared for and the kids were coached up for. We executed just like we did in practice and that was great to see. Any time you can get turnovers defensively is a spark to the team."
An added bonus for Morello was that the Cards were able to spread the ball around during the game, both with their starters and a mix of starters and backups.
"We gave people like Cage Lasley first and second quarter reps at the quarterback position with the starting wide receivers and that was great," Morello said. "You never know what's going to happen down the road and you want to have as many guys ready for game-time experience as possible because injuries and things that are out of your control happen. You can't go stagnant and fall on your face. You want that experience and reps just in case."
Although this was Morello's first homecoming as the team's head coach, he didn't feel any difference than from years past.
"I've been to over a dozen homecomings in a lot of different ways," Morello said. "To be honest, it felt pretty normal and like just another homecoming. There wasn't more pressure on my end and it was nice seeing former players and kids that I coached."
And, in all honesty, that's statement isn't entirely true. As the person in charge of leading the football program, there's a lot more responsibility and more planning for homecoming. But Morello gladly took it all in stride.
"As an assistant coach, I always loved homecoming," Morello said. "The time at school was great and those extracurricular activities that would go on during homecoming week and that's actually changed when I became a head coach. Having to be in control of the homecoming events added a bit of stress to it. But, honestly, the kids were amazing. If you weren't working in the school, you would have not known it was homecoming week based on the kids and how they practiced. We had a great week of practice and it showed during the game."
While homecoming could be a distraction for some teams, Morello made sure that wasn't the case at GHS. Morello reached out to a lot of recent graduates to help the current flock of Cardinals better prepare for the homecoming atmosphere.
"The alumni stopped by before the game and talked to the players and pumped them up," Morello said. "They reminded the team the importance of homecoming and I felt that the added motivation from past players and friends helped provide that jolt. A lot of alumni were in the locker room before the game and they walked up with the players to the stadium before the game started."
With the victory, Greenwich upped its overall record to 5-0 on the season. But now things are going to get a little tougher for Big Red. On Oct. 26, perennial powers Darien High School will travel down to Cardinal Stadium for what has been billed as the game to see throughout the Nutmeg State.
"It's exciting," Morello said. "Darien is a good football program. They have a great coaching staff and have excellent family support. They bring the whole town with them on the road. We are looking forward to playing them and it should be a good day."
It's the first time since 2017 that these two FCIAC powerhouses will face off. The last time these two schools saw each other was on a snowy field at Stamford High School when the Blue Wave outlasted GHS in the CIAC class LL championship game 31-22.
Morello knows a little something about Darien. Moving up through the coaching ranks, Morello was an assistant on Rob Trifone's Blue Wave coaching staff and has nothing but respect for the team.
"He gave me my start at coaching back in 2010," Morello said. "I spent a year with him coaching freshmen, but I would go to all the varsity games. He sent me to a scouting trip that year. I learned how he communicated to parents through email and how he held kids accountable during practice. There were a lot of valuable lessons that Coach Trifone taught me."
While Morello respects Trifone and Darien, that doesn't mean he won't be fired up and ready to fight to keep Big Red's undefeated season intact.
"We need to execute in all facets of the game and don't need to do anything crazy," Morello said. "We just need to play as mistake-free as we can. We need to limit the big plays defensively and keep our defense fresh. Offensively, we want to move the ball fast but not be in a hurry. We can't turn the ball over, and for the most part we have been really good at not picking up penalties. It's still just week six of the regular season and is just the next game on the schedule. It's going to be built up big time, but it needs to be blocked out and just focus on the game and each other. I am super excited and the kids are as well. They are confident."
The Cards are quite motivated for the game against Darien, but they have to wait an extra week. Greenwich is in its bye week, which means no football for GHS this weekend. So Morello and his coaching staff had to change a few things up leading up to the game against the Blue Wave.
According to CIAC rules, the first week of practice for Big Red will be without any contact. Morello said he's using that time for the team to focus on academics, seek extra help with teachers if needed, get tutored on academics by teammates, and visit potential college landing spots after graduation during the free weekend.
Academics are a priority, however that doesn't mean GHS won't be studying their opponent.
"We are going to be scouting our opponent and will work on basic fundamentals when we are out there in practice," Morello said. "We are game planning now for Darien. We are looking at their players from top to bottom and figuring out what we like and don't like. From there, it will be a process of elimination as we prepare for next Monday. When we start our real practices on Monday, I want to be moving at a fast tempo and moving from period to period with ease."