October 10, 2019
No Mooring Field (For Now)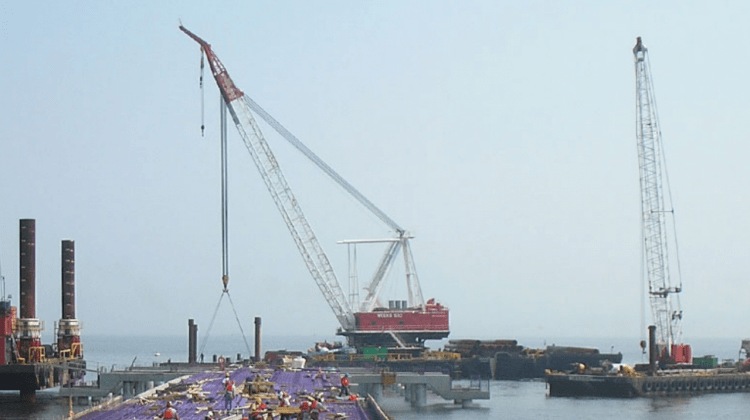 We nearly had a "stop the presses" moment this week. As we were preparing to print the paper, we received late word that Weeks Marine, of New Jersey, had pulled their permit from consideration at next week's Stamford Harbor Management Commission meeting.
Meeks Marine had filed a permit to construct a fixed mooring field that, if completed, would have allowed six 150-foot long by 40 feet wide industrial barges to be moored simultaneously within a mile of Tod's Point. The barges were meant to carry raw materials used to produce cement and asphalt at O&G Industries' facility in Stamford.
While not in Greenwich waters it would certainly have impacted one of the most scenic parts of our shoreline. The potential for environmental and marine-life impact from the spilling of materials either accidentally or as a result of a storm would be significant.
We applaud Chris Franco, President of the Greenwich Point Conservancy, and Peter Tesei for raising the alarm on this important issue. They encouraged residents to attend a meeting earlier this week to let the Stamford Harbor Management Commission know their opinion. Well over 100 people showed up and the overwhelming majority voiced a negative opinion of the proposed permit.
One major challenge with future proposals is the lack of local control over the process. The Stamford Harbor Management Commission has no authority over this type of permit. The governing bodies deciding if and where a permanent mooring field can be built are the Connecticut Department of Energy and Environmental Protection (DEEP) and the United States Army Corp of Engineers.
We applaud everyone's effort. Meeks Marine, to their credit, saw the grass roots opposition for what it was; impressive and growing. Representative Steve Meskers and State Senator Alex Bergstein jumped into the fray to ensure the Governor's office understood our opposition. Sue Baker and Bill Kelly of Rocky Point were also in the trenches rallying support.
Long Island Sound is a fragile ecosystem that must be protected. For years communities have worked hard to ensure less damage was being done by ending discharge of harmful chemicals and sewage into the sound. As a result, marine life that has been absent for years is coming back. Seals are a common sighting during the winter months. Whales have been sighted just off our shore and (allegedly) a great white shark made a brief appearance this summer.
Building a permanent mooring field that can hold six 150-foot industrial barges that are 14 feet deep below the waterline could potentially have a very negative impact on the sound's marine life. Let alone the emissions and discharge from the tugboats that operate to move the barges. We do not imagine the fisherman who operated commercial oyster beds nearby are very happy with this proposal.
There is currently an established mooring within the Stamford Breakwater that is used by barges entering and exiting Stamford Harbor. It is currently rated to hold a maximum of four barges and has at times had as many as 12 on simultaneously. That is a recipe for disaster and needs to be addressed as well. Barges have broken loose and crashed onto the rocks off Rocky Point. More recently a barge broke loose and ended up drifting into and damaging a yacht at the Hinckley Boatyard in Stamford.
While the permit has been pulled from next week's meeting, we are told Meeks Marine is considering a location within the Stamford Breakwater. We must remain vigilant. This part of Long Island Sound and especially Tod's Point are too valuable and delicate to be used for industrial purposes. Once a precedent like this is allowed, others will follow.
Thank you, Peter Tesei and Chris Franco, for leading the opposition to this ill-conceived proposal. We agree with Chris, when he told the Greenwich Sentinel "I feel like this is a great example of the power of the people coming together."