September 24, 2019
Family Functional Fitness Officially Opens in Old Greenwich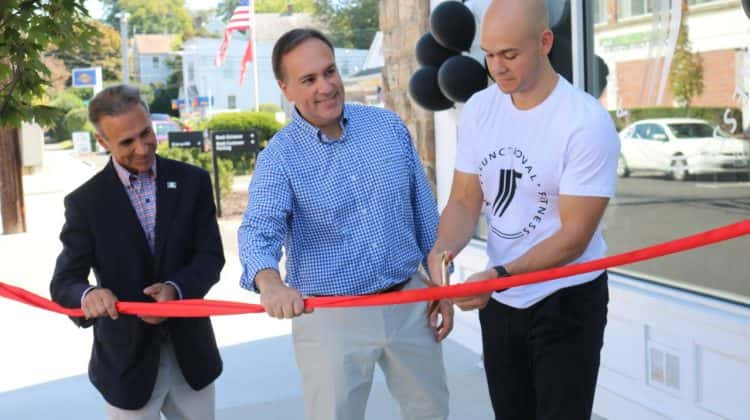 By Richard Kaufman
The community gathered in Old Greenwich last Saturday morning to welcome a new business to the neighborhood.
Family Functional Fitness (FFF), located at 27 Arcadia Road, officially opened its doors following a ribbon cutting that featured owner Joshua Takacs, First Selectman Peter Tesei, Sate Rep, Fred Camillo, and over 20 residents.
Family Functional Fitness is an all-encompassing boutique fitness studio.
"We're creating a space where you get your nutrition, you get your exercise, you can get a full body composition analysis, full body screen and full nutritional analysis to see how your lifestyle is working for you," Takacs said, adding that his training focuses more on the preventative front. "From there, we can supplant different things to make you have a healthier lifestyle."
Takacs, a former top-ranked trainer for a national fitness chain, said he's always wanted to open up his own business, and that his fiancé, Carolina, pushed him to realize his dream. He also said the birth of his nephew, Jackson, a few years ago, changed the way he thought about life and training.
"I need to help families at a young age really develop and become healthier as they grow, because obviously there's an epidemic in this country with obesity, diabetes and cognitive disorders. I think a lot of it can be changed," Takacs said.
Takacs is a certified specialist in pre/post natal exercise, functional movement screening, personal training, and nutrition. He has over a dozen years of experience working with professional and Division 1 athletes, geriatric, bariatric, autistic, blind, pre/post natal, and pre-teen clients.
Takacs highlighted pre/post natal care exercise as one of his core services.
"I can give someone a consultation leading up to their pregnancy, show them what they need to do during their pregnancy physically, and then post pregnancy, so we aide in recovery and prevent numerous injuries that can come along," he said. "On top of that, I cater to pretty much everyone in the family. I work with a lot of children and pre-teens who are initially getting into sports, where the movements are very repetitive and there's very excessive running and sprinting; pretty much teaching them the mechanics of how to do that properly."
Camillo has known Takacs for a few years, mostly from interacting with him at an area gym. He said that the opening of FFF in Old Greenwich is "a great thing."
"Most new jobs are created by small businesses. That's really the engine of our economy. To see something like this, and somebody starting from scratch, it's inspiring but it's also vital," Camillo said. "It's a big undertaking, and for Joshua to do this, it's a big event in his life, and also for the community. It's something we love to see and something we need to encourage and promote as much as possible."
Tesei agreed, and said the business will have a ripple effect in town.
"It's a fitness studio which brings people in to self improve and benefit from Josh's expertise and experience, and it also brings people into the neighborhood. I think it's reflective of the type of business that we're looking to foster," Tesei said. "It's evident from the crowd here today that there will be people coming in and out which will carry over and support some of the accompanying businesses. I love the passion that Josh has for his business, and the fact that he's developed a client base. It's really the American success story in terms of entrepreneurship and being able to pursue your dream."
Right now, Takacs is handling all of the services, but he said he plans to hire a staff in the future.
"This is something I've always wanted to do my entire life," Takacs said.
For more information on Family Functional Fitness, go to familyfunctionalfitness.com.