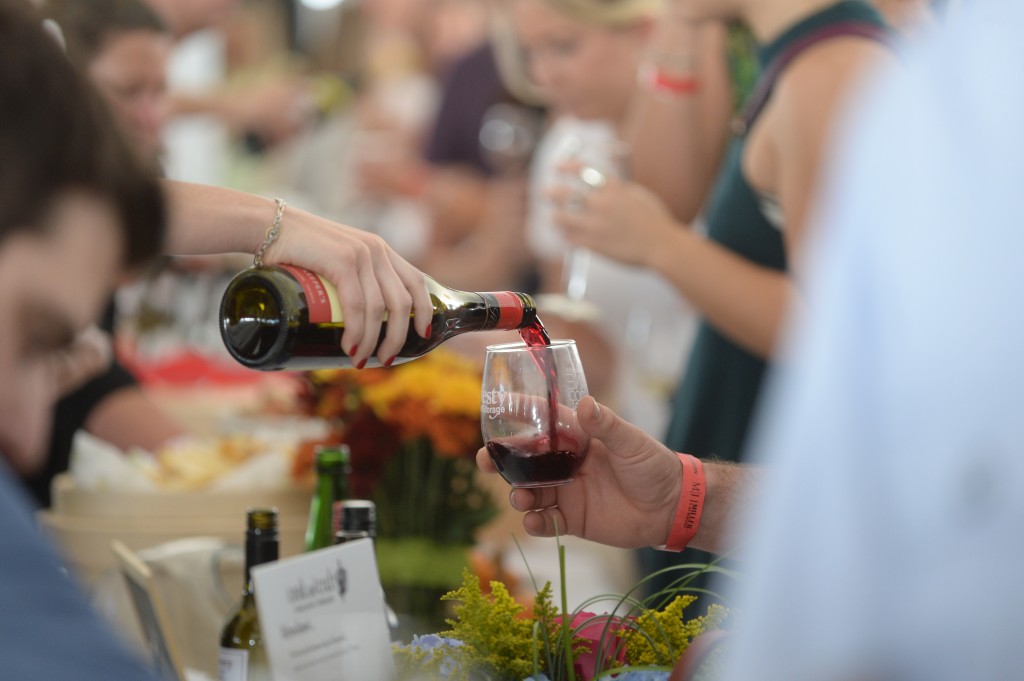 By Liz Leamy
Last weekend, the Ninth Annual Greenwich Wine & Food Festival helped wrap up the golden summer of 2019 in fine style with its vast, delicious and diverse range of food, wine and entertainment offerings, designating this as a grand slam win for the town in all regards.
This nationally renowned culinary and wine event, presented by PepsiCo and held at Roger Sherman Baldwin Park, the picturesque and pastoral Greenwich crown jewel park situated on the Long Island Sound, lived up to its superior reputation in every sense of the word, drawing hundreds of attendees from all over Fairfield and Westchester County as well as New England, New Jersey, Long Island, Texas, Nebraska and California who were on hand to celebrate, enjoy and gather information on all sorts of culinary delights, wine, cocktails and other gastrointestinal treats.
Right from the moment this dynamic event kicked off on Friday up through its conclusion on Saturday night, the park was teeming with scores of attendees, exhibitors, vendors, patrons, celebrities, hosts, musical talent, workers, volunteers and others who collectively helped designate this event as a huge runaway success.
According to those on hand, everything about this event was exceptional in every regard.
"This is one of my most favorite events in Greenwich. Where else can you get delicious food, good wine [and beverages] and such excellent advice about what to do in the kitchen?," said Adriane Klein, who lives with her husband, Eric, and their daughter, Talia, 13, in Greenwich. "This is just an amazing experience all around."
During this event, the giant white tents set up all over the park were streaming with people who were enjoying, serving or showcasing such tasty things as barbequed meats, burgers, fish, chips, vegetables, condiments and other appetizing edibles along with wine, cocktails and other refreshments.
At the same time, there were ongoing presentations, interviews, book signings and other offerings that featured a dizzying array of renowned culinary guest stars that were also a big hit with the crowd.
Valerie Bertinelli, the famed television sitcom star of long-running show 'One Day at a Time' who now hosts the hit cooking series 'Valerie's Home Cooking' on the Food Network conducted a fun class in which she prepared one of her favorite dishes, sriracha (hot sauce) bacon bites.
In her standing room-only presentation, Bertinelli was fresh, funny and informative and made a point to say how anyone can be good at cooking because it is such a personal and subjective endeavor.
"We all need to give ourselves more credit in the kitchen," said the amiable Bertinelli. "Nothing can be wrong, it's subjective."
The celebrity green room, meanwhile, featured lively sit-down discussions with such culinary stars as Matt Storch, owner and head chef of Match restaurant in South Norwalk who was a 2018 winner of the hit Food Network show 'Chopped' and numerous others who were asked questions about their craft. (Some of things that were asked of the interviewees included what their favorite cooking ingredients were or what places around the world did they get most of their inspiration from, for example.)
"I'll try everything and go anywhere," said Stuart about where he gets his culinary inspiration. "I [particularly] like Israel. The markets, culture and food- you've got to go."
Meanwhile, Martha Stewart, the iconic business titan who helped shape modern contemporary living, cooking, entertaining and wedding events into an art form with her businesses, television shows and books was honored at Friday night's Master Chef Wine Gala 'The Big Easy,' which seemed to set the whole golden tone of this event.
Along with Stewart, a former Westport native who now lives in Westchester, this event also featured such culinary heavy hitters as Geoffrey Zakarian, the internationally renowned chef, restaurateur, television personality and author, Jessica Tom, a prominent chef and food writer who was a joint winner during the 14th season of the Food Network series 'Food Network Star,' David Rose, the popular Food Network personality and chef and Marc Murphy, owner and executive chef of Landmark and Ditch Plains in Manhattan and Chopped judge, as well as other notables of the food and wine industry.
In addition to all of these offerings, there was the ever-popular burger battle and top bartender showdown that were big draws as well as lawn games such as cornhole which were big crowd draws.
Conclusively, Little Big Town, the popular Grammy-winning country band and Michael Franti and Spearhead wrapped up this exciting two-day event on Saturday night with their terrific performances in which they brought much of the crowd to its feet.
Throughout this event, a silent auction was also held to help support its main beneficiary, Food Rescue U.S., a non-profit organization based in Norwalk, Connecticut committed to helping end food insecurity throughout the country.
Certainly, the goodwill, fabulous spirits and enthusiasm of everyone on hand at this event seemed to make the whole experience quite special. "This has been an incredible event," said Joan Stewart Pratt, a Greenwich resident who was there with her husband, Tyler. "I get ideas and love sampling the different foods. I also have seen a lot of my neighbors and friends here and have met lots of new people, which has all been really nice."
According to Stewart Pratt, everyone at the Greenwich Wine & Food Festival was friendly and upbeat, which also seemed to be much of the reason for the magical air of this event.
"It has been a pleasure to be here, especially at the check-in area," said Stewart Pratt. "Everyone was super friendly and everything has been so well organized. This event is so well executed in every way and I can't wait to come back next year."

Food and Wine Festival 2019