September 13, 2019
Oberlander, Camillo Discuss Environment at Forum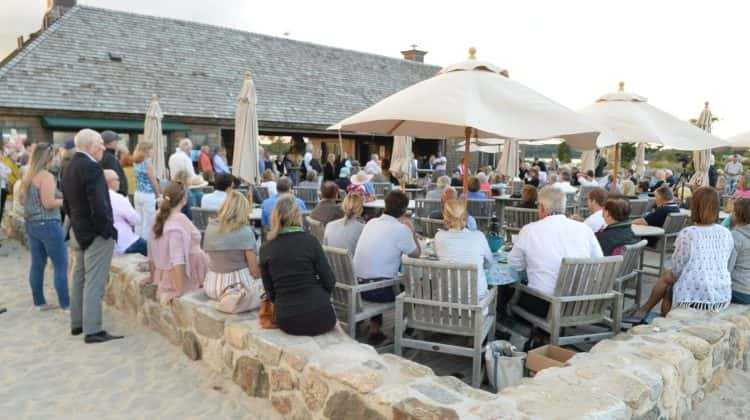 By Richard Kaufman
Greenwich Point served as the perfect backdrop on Monday night, as First Selectman candidates Fred Camillo and Jill Oberlander took part in a "town hall" style forum on the environment.
The event, which was held at the Sue Baker Pavilion, was sponsored by the Greenwich Point Conservancy, and hosted by Sue Baker, a member of the GPC.
The candidates first outlined their respective backgrounds, and then took questions from an audience of roughly 150 people. 
Oberlander, a democrat and current chair of the Greenwich Board of Estimate and Taxation, moved to Greenwich from Manhattan when her children were little. She said on Monday that protecting the environment is key, while pointing out the three E's central to her campaign: Economy, Education, and the Environment. 
She outlined her previous jobs, which include working for the New York City Parks Department out of college, and later in the Mayor's Office in the Transportation Department as an environmental analyst. She also worked for the Metropolitan Transit Authority.
In the Mayor's office, she worked on strategies to implement the Clean Air Act requirements. These strategies included pollution reduction through technology, encouraging mass transportation, advocating for bicycle access and increasing ferry transportation. 
After Oberlander attended law school, she worked at the MTA, where the goal was to provide safe, reliable and frequent mass transportation services to help reduce pollution and congestion from cars.
As chair of the BET, Oberlander said she has supported a number of initiatives that relate to the environment, including the funding to prepare for the impact of climate change on Greenwich. She also helped develop a plan to address required environmental remediation, and improvements to town infrastructure. She also serves as the BET liaison to the Board of Parks and Recreation.
"Preserving and protecting our natural resources, waterfront, coastline, and the options that we have here in Greenwich, is so critically important. As First Selectman, I pledge to do that. I will work to enhance resiliency and address energy conservation and sustainability, and protection to our waterfront," Oberlander said.
Camillo, a republican, was born and raised in Cos Cob, and is currently in his sixth term as a State Representative for the 151st District. Camillo launched Greenwich Recycling Co., several decades ago, which set the standard for recycling of plastic, glass, cans and newspaper in Connecticut. He also worked on and helped pass a bill to expand recycling in Connecticut in 2010.
Camillo chaired the Parks and Recreation Board when the town first established a Master Plan for parks 20 years ago, and also supported the Climate Change and Coastal Resiliency Bill, which was recently signed into law. It authorizes municipalities to establish climate change and coastal resiliency reserve funds that can be used to fund payments for property losses and land acquisitions due to climate change. 
He recently introduced a bill that would address the environmental harm caused to Long Island Sound and other waterways from the intentional release of helium balloons.
Camillo spoke about his support of the Long Island Blue Plan, which helps protect the Sound. He also mentioned a law he introduced this year that would overturn the preemption law on pesticides in Connecticut. 
Currently, there's a law in the state which prevents municipalities from passing an ordinance to ban toxic pesticides on private property. Camillo said he'd like to lead the charge in educating residents about the dangerous pesticides and the harm they cause.
"That would be one of my priorities; to let people know about that through education, holding town hall forums or putting something in tax bills, so people could stop and think about what they're doing on private properties," he said.
Camillo and Oberlander mostly agreed on the environmental issues.
On the controversial issue of artificial turf versus natural grass on fields throughout town, both candidates said they prefer natural grass.
Camillo, who has been involved with athletics as an umpire, said he's a "big fan" of natural grass and has always advocated for it.
"You want to keep natural grass first, but I wouldn't close my mind to turf because it's starting to evolve," Camillo said, citing a recent report released by the Environmental Protection Agency on the health effects of artificial turf.
"I'm a parent first. The health effects of artificial turf are still unknown, particularly for our young children and for kids with developing minds and developing bodies. We know that grass is safer," Oberlander added.
As a member of the BET, Oberlander moved to place a condition on the funding for turf fields that called on town entities to weigh-in on the health and safety of such fields. She also said that the Parks and Recreation Department is currently in the early stages of a field study which will gather more information on the matter.
One attendee asked the candidates about the status of the Greenwich Point Master Plan, which has been in the works for some time.
Oberlander said that as First Selectman, she would "do a far better job" of communicating the status of such projects with the public.
Camillo agreed, and said as the chief elected official, he would implement a sustainability and enhancement committee that will not only work on the beatification of town, but communicate with various groups, such as the Friends of Greenwich Point.
Oberlander said she sees Camillo's committee, and "raises" him with an energy and sustainability plan for the community.
"Having been in local government and the RTM and state legislature, I don't want to study things to death," Camillo responded. "The committees I would put in place would do work. They'd report to the Board of Selectmen every 30 days, and I would attend those meetings. They just wouldn't be committees in name, they'd be committees in action."
The candidates both agreed on making changes towards sustainable energy. 
Camillo commented that he'd like to start with small things, such as installing more LED lights, or energy saving and sensor lights in public buildings. He also mentioned the desire to move towards solar power.
"Supporting those policies is something I've done for 11 years, and I certainly would step it up as a First Selectman on the local level," he said.
"I commit to providing the leadership we need to increase our energy conservation and resiliency efforts in town," answered Oberlander. "There's no reason why we should not be transforming our town buildings and facilities into energy efficient buildings, not only because it's good for the environment, but it's good for our bottom line."
Oberländer also said she'd advocate for the installation of electric charging stations throughout town.
Currently, Camillo and Oberlander are slated to participate in a debate hosted by the League of Women Voters of Greenwich on Oct. 10 at 7 p.m.
Tags:
Fred Camillo
,
greenwich point
,
Jill Oberlander
,
town hall
,
Town of Greenwich