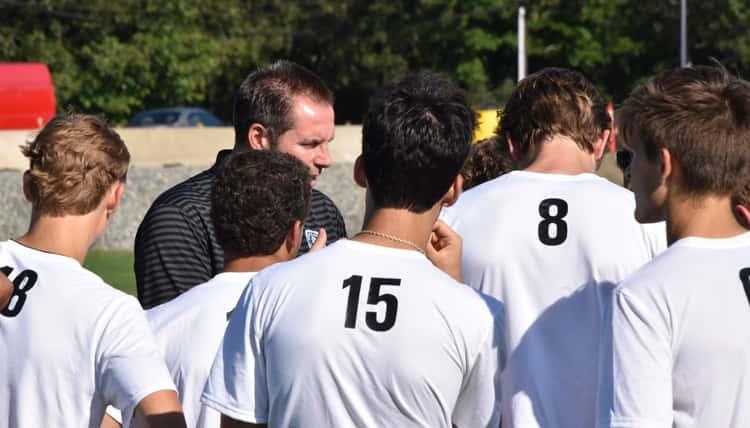 By Paul Silverfarb
It was never going to be a quick fix for Danny Simpson. When he took over the Brunswick School soccer program three years ago, he knew it was going to take some time. He had a plan in place.
Simpson didn't want the Bruins to have one amazing season, followed by another few years of mediocre soccer. His goal is simple…sustained success at an extremely high level.
It's going to take a few seasons to get to where he would like to be. After taking a small step backwards last season, Simpson has some lofty expectations for his soccer club to get back on track as they kick off the fall season shortly.
"I am excited to see the chemistry this year," Simpson said. "We are looking for a lot of playing time across the board because we a few less players this year. There are high standards here. We raised the bar from last year because last year we fell short. This year the expectations and work rate that we want from the players and the output that we want in possession has gone up. The players are raising the bar too because they want to leave a legacy here."
Last year Brunswick's win column didn't show the amount of victories that Simpson was hoping for. However it wasn't because of a lack of effort. The Bruins were in a plethora of close matches that were decided in the waning moments.
"It's good for the morale of the guys and it shows how hard they are working," Simpson said. "The reality was that there were too many L's in our record. However, it's never a quick fix if you want to build a program for longevity."
And for Simpson, that's a top priority.
"My beliefs are that quick fixes never work for a program," Simpson said. "I've proven that with my track record when I was at Greenwich High School. So I look at this year as another challenge. For the program to be successful, I have to look down at the six, seven and eighth grades, and even below that, and make sure they are going in the right direction. There is a set plan and everybody knows that. From coming into middle school and going into high school, there are certain expectations and this is where we are trying to head towards.
"The school has a tradition of excellence with other sports," Simpson added. "My dream is to put soccer amongst the perennial powers here like squash, swimming, lacrosse, water polo, ice hockey and football. To me that's the important part."
And senior captain Henry Foster sees the difference.
"I think we have improved immensely from where we were when I first started here," Foster said. "Since I got here, I noticed we have an increase in fitness and the technical side of our game and ability to play with the football has really grown. It's exciting."
In order for the Bruins to reach its goal of making a postseason appearance, they need to be impressive throughout the entire season. Unlike the FCIAC, where if a team gets a certain amount of wins they qualify for the state tournament, the NEPSAC isn't so cut and dry.
"We need to get into the conversation," Simpson said. "To do that, it's how we perform against other schools from the region and whether or not we earned it. We are not going to get into the playoffs with six wins. We know that. We are going to need nine or more wins to get into the conversation. And we need to play really well against those top schools to prove that we are worthy of it. For me, a successful season will be the playoffs."
And this just might be the team to get it done. Simpson said that looking at the current roster, while there are an amazing group of multi-sport athletes, this year's group also has the most athletes that play soccer year-round.
Seniors Eric Meindl, Stevie Lopez and Foster are this year's captains and all three are highly experienced athletes in the Brunswick soccer program.
"It's a blessing to be a leader here," Foster said. "These guys are the best and really buy into everything that we tell them. It makes it so much easier when that happens. I think we have a lot of skilled players on the field. I think we can play with the ball a lot this year and the goal is playoffs. We said that from tryouts and we're going to stick to it."
Meindl, who last year became the starting goalie midseason, will be returning between the pipes as the starting goalie for Bruins.
"It's really an honor and a big challenge we are all excited to tackle," Meindl said. "We have a group of young guys, but they are skilled players and we are up to lead them through that. We want to make a run in the playoffs and that's been the goal for the past two years. It's something we are really going to go after this year and we are confident that we can achieve that."
A third-year player, Foster will shore up the team's defense. Lopez, who missed all last year due to an ACL tear, is back for his senior year and is playing the midfield.
"It feels great to lead this team," Lopez said. "It's so exciting, especially since I missed last season due to my ACL injury. Being back on the pitch with a bunch of new guys is definitely exciting. I feel like I have something to prove because I really want to leave an impact before I head off to college. This year I need to leave everything out there and play the way I know how to play."
Playing forward for the Bruins this year will be senior Kyle Raker, who is skipping his senior year of academy soccer to play for Brunswick School. Joining Raker will be junior Aaryan Chinai, who was the team's top scorer last year during his sophomore campaign. Sophomores Nico Montoni and Patrick Keller are expected to see some quality minutes at the attack position.
In addition to Lopez in the midfield, standout juniors Michael Huber and Freddy Gazel will be returning to the Bruins, as will fellow junior Anthony Deosa. Backing them up will be sophomores Gavin Foster and Frank Carroll.
In front of Meindl will be a talented group of defenders, led by Foster. Sophomore John Dunn gained a lot of experience competing at the varsity level by playing nearly every minute for the Bruins last year, will be a huge help for the team this year. Senior Peter Lehrman and junior Elliot Hynes will see quality time on defense as well.
And backing up Meindl will be junior Andrew Breckenridge.
"This team has really been focusing on its fitness and having a really good team dynamic," Meindl said. "We are all bonding together really nicely. We're going to keep working on improving and we expect to see some good results."
Simpson is hoping that this year's squad feeds off the momentum from last year's team in its desire to compete.
"I want to see the determination in this team and its desire to compete," Simpson said. "Our last away game at Hotchkiss had a very hostile crowd. There were a couple of hundred students going crazy and making a lot of noise. It was tremendous and a proper atmosphere. But our guys smiled at it. They didn't back away, took the challenge and came away with a 1-0 win that basically knocked Hotchkiss out of the playoffs. This year I am looking for that same determination, but I also want a little more belief that we can take on some of these bigger schools and not only compete at their level but supersede them. I am eager to see a few upsets this year."