September 1, 2019
Hannigan Familiar With Brunswick's Tradition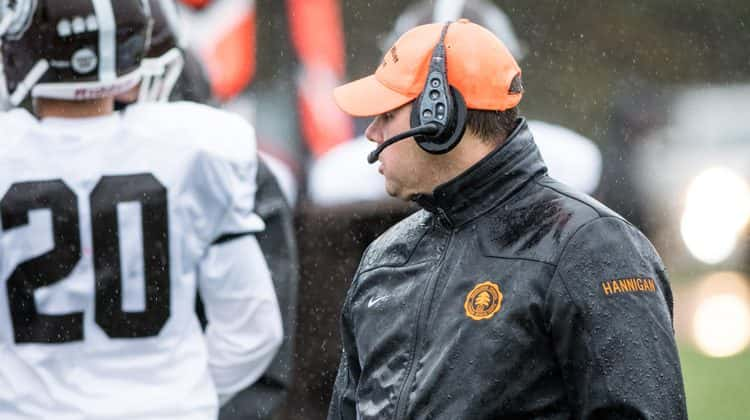 By Paul Silverfarb
For Mike Hannigan, it' hard to remember a time without the Brunswick School in his life. He's an alum of the school and has been on the coaching staff with the team's football program for over a decade.
While it's obvious that Hannigan's quite familiar with the school, he is in an unfamiliar position this year. The longtime assistant coach and changed his title with the program and will be the person in charge, taking over from former head coach Jarrett Shine as the team's new head coach.
"I have been really excited to start," Hannigan said. "I tell the players that we have to be comfortable being uncomfortable. We have to push ourselves. Could we show up and do things the same way all time? Yes, and I would be very comfortable showing up with someone else having the head coach title. But for our team it's all about growth and taking a step forward and I relayed that to the kids. So it's all about growth and taking a step forward for me as well."
Hannigan took over the head coaching duties from longtime Brunswick School coach Jarrett Shine. Shine, who in 10 years of coaching the Bruins compiled a record of 53-32, stepped down earlier this year to take over as athletic director at Greenhill School in Texas.
Back in March, Headmaster at Brunswick School, Tom Phillips, and former head coach Shine met with Hannigan and it was then when they offered Hannigan the head coaching role. While Hannigan wanted nothing more than to jump up and hug both Phillips and Shine, he needed the approval from a few important people first.
"It was such a wonderful feeling, but I needed to talk to my family about this first," Hannigan said. "I have a great supportive family and we were good to go."
And now it's Hannigan's favorite time of the year, as preseason practices are underway. The head coach said that he always considers the start of the football preseason a ton of fun.
"This is great," Hannigan said. "It's great because there are no distractions. It's the first time you get the group together. Everybody, whether it's players or coaches, are enthusiastic. It's a fresh start. A clean slate. The weather is nice and it's all football, all the time. For me, the night before the first preseason practice is like Christmas Eve. I couldn't sleep Sunday night."
One of the things Hannigan quickly realized when taking over the head coaching position is that there's a lot more things to accomplish in the offseason, and most of them had little to do with actual coaching.
"You get college recruiters coming through and you get a lot of admin stuff," Hannigan said. "You get people asking about summer workouts and there's a lot of organization. It's basically everything but coaching. Starting this preseason has been even more fun for me because I get to get back on the field. Instead of being the CEO, I get to do a lot of X's and O's and that's a lot of fun."
Hannigan is certainly no stranger to the Brunswick football community. In addition to his previous position as assistant coach under Shine for the past 10 years, and another season during former head coach Sean Brennan's final year with the Bruins, Hannigan is a 2001 graduate of Brunswick School and a former standout on the football team.
While Hannigan has a few plans for the Bruins during his tenure as head coach, a bunch of things will remain the same.
"People say that when you take over a program, you have one chance to change the culture," Hannigan said. "I don't know that the culture of being proud in our team and being successful needs to be changed here. Maybe that's me as an alum and as a teacher that has been here for 13 years speaking, but I have seen some really successful teams and everybody has been enthusiastic about football. There's not a lot that I need to do to emphasize the culture, team building, and camaraderie I want here.
"The team has certainly grown since I played here," added Hannigan. "My sophomore year I think we went to a New England bowl game with maybe 28 kids on the varsity team and now we are more than doubling that. The team has grown and I think that it's an advantage for me to be able to emphasize those traditions. I coached under the previous head coach. The coach that's a legend here, I played for in high school. I have that connection to the alumni and tradition, but I have also seen the really recent stuff and know where we are going with it."
For Hannigan, he is looking to grow from his previous position as an assistant coach. And for the new head coach, it's all about growth.
"It's great because I get to grow a little bit from my previous role with the program," Hannigan said. "There are added things that I need to do and I get to grow and learn about them. I also get to see the assistant coaches grow in their roles and we get to see the players grow up and grow into their roles. It's exciting to see what the team is going to be like this year."
Hannigan is taking over a program where the sky's the limit. Last year was supposed to be a rebuilding year for the Bruins. But that wasn't good enough for Brunswick. Instead of settling for improvement, the 'Wick won their first six regular season games before falling to Avon Old Farms by three points. They ran the table the rest of the way and advanced to the top bowl game in the New England Prep School Athletic Conference. Although they fell to powerhouse Choate Rosemary Hall 25-8 in the bowl game, it was still considered yet another outstanding season for Brunswick.
"This year we are inheriting a lot of that group who have this idea that we are not going to be labeled as something," Hannigan said. "They just want to produce on the field. They have done a great job so far. They are holding each other accountable to little things, whether it's keeping the locker room clean, bringing the bags out, working hard in practice, thanking each other for working hard in practice, and much more. It's all the little things that matter, not just to make them good football players, but good people as well. It's a great group of young men."
When it comes to memories as a player and a coach at Brunswick School, Hannigan has two that stick out.
As a player, Hannigan said that he always did the same conditioning at the end of every practice under legendary coach Robert Sampson at the muddy Everett Field off of Maher Avenue. They would run 30 30-yard sprints every day. And it was a new athlete in the Brunswick football program that helped Hannigan have a memory he wouldn't forget.
"Everybody knew the deal and we all started running," Hannigan said. "The new guy was winning all the sprints and smoking everybody. Someone leans over to the new guy and said: 'Hey, you know we have 30 of these, right?' And he lost his mind. But it was one of those welcome to the program type of things. It was cool because everybody kind of laughed but it was his moment. As a player being a part of the program, it was one of those in-the-grass at Everett Field that I won't forget."
As a coach, one of Hannigan's fondest memories was something quite small in the grand scheme of things, but still incredibly impactful. Last year, Brunswick was up against a real elusive running back that would stiff-arm like crazy. Hannigan worked on a drill where the defender would chop the stiff-arm off and then run into the tackle.
"We did it for five to 10 minutes that week," Hannigan said. "Two weeks later we played another good back and decided to do that stiff-arm drill again. That week in the game, running towards our sidelines, one of our defensive backs comes up to play a bubble screen and he chops the stiff arm off and gets right on the guy's hip and runs him out of bounds. As a coach, we saw all that preparation and a drill we did in practice show up in a game and enable one of our players to be successful. I get so excited whenever I see something in a game that we worked on in practice." 
Tags:
Brunswick
,
Brunswick football
,
cthsfb
,
greenwich
,
Mike Hannigan
,
NEPSAC
,
Wick Sports