August 28, 2019
Choral Society Announces Scholarship Winner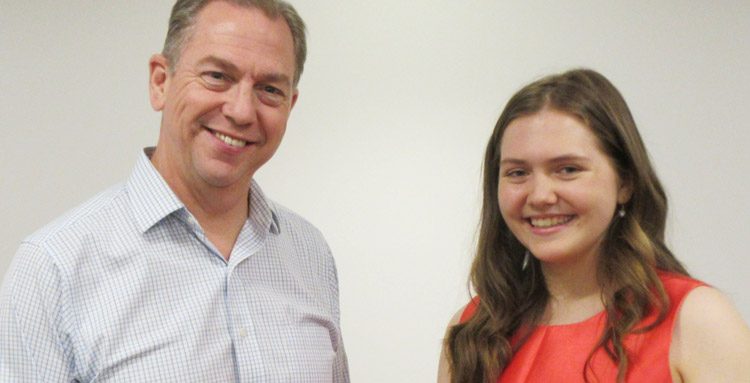 Greenwich Choral Society announced Hannah Rose Mikita as the recipient of the 2019 Nathalie Rutherford Scholarship Award.
Mikita is a senior at Wilton High School and has extensive experience in musical theatre and in choral ensembles. She has played roles in Little Theatre Company productions of Cinderella, Almost Maine, Pajama Game and Beauty and the Beast as well as roles in productions by Wiremill Academy. Her choral experience includes the Concert Choir, Madrigals, A Capella and Chamber Singers at Wilton High School and appearances as a soloist in such works as Vivaldi's Gloria, and Schubert's Mass in G Minor.
Mikita is the recipient of numerous awards including the Eastman Book Award for Achievement in Music and the Music Honors Society and was a finalist in the NYC Schmidt Vocal Competition. She has participated in the Boston University Tanglewood Institute Vocal Programs, earning six college credits, the Wiremill Theatre Camps and the Young Americans Camps in Michigan.
Extra-curricular activities include serving as the President of the Music Honors Society, President of the Little Theatre Company and President of the Wilton Choirs. Ms. Mikita also volunteers with the New England Children's Theatre Benefit Concert, Relay for Life and as a Theatre Big Sister Mentor at Wiremill Academy.
Mikita will enter Vanderbilt University in the Fall to study vocal performance and opera. Her goal is to pursue a career as an opera singer.
The Greenwich Choral Society sponsors the competition for the annual Nathalie Rutherford Scholarship Award of $1,000. Any senior attending school in Fairfield or Westchester County who intends to pursue further study in vocal or choral music is encouraged to apply.
Tags:
GCS
,
greenwich
,
Greenwich Choral Society
,
Hannah Rose Mikita
,
Nathalie Rutherford Scholarship Award