August 23, 2019
MAT Program is 'Changing The Story'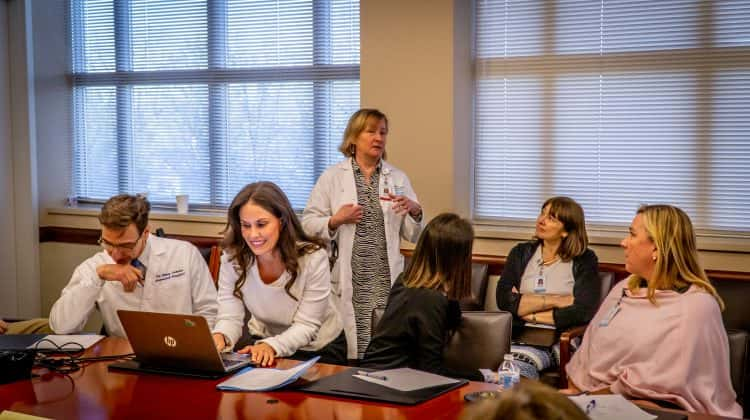 By Richard Kaufman
In May, Kaile Zagger, a Greenwich resident, along with Greenwich Hospital and Dr. Elena Ratner, associate professor of Obstetrics, Gynecology & Reproductive Sciences at Yale School of Medicine, launched a revolutionary initiative.
The MAT Education Program and organization, named after Zagger's mother, Marilyn Ann Trahan (MAT), who lost her battle with ovarian cancer 20 years ago at the age of 46, is the first of its kind in the United States. It consists of a rigorous curriculum that empowers and educates the medical provider community so they can recognize the early signs of ovarian and breast cancer.
The tagline for the MAT Organization is "We Are Changing The Story," and in the three months since the Greenwich community gathered at Town Hall for the launch of the program, Zagger and her dedicated team of volunteers are doing just that.
Twenty-three medical providers from Greenwich Hospital received MAT Designation on July 25, and they're now armed with the tools to save lives. There will be another free, one hour training session, for all medical professionals on Sept. 25 in Greenwich.
The MAT Program will then be launched in Stamford, at the remaining Yale affiliated hospitals and New York Presbyterian Health System beginning this September. The goal is to designate and train 3,000 providers by Dec. 31, 2019.
Zagger said there has been an outpouring of support from the community since MAT was launched, and she's grateful for the support from various community partners, such as the YWCA, BCA, UJA-JCC and the Old Greenwich Fire Department.
"I am thrilled to see this program take flight in this special town. Protecting the women and families of Greenwich means a great deal to this entire team," Zagger said. "The MAT Team of incredible individuals have been nothing short of heroic in the past few months. We are so grateful for the tireless work they have put in each day to launch and carry this initiative forward. They are to be commended for their great effort and dedication of time they have given to protect this community from breast and ovarian cancers."
According to the American Cancer Society, 300,000 new cases of breast and ovarian cancer were diagnosed in the United States last year, and of those, 55,000 women died. Ovarian cancer is particularly difficult to recognize in its early stages, so the rate of death is the highest among all female reproductive cancers.
Diane Powis, a Greenwich resident, was diagnosed with ovarian cancer in 2013 after experiencing "whispering" symptoms and getting misdiagnosed for nine months. She said she often wonders what would've happened if her physicians had been MAT trained. 
Powis is now the chief spokeswoman for the MAT Organization and understands the importance of the initiative.
"I am acutely aware that I am still only alive today because of recent advances in gynecological oncology but am so honored to be a part of this incredible organization and to lead the charge on empowering women, and to further educate healthcare providers to increase prevention and early detection strategies that the MAT program outlines," Powis said.
Alexis Reid, Chief Marketing Officer for the MAT Organization, said she's proud to be a part of such an active and revolutionary cause. 
"It not only benefits myself as a woman with a family history of breast cancer, it benefits my friends, my peers and will pave the way for our daughters to potentially never have to deal with a late ovarian cancer diagnosis," she said. "Early detection is what saves lives. Before the MAT Curriculum, Ovarian cancer was one of the hardest cancers to diagnose until it was in late stages and thus hard to fight. We're educating doctors and hospitals with new information that promotes early diagnosis, which will save lives, exponentially."
September will be Ovarian Cancer Awareness Month in Greenwich, as businesses and homes will be decorated with teal colored lights. Residents and business owners can go to matdesignation.org to inquire about receiving lights.
Town Hall will also turn teal once again after Labor Day, when exterior lights are installed and ovarian cancer flags are put up outside.
There will be an educational session for community members, featuring a panel of physicians, surgeons and geneticists who will talk about breast and ovarian cancer, at the YWCA of Greenwich, in partnership with MAT.
MAT will also host its first fundraiser in partnership with Soul Cycle on Sept. 17 at 7 p.m.
Here is a list of the 23 physicians who are MAT designated at Greenwich Hospital:
Breast Care: Elisa O'Brien.
Breast Surgery: Alyssa Gillego, Barbara Ward.
Clinical Psychology: Diane Powis.
Gastroenterology: Neda Khaghan.
Gynecology: Leslie Donovan, Gaetane Francis, Donna Hagberg.
Infectious disease: Jim Sabetta
Internal Medicine: Gail Fennell, Melanie Kelton, Spike Lipschutz, Irem Nasir, Jane Pincus, Judith Shae, Rebecca Warkol.
OBGYN: Leila Garrett.
Oncology: Barry Boyd.
Plastic Reconstructive Surgery: Julie Vasile
Psychology: Susan Freedland
Radiology: Alice Kim, Linda LaTrenta.
Urology: Catherine Alonzo.
Tags:
greenwich
,
Greenwich Hospital
,
MAT Program
,
Town of Greenwich