August 7, 2019
Greenwich Hospital Hosts Oncology Nursing Graduation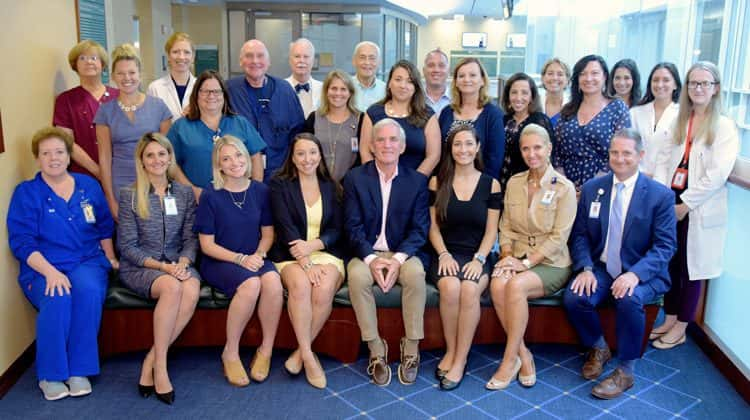 Three nursing students from leading universities in Connecticut and Pennsylvania graduated from the Susan D. Flynn Oncology Nursing Fellowship Program at Greenwich Hospital.
Alessia Conte of Fairfield University, Abigail Coyman of the University of Connecticut and Idalis Figueroa of Villanova University are among 33 oncology nursing Flynn Fellows at 13 leading hospitals nationwide to be graduating this year. The fellowship program was first piloted at Greenwich Hospital in 2014.
During the eight-week program at Smilow Cancer Care Center at Greenwich, the nursing fellows shadowed seasoned nurses and served as integral hands-on members of the cancer care team. The graduation ceremony took place July 18.
Frederick C. Flynn, Jr. of Stamford founded the Susan D. Flynn Oncology Nursing Fellowship Program in memory of his late wife. The fellowship program was inspired by his experience with Greenwich Hospital's Palliative Care Program in 2013, when his wife was in the final stages of her three-year battle with ovarian cancer. Since 2014, a total of 170 aspiring oncology nurses have participated in this unique fellowship program nationally and over 100 Flynn Fellows have already begun their oncology nursing careers.
"I continue to be amazed by the high caliber of students who take part in the fellowship program along with Greenwich Hospital's commitment to developing future leaders in the field of oncology nursing," said Flynn. "Many thanks to the outstanding staff and mentors who enabled these aspiring nurses to learn so much clinically and academically about oncology nursing."
More information about the Susan D. Flynn Oncology Nursing Fellowship Program, including how to donate to help support its continuation, is available at www.greenwichhospital.org/medical-professionals/nursing-fellowship.aspx
Tags:
graduation
,
greenwich
,
Greenwich Hospital
,
nursing fellowship