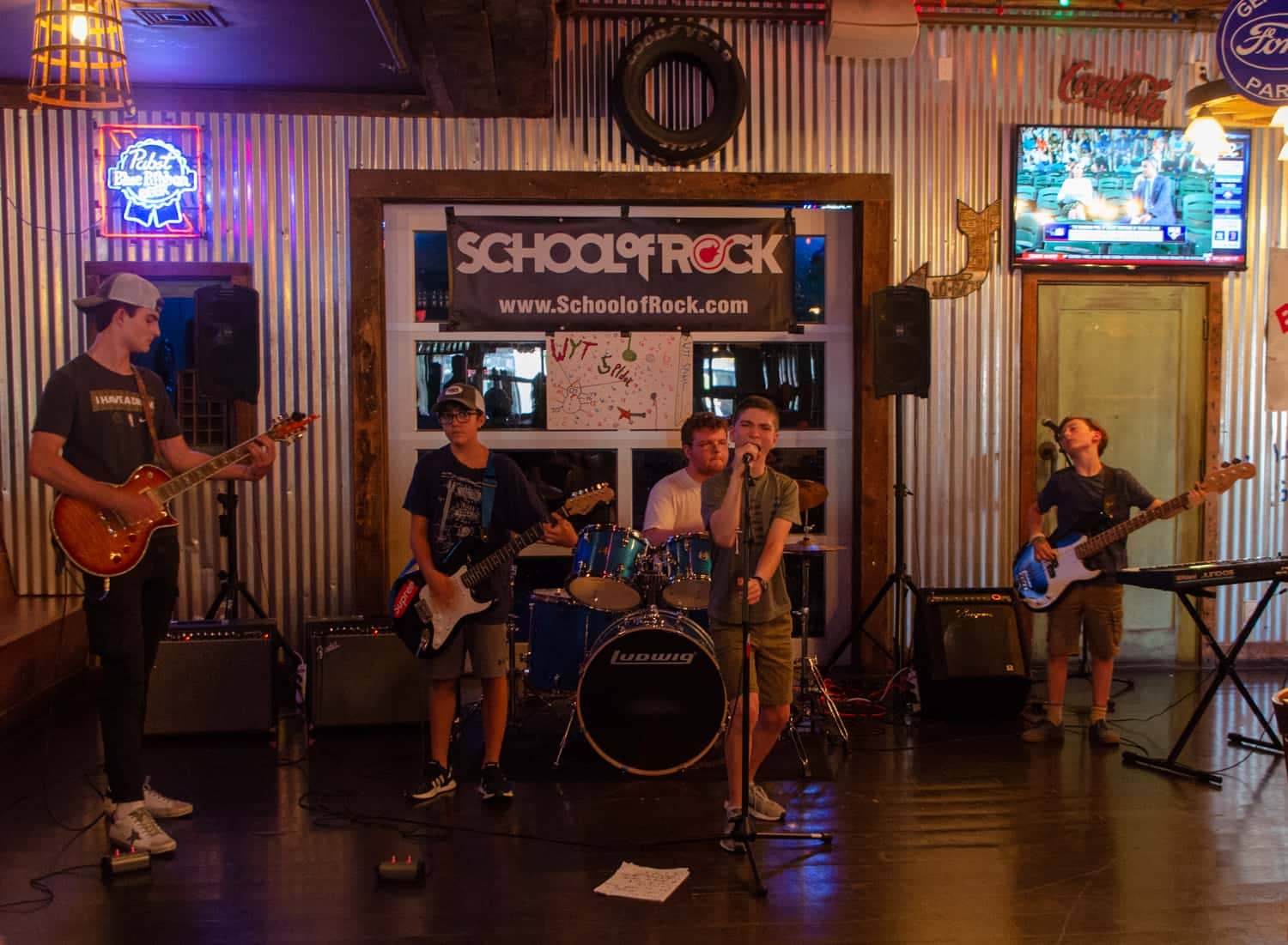 Bring on the music! This summer, Riverside has become home to the newest location of School of Rock, a music education school known for its performance-based program that uses rock and roll as its curriculum.  
"The stage is the teacher," Stephen Kennedy, Owner and Managing Partner of School of Rock Greenwich, said. "These kids learn so much from performing that they don't even learn in rehearsal because it's live, its real. They get to fall back on that experience as the best learning lesson. It shows them that they need to be prepared. Their band mates are relying on them." 
With two summer camps under its belt, School of Rock has already planted roots in the community and is looking for more young musicians who want to become rock stars.   
The first School of Rock location opened in 1998 and was the original inspiration for the popular movie, School of Rock. Since then, the school has expanded globally. After opening several schools in Connecticut, including Fairfield, Madison, New Canaan and Ridgefield, it decided to open in Greenwich.  
Kennedy was initially attracted to Greenwich because of its emphasis on arts and culture.  
"This is a town full of kids and parents who want to get involved in activities, like music education, that will broaden their horizons," Kennedy said.  
Since their opening, the School of Rock has held week-long summer camps that culminate in a live performance at the end of each week.  
The school's unique approach builds both a music and performance foundation for its students.   
"They learn what it takes to perform, to set up a stage, to make sure their guitar is tuned, to set up their drums the right way," Kennedy said. "There are a lot of things they learn that go beyond musical technique." 
Throughout the one-week summer camps, Music Director Byl Cote works with the kids to prepare a full set of songs. He pushes them to take on challenging parts, but makes sure they feel confident to perform at the end of the week.  
"I love all the other aspects of it, but when our kids walk off the stage with that feeling of accomplishment, that's really what they take with them for the rest of their lives," Kennedy said. 
The unique environment that School of Rock creates motivates these kids to practice and improve like no other music school. Parents no longer have to hold their kids accountable because their bandmates and a fast performance turnaround does it for them.  
"The kids that join our program want to learn how to play and fit in with the band," Kennedy said. "It's everything for the band and for the team." 
At School of Rock, you don't just learn to play music. You learn respect, teamwork and commitment. 
"They're working together with other kids and they have to play as a team," Kennedy said. "There's a 6-year-old up there playing music with a 15-year-old, and they're making music together and they don't care because the song has to sound good whether you're six or 15, boy or girl. They put all that aside." 
Music has the power to bring people together and that is what School of Rock taps into.  
"We're building this rock and roll community where it's all for one and one for all. Our kids rally around each other and they form these friendships that they wouldn't normally have because they're unique kids," Kennedy said.  
School of Rock offers an alternative outlet to sports and traditional after-school activities. They build an environment that allows their students to connect through their shared passion for music and make new friendships outside of the pressures of school. 
"If you're not a super athlete, be a super musician," Kennedy said. "Our kids find their home here because it becomes an outlet they didn't know they had."  
With dedication and hard work, Kennedy has seen many of his students go on to become successful musicians. 
"We have a drummer up in the Fairfield school and she always blows me away when she plays," Kennedy said. "She won the Hit Like a Girl contest and is just an incredible musician." 
Most of those students, however, did not start out as rock stars. School of Rock invites musicians of all skill levels and builds their technique and confidence with every rehearsal.  
"The amazing thing about music is that anyone can learn music," he said. "Those kids that put in the time and are really dedicated, get really good. They can continue to do that throughout the rest of their lives." 
As they near the end of the summer, Kennedy and Cote are gearing up for their semester-long program this Fall. In the fall, School of Rock offers an afterschool program one to two times a week. With more time to practice and rehearse, students learn to work together and perform like pros.  
"They're growing in confidence," Kennedy said. "When they walk off stage, they're different kids." 
Once their students build friendships and learn to play together as a team, Cote will invite his best musicians to join the House Band. Throughout the year, the House Band will have several opportunities to perform and play fundraising events around town.  
Five years ago, the Fairfield House Band played The Greenwich Town Party and got to open for Paul Simon and go on after The Tedeschi Trucks Band. This is School of Rock's goal for the Greenwich House Band.  
Additionally, at the end of the show season, all the local School of Rock programs come together to do a Best of Season show. Each program picks the best two songs from the season and those bands get to show off the hard work they put in all semester and meet other kids like them.  
When asked why School of Rock chose rock music as the foundation of its program, Kennedy explained that when rock first came out in the 1950's, it got people moving in a different way than ever before. 
"There's just something about the beat that brings out an emotion and stirs people," Kennedy said.  
The School of Rock program is not just another music school. It's an enrichment program.  
"We're molding these kids into great musicians but we're also creating great kids," Kennedy said. "We want kids who are going to learn teamwork and learn to not judge others. Learn that they can come together, make great music and give back to the community too. Whether it's doing a fundraiser or playing a nonprofit event, these kids get to make a real difference and learn great life skills."