August 2, 2019
RAMP's Kids Provides Hunger Relief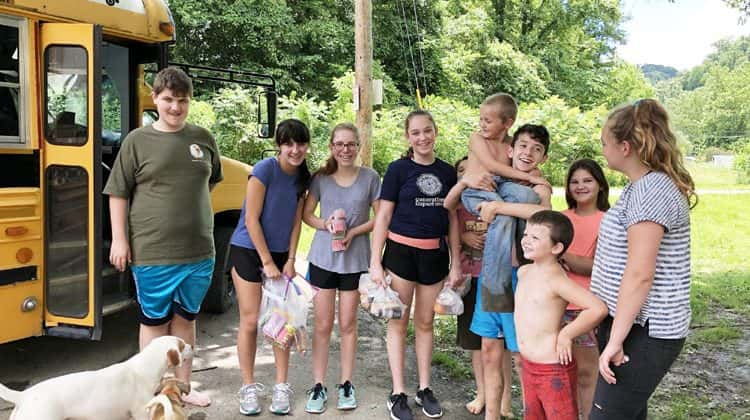 Greenwich-based non-profit, RAMP (Rockin' Appalachian Mom Project) made its 6th annual visit to rural Appalachia, where members of its kids' program worked for two days sorting, packaging and distributing 35,000 pounds of fresh produce to impoverished families in Martin County, Ky.
Hungry families arrived at RAMP's Community Food Pantry hours before the scheduled distribution, to ensure a place in line for the opportunity to receive fresh produce donated and delivered by RAMP partners, the Southeast Produce Council and Florida-based Society of St. Andrews. To help with the packing and carrying of the produce, local Greenwich merchants Whole Foods, Acme, King's, Vineyard Vines, Sweaty Betty and SoulCycle donated reusable shopping bags.
RAMP Kids packed and handed out food to approximately 275 Martin County families, the majority of whom live below the poverty line.
RAMP Kids is the youth program of Greenwich-based non-profit, Rockin' Appalachian Mom Project (a.k.a. RAMP), founded by Greenwich resident and small business owner, Amy Guerrieri. The group is comprised of middle and high school students in town who work throughout the school year to raise money for RAMP's Backpack Snack Program, which sends fresh produce and shelf-stable food home with 350 impoverished students in the Martin County public school system. The children on the backpack program eat their main, and often only meals at school. The majority of them do not have any access to food at home, which means they rarely, if ever, have anything to eat on a weekend or holiday when school is closed.
Rising GHS senior, Logan Guerrieri, a founding member of RAMP Kids said, "We raise money and support the Backpack program all year long. But it's not enough. We give food to 350 kids, but there are actually thousands more kids in Martin County who need it."
Amy Guerrieri added, "Until you visit and see the conditions for yourself, it can be hard to understand. Rural poverty is completely different. There is no soup kitchen or homeless shelter like we have in the tri-state area. If you're homeless in Martin County, there's nowhere to go. And if you can't afford to buy food for your family, they don't eat."
"I was blown away," said Ila van Schaik, a rising GHS junior and new RAMP Kids member. "I had no idea that kids my age were living like this in our own country."
Summertime is especially challenging, though the school board does operate a mobile feeding program to provide lunch to the neediest children while school is not in session.
RAMP has worked closely with the Martin County school board to support their summer mobile feeding efforts for the past several years. On this trip, RAMP Kids purchased and packed up nearly 300 bags of shelf-stable foods including granola bars, oatmeal, pasta, protein snacks and more. Then they travelled with Martin County school buses to distribute the bags, along with summer lunches, to kids on three different bus routes.
In addition to its primary focus on hunger relief (RAMP distributes an average of 110,000 pounds annually), RAMP provides emergency aid and assistance to kids and their families, in conjunction with the Martin County Schools Resource Center staff. On this recent trip, RAMP Kids assisted the family of one local resident, who is the grandmother and sole caregiver for 6 Martin County students, ranging in age from 6-16. The group helped with a painting project and yard clean-up. Both the summer mobile feeding program and family aid projects allow RAMP Kids to meet and make connections with the kids and families they are working to help.
Families and local businesses interested in supporting RAMP's hunger relief efforts and/or getting involved with RAMP Kids, visit: rampamerica.org
Tags:
greenwich
,
hunger relief
,
RAMP
,
Rockin' Appalachian Mom Project