July 26, 2019
O'Connor Family Works Together for First Time at GPD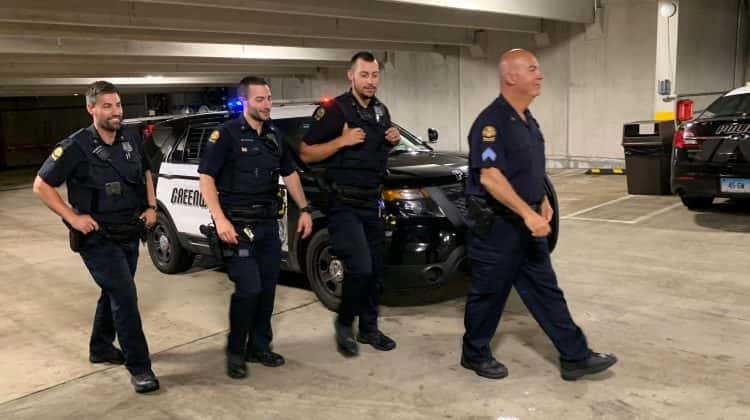 By Richard Kaufman
Sentinel Reporter
The O'Connor family has worked countless hours for the Greenwich Police Department over the years, but they'll remember last Thursday's shift for the rest of their lives.
Sgt. Michael O'Connor Sr., a lifelong resident of Greenwich, is retiring after 35 years of service to the GPD. Last week for the first time ever, he found a way to work the same shift with his three sons, Billy, Michael Jr., and Patrick, also officers in Greenwich. 
The boys each took turns patrolling Old Greenwich with their father.
Billy called it a "surreal experience" and said, while it wasn't nerve-racking, he wanted to make his father proud. "It was a great experience. We definitely took it all in," he added.
Patrick noted that the department had done some research and found that there are only about five or six families in the entire nation that had three sons and an active father on the job in a police department.
"Today was pretty cool to actually be on the road with him. Even though we weren't doing anything crazy out there, it was so nice to drive around in the car and be with your father. It was comforting knowing that if we needed something, we could go to him," said Patrick.
Patrick transferred from Naugatuck, and Billy transferred from Old Saybrook. Michael Jr., transitioned from a career in business and joined Greenwich last year to follow in the family footsteps.
"We grew up around it," Michael Jr., said. "When we were kids, we were always going to police softball games and picnics. For me, what drew me to it as a career was the sense of family. Even guys we're working with now, we knew when they were newer officers. It's cool to see how they've progressed."
The boys viewed it as a "cool opportunity" to all work in the same department and give back to the community that raised them. 
O'Connor Sr. called the job dangerous and said he always worries about his sons. 
"But, you can only worry so much. My wife said she never worried about me, but she worries about the boys," he said. "To have the boys enter public service, which is something that's a passion, there's nothing you can say other than it's great and I'm glad they're doing it…I'm hoping they'll have a safe career and help a lot of people."
O'Connor Sr. was a patrolman for the majority of his career, but for the last six years he's been a supervisor in the Marine Division, so he has been separate from his sons. He called his retirement from full-time duty "bittersweet", but he'll still be visible as a Special Police Officer, also known as an auxiliary officer.
"This is an historic day," said GPD Chief James Heavey, who spoke about the legacy O'Connor Sr., leaves behind at the department. "It's a big loss to lose Mike as a full-timer, but we're very fortunate that he's going to remain as a part time special officer."
O'Connor Sr. fought back tears several times when speaking about his sons. He said he always tried to instill in them to be fair, work with integrity and treat others the way they'd like to be treated.
"We're a very close family," O'Connor Sr. said, choking up with emotion. "[The boys] make me proud. They're good boys."
Tags:
GPD
,
greenwich
,
Greenwich Police Department
,
Town of Greenwich