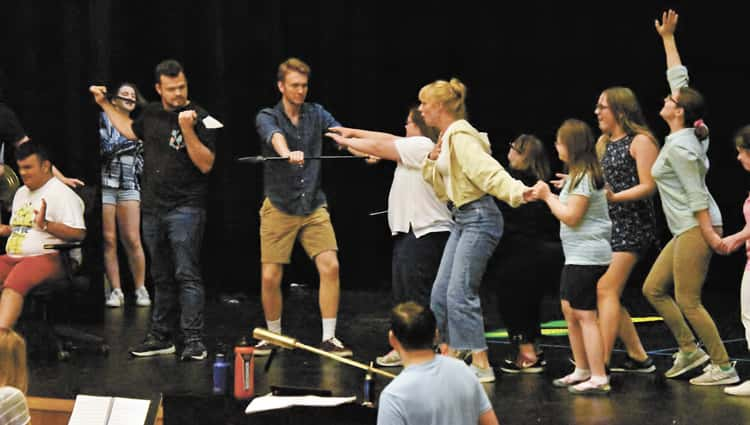 By Paul Silverfarb
Sentinel Editor
It will be Joseph all the time inside the Greenwich Country Day School Performing Arts Center, as the Greenwich Off-Beat Players are set to perform the legendary Broadway hit Joseph and the Amazing Technicolor Dreamcoat.
"This is really the highlight of my summer," said Steve Hohl, program and technical director with the Off-Beat Players. "All year we look forward to this. We are a week away from opening and we are ready for an audience."
Pharaoh's dream will be explained to the audience by the Off-Beat Players, starting Aug. 1. For three shows, the talented group of musicians, singers, tech and lighting experts, artists, and producers will take to the stage at GCDS for their production of Joseph and the Amazing Technicolor Dreamcoat. On Aug. 1 and Aug. 2, the musical will begin at 7:30 p.m., while on Aug. 3, the OBP will perform a matinee at 3:00 p.m.
To purchase tickets for the production of Joseph and the Amazing Technicolor Dreamcoat, visit the Off-Beat Player's website at: https://www.offbeatplayers.org/tickets
The Off-Beat Players are a Greenwich-based theater company that's devoted to teen and young adult performers with wide-ranging abilities and disabilities.
"When people come to an Off-Beat Players show, they get to see the amazing collaboration of the performers with and without developmental disabilities," said Emily Bass, producer of Joseph and the Amazing Technicolor Dreamcoat. "But what they don't see is the tech crew consists of a mix of people with and without developmental disabilities, and the production team does as well. There are so many different components to this, but with this group it never feels like work. There is so much going on at any given time, but it is the most rewarding and most amazing group of people to be a part of."
And the pressure is on. With less than a week to go before the curtain rises, the Off-Beat Players are hard at work inside the GCDS Performing Arts Center, getting the music down, the songs memorized, the sets finished up, and the props on stage.
Nicole Macchiavello is playing Levi, the third brother of Joseph, and can't wait for the audience to fill the auditorium.
"For me, this is so much fun, but it's also easier because it's a musical," Macchiavello said. "We don't have to learn a lot of lines. But we are learning a lot of songs. My personal favorite song is the Brothers Come to Egypt and Grovel, Grovel."
Lauren Mickley will play the part of the Narrator for Joseph and the Amazing Technicolor Dreamcoat. And it's obvious to see that Mickley, who has been with the Off-Beat Players for four years now, is quite excited for the curtain to rise.
"This is amazing," said Mickley. "I had this as a dream role since I was a little kid. This is a very rare show for a production crew to put on, so I was super excited to know that a group that I have been working with for such a long time has been doing this."
For cast member Anika Rabenhorst, being a part of the Off-Beat Players is motivational and uplifting.
"I love it so much," Rabenhorst said. "It's amazing. I think the cast is amazing because everyone wants to see everyone else succeed. It's not just about having a great performance for yourself. It makes it more fun when everybody wants each other to do so well. The show is all music, which is definitely a big challenge for us this year, but it's been fun to try and work through that."
While the most important part of the show is hotly debated amongst the cast and crew, one of the things they can all agree about is the amount of hard work and dedication that has gone in to make this show memorable.
"The sets are crazy big and we are working with props, so that's challenging when you first do that," Mickley said. "We have a lot of singing rehearsals and going over the soundtrack in our heads. We also have dance rehearsals that are tough as well. But, overall, having a great cast that is willing to do anything is wonderful. We are ready for all sorts of challenges that come our way with this show."
"There is a lot of hard work that goes into this," Macchiavello said. "We spend at least three to four hours a day just on practicing. And, we only get one break, so there's a lot of practicing and fixing our errors to make it the best play possible for everyone.
"There is so much hard work," Rabenhorst said. "We have these great things called rehearsal buddies, where it's five or so people working together and you're always helping each other with their lines. It's not just on stage, but during breaks as well."
Michael Busani has a unique perspective this year. For six years, he has been a proud member of the Off-Beat Players, enjoying every second on the stage with the lights shining bright on him. However this year will be different, as Busani goes behind the scenes for the first time as a director.
"This is the most fun thing to do," Busani said. "It's a new type of fun for me this year. When I started the shows, it was fun because I got to go on stage and perform and interact with everybody. Now I get to step back and see that happen with everybody else. You see what it takes to make everything look the way it does and make sure everything runs smoothly. When you're on stage and your only job is to perform and hit your marks, you aren't really aware of what's happening behind you."
For Hohl the fun starts at auditions, where the Off-Beat Players bring in cast members for a couple of nights and see where people belong. And it doesn't take long for Hohl to get that grin going from ear-to-ear.
"To see the smiling faces from everybody that is coming from auditions brings a joy to my heart," Hohl said. "Even talking about it now is giving me goosebumps. We will see something happen on stage where we had an idea about and look at each other, smile and say that this is fantastic and what we were looking for."
And, while it is all fun to see a musical go from auditions to the point where the curtain rises on opening night, Hohl and Bass give themselves some extra pressure. Not only do they want the musical to go off without a hitch, but the duo wants the experience to be a lasting memory.
"We do this for their success," Hohl said. "It's really an opportunity that a lot of people don't get to have outside this company, so we try to offer that opportunity. Once that final curtain closes and we get together for a big hug and congratulations, tears of joy come out for everybody because it was such a phenomenal summer."
"It's the best and so rewarding," Bass said. "Everybody is so proud. But while we are so happy and it's so great to see all the smiles, it's kind of sad because it's over. We look forward to this all year, but we do a cast party a few weeks after the show because we all start to miss each other. We make sure we see each other every year."
When the curtain closes for the final time on Joseph and the Amazing Technicolor Dreamcoat, it's right back to the drawing board for Hohl, tossing ideas around for next summer's performance.
"After August, people ask what we do with the show," Hohl said. "And it's really easy. We have a wonderful cast party where we all get together and enjoy our success and then after that it's starting to think about next year's show. The production team, the board members and I will go right into hashing out ideas for the next show. We will figure out what we want to do and how to feature everybody."
To purchase tickets for the production of Joseph and the Amazing Technicolor Dreamcoat, visit the Off-Beat Player's website at: https://www.offbeatplayers.org/tickets