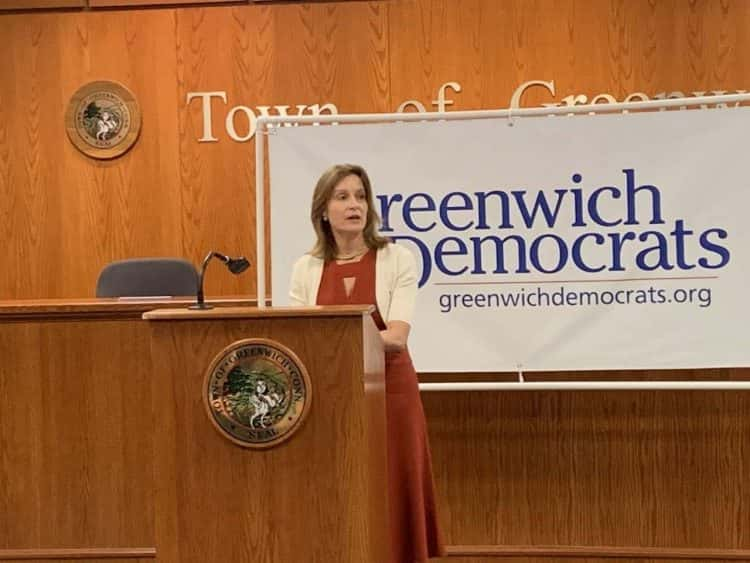 By Richard Kaufman
Greenwich Democrats unanimously nominated candidates for this fall's municipal election during a meeting last Wednesday night.
The ticket will be headlined by the tandem of current Board of Estimate and Taxation chair, Jill Oberlander, who will run for first selectman, and Sandy Litvack, who is seeking reelection as a selectman. Current first selectman, Peter Tesei, a Republican, is not running for another term.
Oberlander received a standing ovation from Democratic Town Committee members following her nomination, and addressed the crowd about her candidacy.
Oberlander highlighted her accomplishments as chair of the BET, which came under democratic majority for the first time in history in 2017. She said recent democratic momentum in elections have helped to pave the way for her. A Democratic First Selectman hasn't been elected in Greenwich since 2003.
"We've worked collegially and cooperatively with our Republican colleagues. This speaks to how Sandy and I will work when elected as first selectman and selectman," Oberlander said. "Democrats perform well for our town, but there's a lot more to do. I don't shy away from rolling up my sleeves and finding solutions, and neither does Sandy. In this election, our platform focuses on the three E's: Economy, Education and Environment. For each, we're identifying the issue and developing solutions."
For the economy, Oberlander said Town government needs to support existing businesses and help them grow to develop new opportunities. She spoke in favor of establishing a "business retention and development office."
Oberlander added that Greenwich must have an education system that's "second to none." She wants to support the Board of Education's Capital Improvement Plan to improve school infrastructure. 
"Sandy and I want an education system that will give all of our children the best foundation in life. We want a top notch system that will attract new families to Greenwich, assuring a vibrant future for our community," she said.
Greenwich should be a leader in environmental innovation and efficiency, Oberlander said, and she pledged to address the ongoing issue of soil contamination and closed fields around town.
"Sandy and I want to protect your health, and your happiness," she added.
Oberlander then spoke about other reasons that motivated her and Litvack to run as a team.
"We've been thoroughly disappointed by the failure of local Republican leadership to call out the utter breach in standards, discourse and respect for the institutions of democracy. Every day, there's another story that wrenches one's heart and soul. It's so constant that we've become inured to it, and we start to think of it as the new normal. But it is not normal, and it is not ok," she said. 
Oberlander asked where the "moral courage" has been from elected leaders in Greenwich, and said the Town "deserves a different reaction from our town leaders than an evasive response, usually along the lines of, 'We don't need to talk about national issues here in Greenwich.'"
"What we're talking about is respect, decency and protection from bullying and hate — things that we should be able to expect in this wonderful community," she said. 
Elsewhere, the DTC nominated three candidates for two seats (four year terms) on the Board of Education: Karen Hirsh, past president of the Greenwich PTA council; Christina Downey, Representative Town Meeting Education Committee member; and incumbent Dr. Gaetane Francis.
However, a third seat could potentially open up, as current member and Democrat, Meghan Olsson, is expected to resign since she is moving out of town. If Olsson resigns before Sept. 17, the date that Greenwich has to send its list of candidates for the ballot to the state, the Board of Education would pick a replacement until the election. Two of the three nominated candidates would then run for four-year seats, and the other would run to fill Olsson's seat, which expires in 2021.
The DTC passed a motion Wednesday night brought forth by member Ken Greenberg that said if that scenario takes place, Hirsh, Downey and Francis would decide amongst themselves which seat to contest. However, the motion would be void to the extent it conflicts with Connecticut State law or Democratic Party rules.
"It hasn't been vetted with anyone at the state [yet]," Greenberg said of the complicated situation and subsequent motion on Wednesday night. "I have taken a look at the Democratic Party rules and the state election laws, and I don't see any reason why it can't work."
If Olsson resigns after the deadline, the BOE would still pick a replacement to serve until the election, and the newly elected BOE would be tasked with finding someone to serve the remainder of Olsson's term.
The DTC nominated incumbents Leslie Moriarty, Beth Krumeich, Jeff Ramer and David Weisbrod for the BET, along with newcomers Miriam Kreuzer and Laura Erickson.
Incumbent Tax Collector, Howard Richman, was nominated; Molly Saleeby was nominated for Town Clerk; Joe Huley was nominated for the Board of Assessment; and Dawn Fortunato and Donnie Romeo Jr., were nominated for Town Constable.
Greenwich's municipal election takes place on Nov. 5.