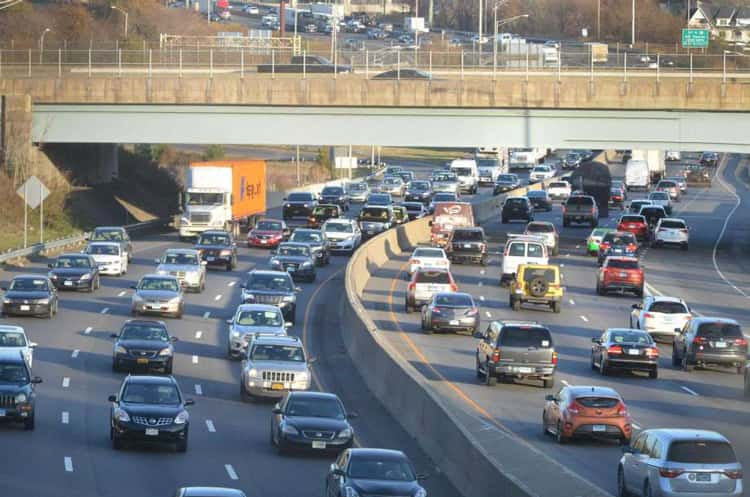 While it may seem that the debate about tolls has taken the off ramp from important issues facing our state, it has not. The Democrats, who have significant majorities in both the Senate and House in Hartford, simply do not have the votes to pass legislation implementing tolls. Our guess is, if they had the votes, they would have passed legislation by now.
Because of this, the Governor and others are attempting to minimize the issue while they come up with a passable plan. But, they have overlooked one key person: Hillary Gunn. Ms. Gunn, of Greenwich, has been at times, a one-person protester, standing on the overpass of I-95 on Friday evenings, holding an anti-toll sign for all drivers to see.
Ms. Gunn is part of a larger, growing group of protestors that have brought an anti-toll message to parades, fairs, highway over-passes and congested intersections throughout our state. She is easy to spot, often wearing a hand-knit, bright yellow anti-toll hat. She has become the media darling of the movement, and her picture has appeared in many state and national newspapers.
If the anti-toll movement succeeds, it will be in a large part due to Ms. Gunn's efforts. Her dedication to a policy she feels so passionately about is to be commended.
One of the reasons toll legislation has not yet passed is because there has been a lack of leadership on this issue from Governor Lamont. We have seen numerous proposals and some back-tracking on his positions in an attempt to win consensus. The lack of leadership has allowed Ms. Gunn and No Tolls CT (the main anti-toll grassroots group) to gain momentum.
It is not for lack of trying by the Governor and Move CT Forward (a coalition of labor and construction association in favor of tolls). Recent reports show they have spent nearly 1 million dollars lobbying in support of tolls since the beginning of the year.
In addition to lobbying members of the legislature, that money was used for a media campaign to try and convince Connecticut residents that polls are a good idea. It appears their investment did not pay off. Sacred heart University has been polling on the favorability/unfavorability of tolls. Its most recent results showed that 60% of those polled oppose tolls.
We know that the state's financial house is in complete disarray. It has been for years and is the result of both Republican and Democratic leadership in Hartford. However, for the current Democratic leadership to say that tolls will pay for infrastructure repairs and improve our state's economy is whimsical at best.
It is estimated that revenues of 800 million can be achieved 5 years after the approval of tolls. That is based on charging motorists who use any of the major highways in our state, including the Merritt Parkway, 4.4 cents per mile. That would require about 50 gantries, one every six miles.
Of course, this proposal, if it passed by the legislature, will need to be approved by the Federal Highway Administration. The state will need to prove that monies raised by tolls will reduced traffic volume and improved travel time during peak travel hours.
The entire toll debate would have been much better received had it been combined with significant spending reductions. For every tax dollar raised there should be a government-spent dollar eliminated. The state believes we continue to have a revenue-generation problem, when the reality is we continue to have a spending problem.
For now, the issue of tolls seems to be firmly parked at a rest stop off the highway.