July 12, 2019
Column: June 2019 Real Estate Market Report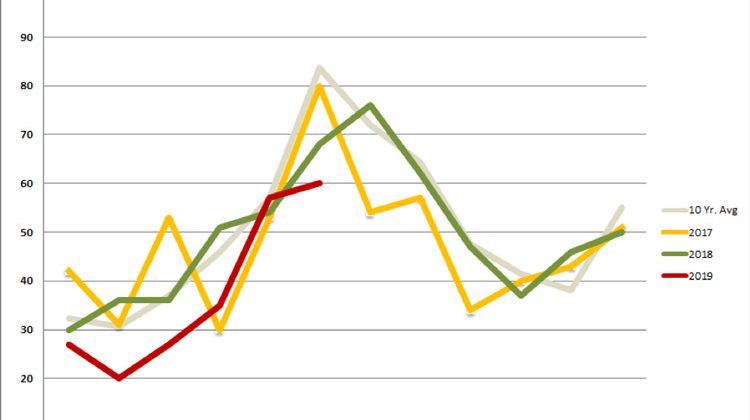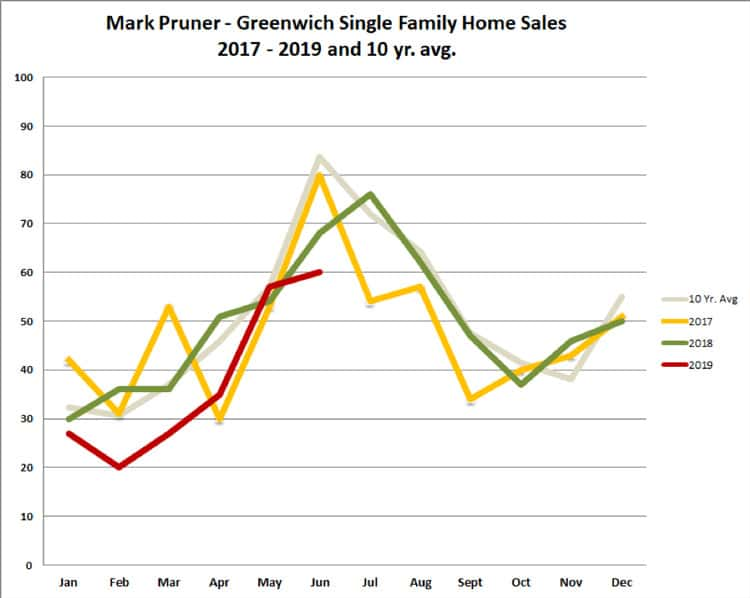 By Mark Pruner
We had 60 sales in June 2019 totaling $156 million. Year to date, we have had 226 sales totaling $556 million. Our volume of sales would be the envy of many other towns, but it wasn't a good June for Greenwich. Our 60 sales were down only 6 sales from June 2018, but June 2018 was not a good year for sales either compared to our 10-year average of 84 sales.
We had some bright spots. Sales from $6.5 – 10 million were double last year's sales with 8 sales so far, and 5 of those sales were in the month of June. We also have seen more sales from $2 – 3 million where we had 52 sales up 4 sales from last year. Unfortunately, in both of these cases, our contracts for those price ranges are down and inventory is up, so this may be a short-lived increase.
When you look at the bottom-line numbers, our inventory is up, sales are down 17% and our contracts are down 14%. This is after we saw a significant recovery in May sales with 57 sales, which matched our 10 average. Part of this sales spurt in May came from a bunch of contracts closing quickly that month, which resulted in us going into June with a reduced number of contracts. At the end of June, we are down 17 contracts compared to June 2018. Most of this reduction in contracts is because of the weakness from $1 – 3 million, which, unfortunately, is the heart of our market.
One contract bright spot is the over $10 million market where our 3 contracts are 3 more than we had in June 2018. On July 1, we also saw a dramatic drop in inventory, as we do most years, since many listings expire on June 30 as the first half of the year ends. So, as of now, we are looking at 699 listings. This will help our months of supply, which for the overall market is at 19 months of supply, up 4.6 months of supply from last June.
New York and New York City are continuing to help out our market, as the mansion tax in New York City just dramatically increased on July 1st. In NYC, the city "mansion" tax starts at 1% at $1 million and increases to 3.9% for sales over $25 million. This tax is traditionally borne by the buyer, which certainly won't encourage sales. In NYC, the seller pays a 1.425% transfer tax starting at $500,000. Meanwhile if the buyer actually takes out a mortgage, the buyer gets to pay a 1.925% mortgage tax if the mortgage is over $500,000 and only pays 1.8% for mortgages under $500,000.
This compares to Connecticut's single conveyance tax that is 1% below $800,000 and 1.5% above that amount. Starting July 2020, we will get our own mansion tax, as the conveyance tax will be 2.5% over $2.5 million. Now, the new Connecticut law purports to give that increase back if you stay in the state for three years. As I wrote before, it's a silly tax that doesn't raise much revenue and gives the New Yorkers a chance to claim that we have a mansion tax just like they do. We, however, only have one tax and they have three.
All this is happening at time that Wall Street is setting record highs, unemployment is low, and the economy continues to hum along, so the second half of the year may well look better. Let's also hope for a repeat of last year when the peak sales month was in July rather than June as it normally is.
Tags:
greenwich
,
Real Estate