June 28, 2019
Trio Thrilled to Co-Chair the July 1 Sentinel Awards Event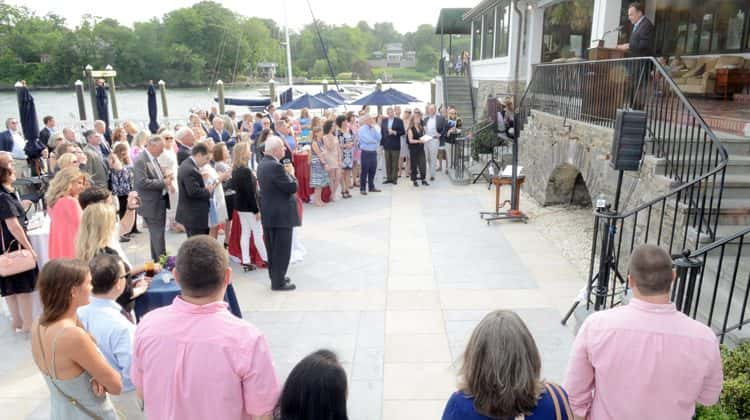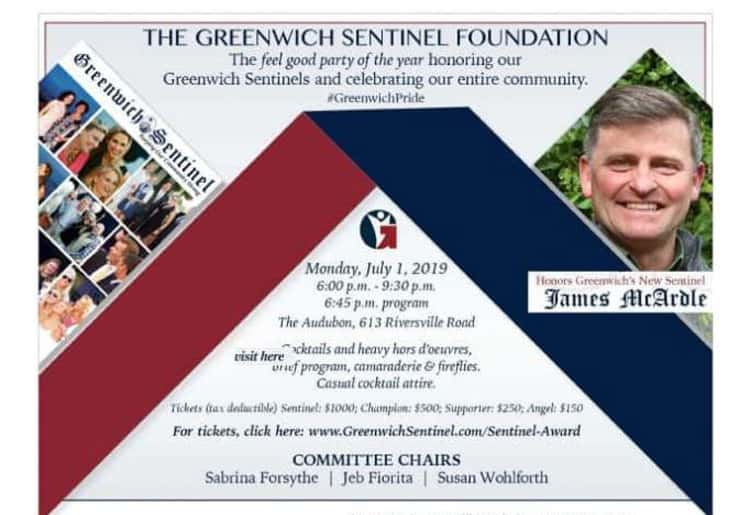 By Paul Silverfarb and Richard Kaufman
With the Greenwich Sentinel Award event quickly approaching, the three event co-chairs are hard at work putting the finishing touches on what will surely be a memorable evening at Greenwich Audubon.
This year's event honors local businessman, James McArdle, owner of McArdle's Florist and Gardening Center, and begins at 6 p.m.
The Town of Greenwich will no doubt be coming out in full force to show its support for a man who has done so much for so many.
Helping to ensure the evening is perfect are co-chairs Susan Wohlforth, Jeb Fiorita and Sabrina Forsythe.
Wohlforth has a unique perspective on the Sentinel Awards. While she is one of three chairs this year, she was the one being honored at last year's Sentinel Award event. Wohlforth, who lost her husband Martin "Buff" Wohlforth on 9/11, is the former president of the Junior League of Greenwich and is one of the people responsible for the skate park project, the Children's Day School, the Junior League's Lend a Volunteer project and several others.
"When I was told about being named for last year's Sentinel Award, I immediately said that I had a list of names for people to honor," said Wohlforth. "It certainly couldn't have been me. It's such a prestigious and wonderful thing. The Sentinel tries to bring community awareness to the Town where they print the paper and highlight and celebrate everything that is good in Greenwich. It was a terrific honor. To be a Sentinel means that you represent giving back to the community and that you're an integral part of the community. A lot of times I do not feel like that about myself, but I do feel that way about James McArdle."
Wohlforth thinks the choice of honoring McArdle is absolutely perfect.
"James McArdle is a wonderful man and so is his whole family," Wohlforth said. "For many years, they have supported the good works of many organizations and individuals in Greenwich. I am so happy that he is being honored, and it's a great choice."
When it comes to describing McArdle, Wohlforth said that a simple saying comes to mind.
"The author is unknown," Wohlforth said. "It states: 'When you want to touch the past, touch a rock. If you want to touch the present, touch a flower. If you want to touch the future, touch a life.' That's what James McArdle has done by his presence in the town and what they give people. They have done wonderful things by supporting organizations throughout town. I see people so happy when they are looking at flowers or during the Christmas season."
Another co-chair for the Greenwich Sentinel Award, Fiorita, couldn't be more excited for the July 1 event at Audubon Greenwich.
When thinking about the great honor it is to receive the Sentinel Award and being involved so heavily as a co-chair for the event, Fiorita jokes that an error must have been made, due to his name being attached to the event.
"It's truly an honor that a local news publication, and certainly one as highly regarded and respected as the Greenwich Sentinel, would even consider someone like me to be a co-chair," Fiorita said. "I am very humbled and honored to be included in that conversation with other really incredible people. So, I think they made a mistake."
Fiorita, like McArdle, runs a family business called Val's West Putnam Wines. Since taking over the business over a decade ago, the second-generation owner is leaving quite the footprint throughout Greenwich. He's always willing to lend a hand to a fundraising event in town, just ask the town schools, the YMCA, the Greenwich Old Timers, the Greenwich Fire Department, and others.
Fiorita said that he's known McArdle for many years and has always respected the McArdle family and their family-run business.
"In my lifetime living in town and as the Town of Greenwich has evolved, I have noticed that with James at the helm, the company has really moved into a company that has been able to do every single thing under the sun when it comes to gardening and landscaping," Fiorita said. "Everything that he comes across, whether it's an exotic flower or a simple one, is extraordinary. I always feel enchanted when I step into the walls at their shop. Both James and his wife contribute so much to the company, and I love the family aspect of it."
What has struck a chord with Fiorita from day one is how humble, generous and community-driven McArdle is, not to mention what a great leader he is.
"We are so fortunate to have such an honorable person that is so instrumental with so many activities and charities," Fiorita said. "He's so giving and kind. When I think of James, I think of how gentle and kind and generous he is as a human. I have such great respect for him and all he does for the town and community."
Forsythe has spent her life giving back to others, so it only made sense that she was named as the third co-chair for this year's Greenwich Sentinel Award event.
"I'm thrilled to be a co-chair this year," Forsythe said. "Not only because I love Peter and Beth Barhydt, but also because I love everything they're doing for the community with their amazing newspaper." Forsythe added that she loves seeing what the Greenwich Sentinel Foundation is doing for others, too.
Forsythe herself has done a lot for the community over the years, carrying on the giving tradition and way of life set by her father, Greenwich auto magnate and philanthropist, Malcolm Pray. Pray passed away in 2013.
"It was my dad that got me involved in giving back in the first place. He was an extremely giving human being, and he taught me that the best way to do that was to give back to the community each and every way I could," Forsythe said.
Pray started as a car salesman in a small foreign car dealership on the Post Road in Greenwich. He eventually grew the business to six dealerships and over 200 employees by 1999, when he sold the business. Pray's legacy is carried on through the Pray Family Foundation, where Forsythe is a Board member. The foundation uses Pray's extensive collection of exotic, vintage cars to instill young people with a desire to be successful.
"I'm the board member of the foundation my dad established, in order to continue the message he was putting out there, which was that every person can accomplish anything they want if they put their mind to it," added Forsythe. "It's specifically geared towards children, and bringing in groups of children and sharing my dad's message through 17 points of success with them, including simple [messages], like staying away from bullies and don't do drugs."
Forsythe has been a board member for a number of organizations in town over the years, such as the Greenwich United Way, and the YWCA of Greenwich, where she is currently on her third term. Forsythe was even presented with a Spirit Award from the YWCA, and recently served as a co-chair for their 100th anniversary celebration. She has served as co-chair for events for Alliance for Cancer Gene Therapy and Greenwich Hospital, among others.
Tags:
audubon greenwich
,
greenwich
,
greenwich sentinel
,
Greenwich Sentinel Award
,
James McArdle
,
McArdle's Florist
,
Town of Greenwich