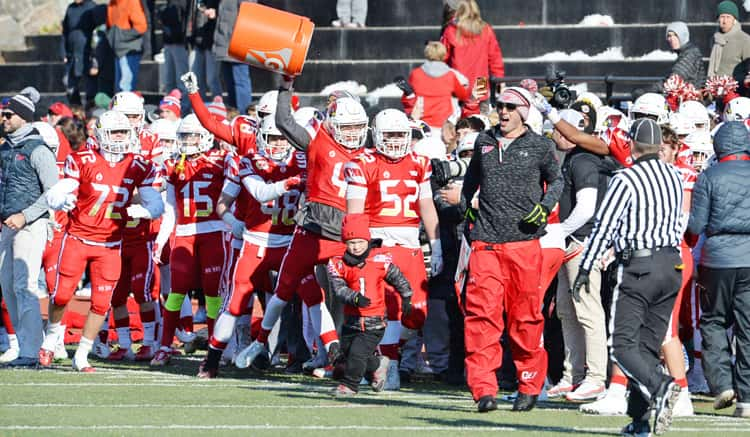 By Paul Silverfarb
Sentinel Editor
When John Marinelli says that he loves Greenwich High and that he enjoys every second he is with the football program, it's easy to believe him.
Whether he's in the weight room helping his athletes, in the coach's office working on different schemes, on the field helping the team fine tune their talents during practice or simply sitting down with the team and giving them valuable life lessons, it was always a labor of love.
And the love was mutual, as he's adored by parents, athletes and the Greenwich community. However sometimes there are events in life that people just can't pass on and Marinelli found that out firsthand last week.
On June 13, Marinelli informed his staff, his athletes and the Greenwich High School community that he's stepping down to join the staff at the University of Arizona as an offensive analyst.
"Words can't describe how much I will miss it at Greenwich High School," Marinelli said. "I love the town. I love the people and the kids in the town. They welcomed me with open arms. They were open to change and willing to let a young head coach enter their lives. My staff at Greenwich was amazing and the kids were amazing. It has changed my life being a head coach at Greenwich High School and it was a tremendous opportunity. It was an honor to be the head football coach at GHS. It's bittersweet because, while I am excited about my future, I'm obviously going to miss everything about Greenwich."
Two weeks ago, Marinelli received a phone call from the University of Arizona asking if he would be interested in interviewing for a position on the team. Last Monday, Marinelli flew out West to Tucson to interview with the school and came back with an offer.
Marinelli, who has had a long-standing relationship with University of Arizona offensive coordinator Noel Mazzone and his son Taylor Mazzone, who was a former coach at Texas A&M and is now one of the assistant coaches at Arizona. In addition, Marinelli has known University of Arizona head coach Kevin Sumlin from his days coaching with his father Lou Marinelli and New Canaan High School.
"I would always go down for college visits and see what guys are doing differently. I visited A&M and Arizona a few times," Marinelli said. "They have always been true gentlemen and have welcomed high school coaches to their facilities. They have given me tremendous amounts of knowledge and let me sit in their meetings."
Marinelli will go down as one of the very best football coaches to lead a team out to Cardinal Stadium. While at Greenwich High, the former head coach netted an overall record of 31-10. The past two seasons will stand out over the rest, as Marinelli helped the Cardinals return to being one of the elite programs in the state. In 2018, Big Red went undefeated in the regular season and lost to Darien High School in the CIAC class LL championship game. This past season, the Cards ran the table. They dominated the competition during the regular season and finished an undefeated season with a commanding 34-0 victory over New Canaan High School in the CIAC class LL championship game. That win gave Greenwich its first state championship since the 2007 season.
"We have been very fortunate the past four years to have someone as dedicated and enthusiastic as Coach John Marinelli," said Greenwich High School athletic director Gus Lindine. "From the first moment he became our head coach, he set high expectations and goals for our program. He has been well-respected by players, parents and opponents and has been a positive member of our high school community. I will really miss his energy and passion. Now it's time for him to move on to bigger things and I wish him the best of luck."
As a young coach in the high school ranks, Marinelli has heard his name mentioned as a possible college coach somewhere, but despite all the chatter, Marinelli said that he never really gave that a thought. Having the success, both on and off the field, at Greenwich High School has been quite rewarding for the former head coach.
"We're really excited for him," said GHS new alum Nolan Connerty, who is going to Dickinson College in the fall to play football. "We're obviously sad to see him go. That's awesome for him and his career. He's going to go so far, and we all know that. The coaches here are going to step up. We don't know who's going to take his place, but Gus [Lindine] hired Coach Marinelli, so we have all the faith in the world that he'll hire someone great."
New Canaan head coach, and Marinelli's father, Lou Marinelli, saw his son move up the coaching ranks, working alongside him with the Rams and coaching against him whenever Big Red and NCHS clashed. And the Lou Marinelli couldn't be happier for his son with the move to the Pac-12.
"Both mother and father are extremely proud for what he, his staff, and his players have accomplished over the past four years," said Lou Marinelli. "Certainly, we know it wasn't an easy decision, as Greenwich is a premier high school program. However, this is an opportunity to be in Division I football. Therefore, we are excited for what the future may hold for John."
When it comes to top moments during his tenure at Greenwich High School, the obvious answer could be winning the CIAC class LL state championship and finishing the season undefeated and being ranked No. 1 in the state.
While that was something that Marinelli will cherish for the rest of his life, it was the state championship game one-year prior that is very special for the former head coach. The outcome was a far cry from this year's state championship game. In that game back in 2018, on a snowy field at Boyle Stadium, Big Red had a heartbreaking loss to Darien High School.
"One of most proud moments was when we lost in the state championship game," Marinelli said. "To see the amount of class and dignity that my team displayed in a loss on the biggest stage in Connecticut high school football was very special. The team rallied around each other. They shook everybody's hand in that line at the end. To go through that handshake line and do it with class and dignity stands out as the proudest moment I had as a head coach. The seniors rallied around each other in a time of need and the team followed their lead."
Being a coach in the FCIAC has prepared Marinelli for his adventure out West. He said that because of all the great coaches in the league, it has challenged him be a better coach and forced him to try some pretty creative things. He believes it's all about adapting and consistently working on schemes from all parts of the game.
"The FCIAC is the best league in the state," Marinelli said. "Obviously we have some of the best teams and our mid-level teams are tremendous and well-coached. The schemes that we go up against each and every week prepares us as coaches. Coaches have to do a lot to get the teams prepared for such a diverse league. Teams in the FCIAC have incredible schemes in all three phases of the game. That's something that get overlooked a lot."
While an individual has not officially been named to take over the Greenwich High School football program, Marinelli wasn't shy about giving his opinion on who should take over the program. Anthony Morello is someone that's quite familiar with Big Red, both as a former athlete in the program and currently an assistant coach at GHS.
"Anthony played here and has coached at all different levels," Marinelli said. "High School football is so much more than what people watch on Friday night or Saturday. There is so much that goes into building a program and it's anything from the sub-varsity level teams to the weight training programs to following up on the academics of kids to socializing with kids and so much more. I think Anthony Morello has been by my side every step of the day. He wants to be a head coach and I think it's a natural fit. All my coaches are behind him and that speaks volumes. I think it's very powerful to have continuity in a program and that's what Anthony brings. I am hopeful he gets the position. He's a great leader and a great human."
Marinelli believes that no time is a good time to make a coaching change. He loved being out there for spring football and working with the team at Greenwich High School in an attempt to make them better athletes.
"I love coaching them up and getting them better, but obviously from a program standpoint, if someone on my staff doesn't take over, whoever wants to do some things obviously might do things a little differently both offensively and defensively," Marinelli said.