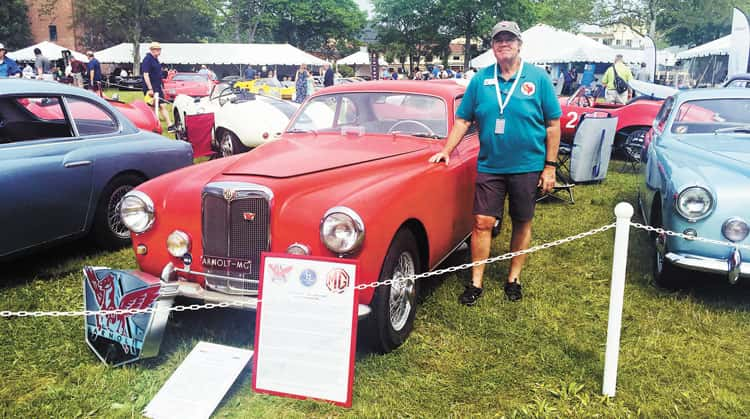 By Liz Leamy
Sentinel Correspondent
The 2019 Annual Greenwich Concours d'Elegance, held Friday, May 31 through June 2 at Roger Sherman Baldwin Park right on Long Island Sound's tranquil Indian Harbor, was once again a huge runaway hit.
This celebrated automobile event, first launched in 1996 and run for many years by the late Bruce Wennerstrom and his wife, Genia, and now overseen by Mary Wennerstrom, Greenwich Concours d'Elegance Chairman and Leif Wennerstrom (the Wennerstrom's daughter in-law and son), lived up to its extraordinary reputation in every way.
Regarded to be one of the three most celebrated events of its kind to be held in the U.S. (along with those held in Amelia Island, Fla. and Pebble Beach, Ca.), this year's Concours d'Elegance drew more than 10,000 attendees who came in from all over the U.S. and Canada to view and take pictures of the dozens of breathtaking American and European automobiles from the past and present on display, as well as interact with their designated owners and handlers.
"This is a very special and unique event because it's a celebration of the automobile in America and all over the world as demonstrated through the interest of people who keep that spirit alive and well," said Michael Lindgren, who has been involved in the Greenwich Concours d'Elegance for many years. "Automobiles play an extremely large role in our culture and to see the incredible craftsmanship and designs of all of these cars in a [forum] such as this is wonderful."
Lindgren credited the huge success and evolution of this event over the years to the commitment of Bruce Wennerstrom, who was involved with this show up until his passing in 2015 and Genia, who passed in 2011, as well as the late Malcolm Pray, the renowned Greenwich car magnate and community benefactor.
"The [Greenwich Concours d'Elegance] grew and evolved under the incredible direction of Bruce and Genia Wennerstrom, as well as Malcolm Pray, each of who helped make this the huge success it is today," said Lindgren.
Collectively, the automobiles on display at this event, which also featured beautiful vintage motorcycles, rendered a breathtaking artistic showcase that told a compelling narrative about the contemporary 20th century and 2K American and international culture and history, which in itself, made the whole event very special.
While walking through the plethora of automobiles, it wasn't a stretch to see a Cadillac, Lincoln Continental, Chevrolet, Oldsmobile, MG and a Ferrari, as well as a current edition of a Maserati, MacLaren and other cars.
"This is one of the major events in the country. All of the cars here are all different, unique and interesting," said Gerald Letteri of Hartford, whose Marchese Championship Race car, was a big hit with spectators. "It's all about the enjoyment of cars and this is a community of people who are very dedicated to that idea and concept."
One of the best things about this event was watching attendees chat with the owners and others associated with each of the car on display, as they seemed to be as friendly and willing as ever to discuss the history, design and other information associated with their particular automobiles.
"This is a venue that's great in every way for this type of event," said Craig L. Burchsted of Austin, Texas, whose original and unrestored 1953 Arnoult-MG 'Sandy' was a big attraction among spectators. "It's beautiful here, everyone is dedicated to their cars and you get to meet a lot of really nice people."
Burchsted's automobile was one of only 67 of this type of car to be built and was also used by Stanley Arnoult as his personal car after it had been displayed at the Chicago Auto Show.
Throughout the weekend, there was an auction held by Bonhams for those individuals interested in purchasing one of the extraordinary cars on its roster, as well as a gala event held at the Delamar Hotel on Saturday night.
At the same time, there were numerous vendors at this show, including the Lincoln Motor Company, Grundy Classic Car Insurance, a collection of talented artists and others.
"This is a great event," said Josh Grundy, whose family's car, a stunning 1912 National (that was raced at Indianapolis) won a Best of Show award at this event and whose family company, Grundy Insurance of Bucks County, Pa., was a 2019 Greenwich Concours d'Elegance vendor. "The people here are so friendly, the weather's been amazing and the cars are incredible. Plus, this venue is awesome with the cars being shown right by the water. It's really beautiful here."
In addition to all of the excitement of the cars and other goings-on, there were some industry celebrities on hand at to further add to the excitement of the atmosphere.
This contingent included Skip Barber, owner and president of the storied Lime Rock track in Lakeville; Wayne Carini, host of the popular cable television show, 'Chasing Classic Cars'; Roger Colson, an original Ferrari North American Racing Team member; and David Hobbs, television commentator and one of the most decorated car racers of contemporary times.
When all was said and done, the spirit and energy among the entire crowd at this event seemed to be the most special thing of all.
"This [event] is about the dedication, respect and passion of those [people] involved with all of these cars and also about what the cars represent and this is why I really enjoy coming here," said Bob Sekelsky, a renowned classic car restorer and artist based in Cortlandt Manor, N.Y., whose amazing turquoise and white 1958 Chevrolet Impala won two Best of Show awards at this event. "It's great to be here."