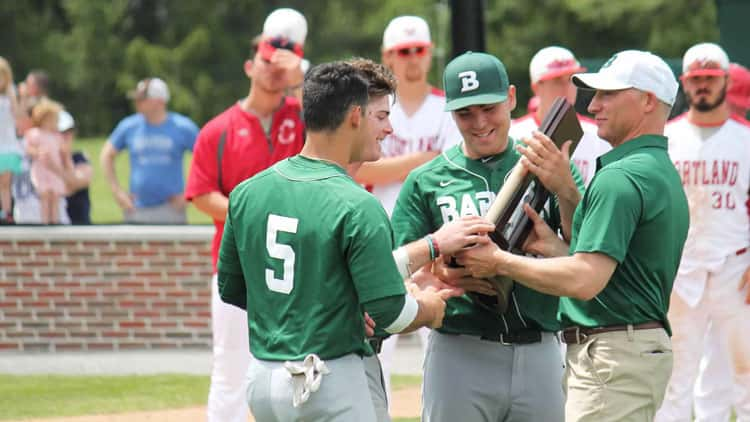 By Paul Silverfarb
Sentinel Editor
Competing at a high level is nothing new for Greenwich resident and Babson College senior Mike Genaro.
Whether it was at Greenwich High School or on the Greenwich American Legion baseball teams, Genaro was cool under pressure. He always took the ball in the big games and was one of the athletes that was looked upon to get that big hit.
So, it's no wonder that last weekend Genaro and the rest of the Babson College baseball team captured the Super Regional championship and advanced to the 2019 NCAA Division III World Series, during his last go-around playing collegiate baseball.
"This is cool for us," Genaro said. "We have played a very challenging schedule. We opened up this year playing three games in San Antonio against a top-10 opponent. We played a number of teams in the region, like Southern Maine, UMass-Boston and Wheaton, and we feel like we have seen a lot of the best teams out there. I am sure that we will see a lot of good teams at the World Series, but the way they play won't be a surprise to us. We are going down there to win games. We will enjoy the experience for sure, but we know we are there for baseball and will be ready to go."
In the Super Regional championship game, it was Genaro that got the call, and the lefty delivered, as usual. In seven innings of work against Cortland, Genaro gave up only four hits and one unearned run, while striking out two. The win was his eighth of the season, and the one he will remember for quite some time.
For a past few years, the goal for Babson and Genaro has been a simple one. All they wanted to do was get to the NCAA Division III World Series at Veterans Memorial Stadium, in Grand Rapids, Iowa. This year, the Beavers achieved their goal, as Babson will start play Friday, at 4:30 p.m., in the World Series against Johns Hopkins. But Genaro is greedy and wants more.
"Now we are here, we are all thinking that, since we are here, why don't we go out and win the damn thing," Genaro said. "The fun and excitement of winning Regionals has shifted a little bit and now we are focused on winning a few more games. You don't get to this point all the time, so you might as well make the most of it."
Getting to the World Series has gone a long way to erase last year's painful end to the season. Last season, Babson won the first three games of Regionals, cruising to the championship game. However, needing only one win to advance to the D-III World Series, the Beavers fell short. Genaro said that the team took things for granted a little bit and lost sight of its focus.
"This time, we walked in and were fully focused until that final out was made," Genaro said. "It paid off. We showed up on Saturday morning for the championship game like it was just another business day and another game to win. We didn't think about the results. It was all about playing our game. Sure enough, we got the results we were looking for."
Sure, Genaro might not throw as hard as some of the other pitchers in Division III baseball. And, maybe the velocity isn't as jaw-dropping as other hurlers. However, with his combination of rarely walking a batter and pin-point accuracy, Genaro has been a key contributor to the success of the Beavers this season.
This year, Genaro has an 8-3 record and a slim 1.65 ERA. In 12 starts and 87.1 innings of work, he has given up 16 earned runs and thrown one complete game while striking out 66 batters and walking only six.
Back in early May, Genaro was named the New England Women's and Men's Athletic Conference Pitcher of the Year. This week, Genaro added another plaque to his trophy case, as the lefty pitcher was awarded D3baseball.com First Team All-New England honors. This was the second consecutive year Genaro was named to the D3baseball.com All-Region team.
When asked about the reason for his success, Genaro stopped, paused for a few seconds and said that he's honestly not quite sure.
"Not giving up walks has always been my thing and I try to keep those down, but other than that I am not doing too much different than I have been doing in the past couple of years," Genaro said. "I think maybe it's because I have more experience and am a little bigger and stronger. Coming into my senior year, I think I have picked up some things along the way to give me a little more advantage, and maybe that is the reason for my better numbers and more success this year."
Looking at Genaro toss inning after inning of quality baseball, it's obvious that hitting his location has been on point throughout most of this career with Babson. He is the Beavers' all-time leader in wins, with 26 and innings pitched with 267.2, as of press time.
"For a guy that doesn't have too much velocity or overpowers people on his fastball, I have always said that my gift is being a left-handed pitcher that can throw a fastball and hit spots," Genaro said. "At the end of the day, if you throw pitches that are hard to hit, it doesn't matter how hard it's coming in. I just focus on every pitch, make sure I hit my spots, execute my game plan and not over complicate things out there."
While Babson has been on fire this season, posting an impressive record of 38-8, as of press time, Genaro said that it's not one person who has been propelling the Beavers.
"When people look at the stats of Babson, nothing really stands out," Genaro said. "We don't have any superstars. We are just one big cohesive group that, when everybody does their job, is just a very tough team to beat. We are nine guys deep up and down the lineup. Our pitchers just fill up the zone and make other teams beat you. We have some great arms and when we play a complete team game, it's tough to beat us."
For Genaro, each game is a little bittersweet. While it seems like the senior started his career at Babson a few months ago, losing means that the Genaro's career at the school will come to an end.
"I would be lying if I said that the last couple of times I've gone out there that it didn't cross my mind that it could be my last time pitching," Genaro said. "Luckily, I've had success and my teammates have been great. I know that the next loss is eventually coming up, but hopefully I get one or two starts up there in Iowa and win the last game of my career."
And, looking back on his decision to play baseball at Babson late in his junior year at Greenwich High School, Genaro couldn't be happier.
"It's definitely been the best time of my life," Genaro said. "I knew I was coming into a competitive program where baseball is taken seriously. Athletics were big at the college, but a huge part of my decision was that it was a good school and that I was going to be able to get the education I wanted. It set me up for a life well after college. And, to play baseball here has been a dream. I have to give a ton of credit to my coaches and my senior class. We moved the ship in the right direction and started winning a lot of games. The athletic department provides us with unbelievable resources."