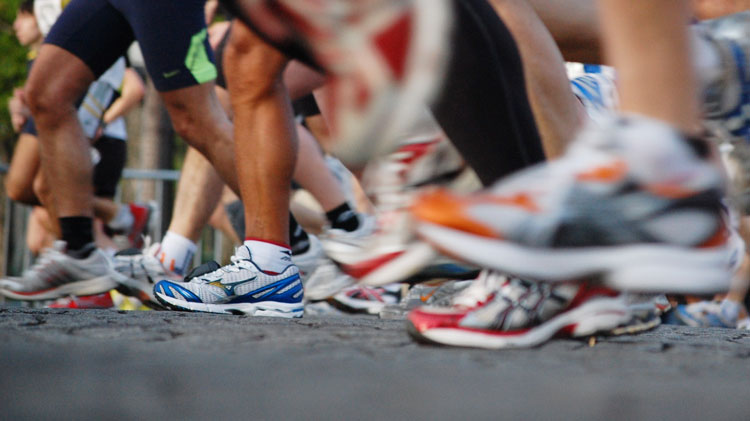 The Department of Parks and Recreation announces pre-registration for the 55th running of the Jim Fixx Greenwich Memorial Day Road Race and the Kid's Half Mile Fun Run will be available online at Threadsandtreads.com until Sunday, May 26 at 3:30 p.m.
Runners may also register at Threads and Treads, 17 East Putnam Avenue, Greenwich during store hours Monday through Friday 9:30 a.m. to 6 p.m., Saturday 9:30 a.m. to 5:30 p.m. and Sunday 12 p.m. to 4 p.m. Race material may also be picked up beginning Thursday, May 23rd after 11 a.m. at Threads and Treads.
Runners may also register on Monday morning, May 27, from 6:45 to 7:45 a.m. only at the Greenwich Senior Center for either the five-mile run or kids run.  There is an increased fee of $40 for the five-mile race and the fee for the kids' run will be $20, exact change or check payable to "M.D.R.R.C." only. The Senior Center is located at 299 Greenwich Avenue, Greenwich. Pre-registered runners may also pick-up race materials at this time.
The five-mile run starts at 8:15 a.m. on Greenwich Avenue, just South of the East Elm Street Intersection. The kids' run starts at 9:15 a.m. on the Havemeyer Track behind Greenwich Town Hall. Children may also register at the track, from 8:40 to 9:00 a.m., before the half-mile run.
This is the 55th running of what continues to be one of Connecticut's oldest and most popular foot races.
The challenging course is as follows:  After the start, the runners will head down Greenwich Avenue onto Steamboat Road, taking a left onto Oneida Drive and a left onto Indian Harbor Drive.  Runners will continue on Indian Harbor Drive to Davis Avenue, bear right past the bridge in Bruce Park and turn left at Indian Field Road, and then head left onto Bruce Park Drive, continuing in Bruce Park and turning back onto Davis Avenue.
Runners will then cross over the bridge, head right at the traffic circle, and then take a left onto Bruce Park Avenue.  The course will then turn right on Mason Street, keep right at the traffic circle, go right at Havemeyer Place, left on Locust Street, left on Davis Avenue continuing onto East Elm Street.  Runners will then cross Milbank Avenue to Lexington Avenue to Amogerone Crossway and take a left onto Greenwich Avenue, take a right on Arch Street, another right onto Bolling Place, turn onto the Havemeyer Track, bear left on the track and finish.
Following the five-mile run, the children's one-half mile fun run will be held on the Havemeyer Field track. The top male and female finishers in the kids run in two different age categories will receive trophies and all kids run participants will receive an award.
The race is organized by the Department of Parks and Recreation and is the second leg of the 2019 Hospital For Special Surgery Greenwich Cup Series, Presented by William Raveis.  The Greenwich Cup is organized by Threads and Treads. The Greenwich Old Timers continue as an original sponsor of the Fixx Run and will help provide awards including overall male and female winner trophies and also medals to the top three finishers in a number of age categories. Mickey and Mike Yardis of Threads and Treads and their staff will assist with finish line direction, and Jim Gerweck will handle the computerized scoring of both runs.
The race, which has been an annual event since 1965, was rededicated in 1985 in memory of Jim Fixx, a major contributor to the sport.
Further information may be obtained by calling Threads and Treads at 203-661-0142 or the Recreation Office at 203-618-7649.  You can find information about this and other Greenwich Parks and Recreation programs at Greenwichct.gov.