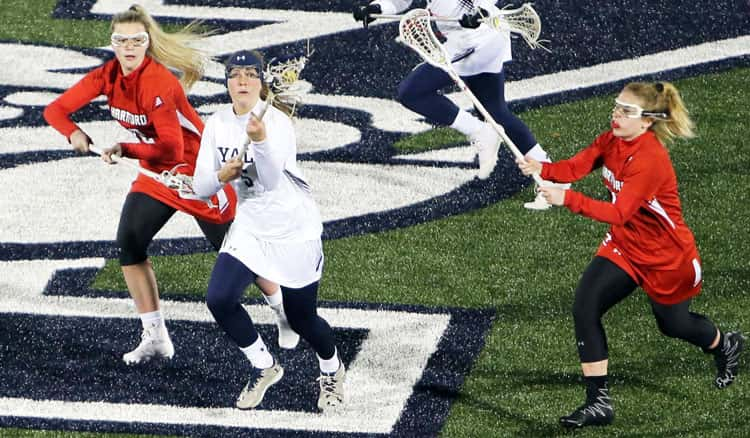 By Paul Silverfarb
Sentinel Editor
If anybody wants proof of the old adage that hard work pays off, just ask Izzy Nixon.
The Greenwich resident and Greenwich Academy graduate grew up working hard at the sport of lacrosse and was awarded a chance to play it at Yale University. After shattering several records at the New Haven campus, the Bulldog senior is ready to take her game to the next level, as she will be playing in the Women's Professional Lacrosse League.
"It's really surreal," Nixon said. "To dedicate yourself to something like the draw in lacrosse for the length of your career and get recognized for it is amazing. It's something that I have been working on since Greenwich Academy, if not the better half of middle school. The 13-year-old Izzy is out of her mind right now."
In the end of April, Nixon was selected 23rd overall in the WPLL Spring Draft and will play professionally for the New England Command. Nixon's selection also made history, as she was the first ever female lacrosse from Yale University to be drafted.
"Izzy Nixon has a prolific career as one of the best draw specialists in the nation this season," said Amy Patton, the New England Command's head coach. "We are looking to her to be someone that will take the faceoff for us, and really try to put it to the spot we need it or win it herself, and be someone that can really get us a lot of ball possessions in games. We are excited to see how her skills will transition to the pro level."
The first thing that came to Nixon's mind when she found out she was the 23rd overall pick in the Women's Professional Lacrosse League was how excited she was to represent Yale University, the place that helped propel Nixon's young career to new heights.
"I can't express how grateful and happy that I am to be able to do them justice this summer," Nixon said. "I am also thrilled to be able to take that next step in the sport and take my game to the next level. It's kind of a similar feeling to when I was at GA and realized I was able to play lacrosse at Yale. Knowing that you're able to take that next step and really elevate and push yourself with people that are fantastic lacrosse players is really exciting. It's a challenge that I'm ready to take on."
Greenwich Academy head lacrosse coach Melissa Anderson coached Nixon when she was a member of the Gators. While she couldn't be happier for Nixon and all her success, she's also far from surprised.
"We are so happy for her," Anderson said. "Obviously she was a real standout for us. She's one of those kids that were so easy to coach. She's just a workhorse and a team player. She's always willing to do the work. She leads by example."
This has been a breakout season for Nixon, and to say that she's dominated would be a massive understatement. In her junior year, she set the Ivy League record by picking up 130 draw controls and only bested that her senior year by tallying 154. This year, she also tied the Ivy League single-game record with 19 draw controls in one game, a 18-4 victory over Hartford on Feb. 26. Back on March 10, she broke the Ivy League career draw controls record of 295 during Yale's victory against Canisius.
Nixon finished her senior year second in the NCAA in draw controls per game (10.27) and that also placed her fourth in NCAA history. During her senior year, she finished with 12 goals and five assists. In her Yale career, Nixon currently has 57 career goals and 83 career points.
"I never expected lacrosse to bring me to the places it did. It brought me to Yale and now it's bringing me to the Command," Nixon said. "I would be a different person without the sport of lacrosse, so for that I'm just so grateful. I'm really grateful that I was able to play it when I was younger. I'm grateful for all the coaches that believed in me at GA and Yale. I'm grateful for all my teammates throughout my years of lacrosse that constantly supported me on the draw and lifted me up whenever they could."
For Nixon, the key to taking her game to the professional level was all about preparation and consistently practicing her craft. Whether it was wrist exercises, looking up draw videos in between classes and late at night, or practicing at the center of the field, Nixon was always working.
"It was all about putting in the extra time," Nixon said. "Both in high school and Yale, the one thing that made all the difference at Yale was putting in the extra time that we dedicated to the draw in practice and outside of practice. It really made it a game-changer for me to do those reps on my own. With the draw being such a skill-based position, I think putting in that hard work in the back end is what helped me."
In addition to the practices and studying film, Nixon believes that amazing communication between her and her teammates has been instrumental to her success as a draw control specialist.
"I was always communicating with my teammates and making sure that we were all on the same page for every single play," Nixon said.
The draw control is one of the key positions on the lacrosse field. A 50/50 ball could be a game-changer at any given moment during a game. It's a way to get possession of the ball and to get the offense firing on all cylinders.
"To be able to have confidence that you're going to pick up those 50/50 balls on a regular basis adds a lot of confidence to the team," Nixon said. "It gives the team momentum and it's an emotional boost to the team for the length of the game. It's something I really latched on to, and I love the high pressure of it. I love coming up with solutions on short situations and communicating with people at a moment's notice."
While Nixon is excited to get her career going with the Command, first thing's first as graduation is front row center. So after graduation, as Nixon will be graduating with a political science degree, she will join the Command and prepare for the team's first game which will take place at Gillette Stadium on June 1, at 6 p.m.
"I am so excited to work with Amy Patton," Nixon said. "She has over 30 years of coaching experience and I am really looking forward to playing under and for her. I can't wait to take my draws to the next level and push the limits on that front. It's going to be unreal to work with and play against national champions and award winners from all over the country. It's so unique when you get to play with a team with such talented players from so many different places. In this process I can elevate my game and help my teammates this summer come out with a championship."
The Women's Professional Lacrosse League consists of five teams: the Baltimore Brave, New York Fight, Upstate (N.Y.) Pride, Philadelphia Fire and the New England Command.
"The WPLL is doing great work and we are thrilled they are succeeding and getting off the ground," Anderson said. "They just formed a partnership with U.S. Lacrosse that I think will mean a lot for the sport nationally and certainly for developmental programs. For Izzy to be on the frontier of that is just a real credit to her. We are cheering for her success over here at GA and we are excited to see what she brings."