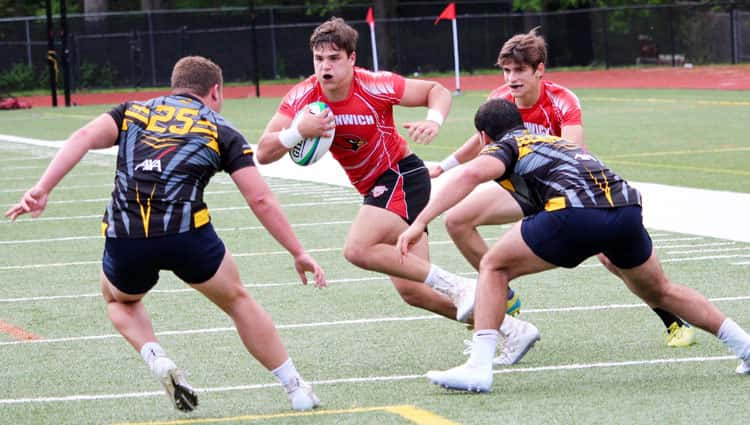 By Paul Silverfarb
Sentinel Editor
It seems like a tradition in Greenwich. Just like the crocuses bloom on Monument Hill, the foot traffic on Greenwich Avenue increases and the beaches in town get busier, the Greenwich High School rugby team is preparing for competition in the national championships.
"I am so proud of this team because of how our success came from a whole bunch of different positions," GHS head coach Joe Kelly said. "We have players that were moving from sophomore year to junior year and we weren't sure if they were ready to fill the spots. But they matured enough to fill those spots in a great way. Players that we never expected to be the first team are playing competitively. We're seeing a lot of kids maturing into 'A' side roles and I couldn't be happier. I am over the moon."
On Wednesday, Greenwich High will board the buses early in the morning, head to the airport and fly to Salt Lake City, Utah for competition in the 2019 Boys' High School Rugby National Championships. The three-day event will take place at the Regional Athletic Complex and kick off on May 16.
"Distance doesn't make that much of an issue," Kelly said. "We have one kid that has never flown before, so that's really exciting for us. A lot of kids also haven't been away from their families for an extended period of time."
Competing in the single-school division of the national tournament, Greenwich High School will be seeded sixth overall and will open tournament play against third seed Herriman High School out of Herriman, Utah.
"We are going there targeting the first game," Kelly said. "In recent times, we haven't made it past the first game. We struggle with that. So our target and all our focus will be on game on.
Jesuit High School, based out of Carmichael, California, is the top-ranked team in the Boys' High School Rugby National Championships, followed by Penn High School and Herriman. Gonzaga College High School is ranked fourth in the tourney, with Greenwich's rival Xavier High School ranked fifth overall. With the Cards ranked sixth, East High School takes the seventh spot and rounding out the top eight is Kahuku High School, based out of Kahuku, Hawaii.
"There's not that big of a difference between the top four teams," Kelly said. "It's all about the style of rugby they play. We certainly want to play someone from a different place and didn't want to play Xavier again. As much as we like playing them, we don't want to play them to start things off. We would love to play them in the finals."
Greenwich will be taking things one game at a time while in Utah, knowing the competition will be tougher than anything they have seen all year. Two years ago, Big Red won two of the three games they played, but in those two victories they both needed overtime to decide the winner.
"Traditionally the games at Nationals are really tight and close game," Kelly said." Scores are close, so it's anybody's match. On the first day, we have just not fallen on the correct side of the win. We have been very close, but we haven't been able to get that win. It's just the issue of the ball bouncing our way, the strategy of being the correct one and taking advantage of other team's weaknesses."
And if Greenwich can get past the first day, Kelly believes that the sky is the limit.
"With our tremendous depth being a big advantage this year, if we can win the first game we can move on and have fresh legs out there on day two," Kelly said. "That's the key to winning this tournament. The teams that usually win this tournament are teams that have very deep squads. This is the deepest squad that we have ever had, so we have a much better chance at achieving what we are setting out there to do."
For Kelly, the fun part of having a program that consistently qualifies for the national tournament is that Big Red gets to see the different styles of play that happen all over the country.
"We want to be able to play teams that we have never played before," Kelly said. "That's really exciting for the kids and for the coaches. As an organization that always wants to do better, playing a really strong team that has something you can learn from is something to look forward to."
But in order to keep the momentum rolling to the national championship tournament, Big Red had to get past a tough Aspetuck Valley Rugby Club. Aspetuck is the other Connecticut rugby program that will be traveling to Utah for competition in the high school national championships, competing in the club division.
According to their website, AVRC recruits high school players from any town that doesn't have a high school rugby program and has athletes from Redding, Easton, Weston, Wilton, Westport, Fairfield, Newtown, Ridgefield, Bethel, Danbury, Shelton and Monroe.
"It was a wild game," Kelly said. "There were a lot of people in the stands and the excitement was there. The build-up was huge because Aspetuck has built a powerhouse. Because they are in the national tournament, all the club players in the neighboring towns want national exposure. So a lot of them have quit their own teams and joined Aspetuck to create this powerhouse of an organization."
In a battle of undefeated teams heading into the contest, it was Aspetuck that stunned the Cardinal Stadium crowd and built a quick 10-0 lead. Greenwich settled down and dominated the rest of the way, taking the lead at the break and winning the contest 36-21.
"We started off poorly and made a lot of mistakes," Kelly said. "They scored a few times to start things off, but we knew we were slightly a better team. I knew that if we didn't lose our composure, we should be able to fight back because we were only down by 10 points at half. At halftime I told them to simply play their patterns and structure. And we did that."
Leading the way for the Cards was Ian Foster, who scored two tries. Other GHS athletes picking up tries were Francisco Liguori, Evan Weigold, Santi Thompson and Larry DeLuca.
"The good thing about our team is that we are deep," Kelly said. "We have 25 'A' players and when you start the season with that many 'A' players, you could have injuries and not miss a beat. Against Aspetuck we had at least 15 'A' players on the field and that made all the difference."
While other teams have complained about the way Aspetuck, based in Newtown, draw from all over the region, Kelly and the Cardinals look at it as a great opportunity to play a top quality team leading up to the national tournament.
"Going into this game there was a little hype because we were both undefeated in the state," Kelly said. "It was a great opportunity for us not to travel too far to play some great competition. It came down to the moment where if it's possible that this all-star structured team take on and defeat the mighty Greenwich Cardinals. So there was a lot of hype."
In addition to picking up the victory against Aspetuck, Kelly said that his team learned how to lift up their level of play against a strong opponent and how to keep composure when trailing.
"For us, it's rare when we go behind in a game, especially against local teams," Kelly said. "When we go on the road and have our annual Xavier game, we know it's important to keep the score close. When we played at the Gonzaga Tournament, we knew they could get on top of us and it didn't make the wheel fall off for us. But having a local team playing us evenly and have us trail at half, it gave us some training in that we should keep our heads, stay cool and play our structure."