April 19, 2019
Beattie Named Greenwich Officer of the Year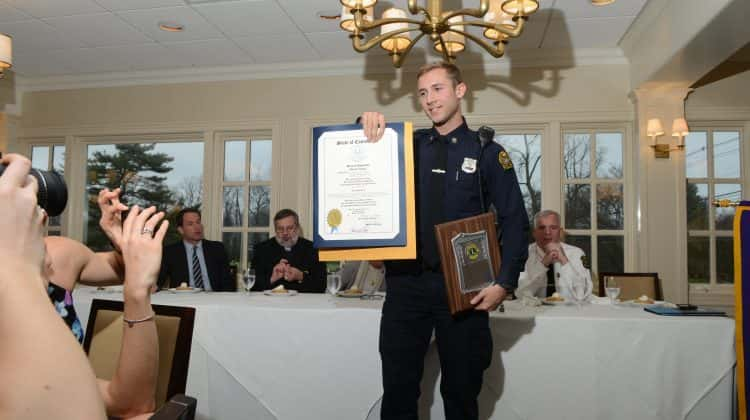 By Richard Kaufman
Sentinel Reporter
The decision to select an Officer of the Year for the Greenwich Police Department is a difficult one to make, according to GPD Chief James Heavey. But after sifting through candidates, one name quickly rose to the top of the list.
Ryan Beattie, a six-year veteran of the department, was awarded with the James A. Clarke Award on Thursday during a luncheon with the Lion's Club at Innis Arden Golf Club in Old Greenwich. Clarke was a founding member and the first president of the Greenwich Lion's Club, which has given out the award since 1947.
"Officer Ryan Beattie has exuded many admirable traits, living up to all of our core values: courage, diligence, respect, fairness, service," said Heavey during his opening remarks. "As a patrol officer, he has been a proactive law enforcement officer, who has been praised by his supervisor for his ability to operate at the highest levels without the need for supervision. He exercises excellent independent judgement and superior investigative skills."
With zero sick days taken in 2018 and with what Heavey described as a "can-do attitude," Beattie has become a go-to officer for the department to handle the most difficult cases, and he's often called upon to assist narcotics officers.
Heavey outlined some of the cases Beattie was directly involved with in 2018 to show why he was considered for the award.
In February of 2018, Beattie and fellow officer, Justin Rivera, were working a special detail on the east side of town when they made a keen observation which resulted in an arrest that yielded a sizable amount of cocaine, marijuana and stolen opioids. Beattie and Rivera were named as Officers of the Month as a result.
Beattie was then hand-selected along with officers Christian Rosario and Mike Hall for another special detail. The GPD recognized an increase of forgery, identity theft, fraudulent financial transactions and larceny, within the central business district of Greenwich around the holidays in 2018.
Beattie and the Organized Retail Crime Activity team, working primarily in plainclothes in the area, were able to initiate discreet surveillance of suspicious persons and take appropriate action. More than 32 career-criminals were arrested for a total of 143 different charges, 85 of which were felonies. 
Heavey noted that Beattie has even excelled as a recruiter for the department, since he was able to persuade his brother, Sean, to come work as an officer in Greenwich. Before Beattie was given his award, Heavey recognized Sean for completing his probationary period and becoming a full-time officer in town. 
The Beattie brothers even helped save a life together in July of 2018.
Officers in the department are also qualified as EMT's, and on one particular occasion, Beattie's additional lifesaving training paid off.
In July of 2018, Beattie responded with his brother, Sean, and Officer Alex Testani, to a call of a woman who was choking and stopped breathing. Upon arrival, the officers began CPR and played a critical role in the chain of survival before the woman could be taken to a hospital. Doctors were able to restore her breathing and regain a pulse.
Lion's Club District Gov., Allen O'Farrell, presented the plaque to Beattie, who found out earlier in the morning that he had won the award.
Heavey had taken Beattie to the Boys and Girls Club of Greenwich to speak with kids for The Zac Foundation, and offered to buy him lunch afterwards. Beattie knew something was up when they arrived at the Innis Arden Golf Club and Beattie's family was there.
"They didn't tell me anything. I was surprised," Beattie said after the presentation. "Looking at past recipients and being in that group of people… It's nice to be recognized for what you do."
State Rep. Livvy Floren (R-149) presented a state legislative citation to Beattie.
"I am absolutely amazed at the ills of society that you're having to face everyday. [Crime] seems to be growing exponentially in number, diversity and severity," Floren said. "You represent your colleagues in facing these ills with competence, professionalism, and compassion, and you're very, very good at what you do. I applaud you, and I appreciate you."
U.S. Rep., Jim Himes, a Greenwich resident, was also in attendance. He called the Lion's Club and the GPD "two pillars" in the community. 
"Than you all for the work you do everyday," said Himes. "Officer Beattie, the sacrifices you make and the confidence you show are a real tribute to your family and the department."
Additional photos from the luncheon:
Tags:
GPD
,
greenwich
,
Greenwich Police Department
,
Innis Arden Golf Club
,
James A. Clarke Award
,
old greenwich
,
Town of Greenwich