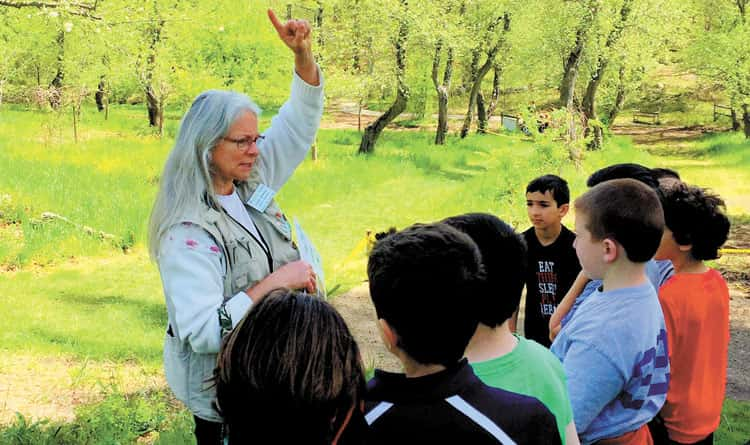 By Anne W. Semmes
Sentinel Correspondent
"Little Hummer," is Camille Broderick's family nickname for always "moving around like a humming bird." Yes, indeed, and what continues to move and motivate Broderick is bringing the wonder of birds and nature to the young and uninitiated.
On April 25, Broderick is being honored by Audubon Connecticut at its annual Environmental Leadership Awards benefit at the Belle Haven Club for her nearly 20 years as an Audubon Greenwich Teacher Naturalist (TN), connecting school children with meaningful learning experiences outdoors. She will receive the Katie O'Brien Lifetime Achievement Award.
Broderick is a powerhouse at Audubon Greenwich, as former board member, education chair, and major donor, but at the top of her list is, "teaching kids, taking kids out on the trail, guiding them, helping them to explore."
"Camille meets children with warmth, enthusiasm, focus and creativity. In her group, children could be using their imaginations to become rain drops which work their way through the landscape from hilltop to the sea, or powerful hawks or eagles soaring high above the Audubon Center, using their sharp vision to view the world below," tells Ted Gilman, Senior Naturalist and Environmental Education Specialist at the Center.
Gilman had introduced Broderick and her two young sons to Audubon Greenwich in 2000 on a walk at Greenwich Point, a year after the Brodericks moved to Greenwich after years living in England. Broderick would sign on to become a Teacher Naturalist (TN), taught by Gilman and trained to take school kids, from kindergarten through fifth grade, out on Audubon trails. Four out of mornings, with her kids in school, she would volunteer as a TN.
"Audubon Greenwich saved my life," she shares. With her husband in a demanding job, and her kids adapted in school, Broderick found an activity she was especially equipped to do, with a major in biology in college, and a degree in horticulture earned in England.
She describes her TN teaching sessions. "You have schools that book a field trip based on whatever topic they're studying and parents as chaperones and teachers come out with us. We'll have a group of six to ten kids. We're out on the trail for an hour to two hours.
"You're going out on the nature trail where you don't know what you're going to see necessarily. You have to be flexible. Ted always tells us if a child asks a question that you don't know the answer to, that's perfectly fine. You'll say, "Maybe that's something that you can research when you go home."
What's important for a TN says Broderick is to be "enthusiastic, entertaining and engaging. Because you want the children to have a good experience and some of these kids don't go outside. If we turn over logs and there's a worm I show them how you pick up a worm. I say, 'Would anyone like to hold the worm?' We show them that we're safe, the worm is safe, and that it's something that they could do themselves."
She surprises with, "I've never had a child take out an iPhone or anything like that. The kids are engaged, but sometimes you'll see the parents in the background – they're answering emails. I would like to say to them, put your phone down and enjoy the time when you're out here with your child."
Today, she's down to two days a week of TN teaching with her commitment to other organizations, including serving as Cubmaster of 75-member Pack Nine of the Greenwich Boy Scouts. And Broderick continues every year to take the five-week TN training sessions – "You're always learning something."
It was at one of those TN training sessions that Broderick learned how widely shared a formative influence was, when the educator asked participants where was their favorite spot in nature growing up. For Broderick, as a child in rural Virginia Beach, her favorite place was the tree she would climb. She was "so excited," to find that with most girls, "it's a tree."
To celebrate Audubon Greenwich's 75th anniversary last year, Broderick thought to tell its historic story graphically in what would become a 35-foot long timeline. It became a visually-rich printed version, with Broderick's guidance and financial support, and necessary staff assistance. That timeline project was tip of the iceberg of Broderick's desire to tell the important historical story of the Audubon Center. She knew that story, dating back to 1943, had taken place in the Old Center Barn, located behind the current Center building,
"This former Center building was the National Audubon Society's first nature education center in the country," tells Broderick. "That's where all of National Audubon's nature publications came from."
So, after all those years of seeing that Old Center with its post and beams "just sitting there, decaying," Broderick welcomed the Center's new executive director, Michelle Frankel. "She saw the potential of saving this historic site. She is the reason why my husband and I donated money to restore that building."
Broderick pulls out the architectural plans for the Old Center's restoration and shares her vision. "My idea is to keep it simple," she says, to be used three seasons of the year, with no heat, no air conditioning and no bathrooms. "You'll walk into this wonderful historic structure, with all these wonderful beams, that will highlight the historic significance of the building and be a gathering place along the trail to introduce yourself as you walk down the hill."
Broderick puts on her Teacher Naturalist persona and says, "We can take children from the front door back in time into why the Audubon Center came into being, then walk them out the door into nature."