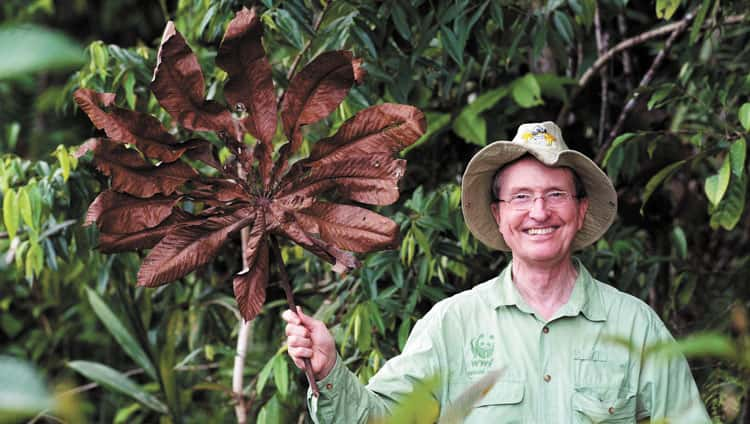 By Anne W. Semmes
Sentinel Correspondent
Greenwich will take a definite tilt toward the green when Dr. Tom Lovejoy, the "godfather" of biodiversity as he's called, arrives on April 25 to be honored with Audubon Connecticut's Environmental Leadership Award, at the Belle Haven Club.
Lovejoy, a world-renowned conservation biologist, carries his urgent message around the world of our need to address climate change and its effect on the world's biodiversity, and he will no doubt bring birds and conservation into his focus for his talk in Greenwich.
Lovejoy teaches at George Mason University in Washington, D. C.  He's credited for coining the term "biological diversity" during his nearly five decades of working in the tropical rain forests of the Brazilian Amazon. It was there he fell in love with the world's richest diversity as a student at Yale. What that fascination would lead to is well told in a recent three-lecture series he gave at Yale, entitled, "The World of the Born and the World of the Made: A New Vision of Our Emerald Planet."
Outside of Manaus, Brazil, and still going strong, is Lovejoy's now 40-year old study site, encompassing some 620 square miles designed to show how smaller or larger forest fragments work to preserve the diversity of animal and plant species. Known as the Amazon Biodiversity Center, it has served as "a lab for conservation scientists, a classroom for students, and an inspiration to world leaders to preserve robust, biodiverse ecosystems in the Brazilian Amazon – 'the lungs of the planet.'"
Early on, Lovejoy was invited to the study site, along with U.S. Senators, Congressmen, and other game changers, to experience that rain forest richness in the simple, small clearing called Camp 41, hung with a few hammocks (as it remains so today). Unforgettable was the impact on all the senses of arriving into that heart of the Amazon.
To learn more about the impact of Camp 41's window on this wondrous world of biodiversity, we asked Lovejoy a few questions:
GS: Of the many thousands who have visited Camp 41 – who are some standouts who have then made an impact on preserving biodiversity?
TL: It really is hard to single out a couple of figures because, for so many, it was an epiphany in which they understand the Amazon and its biodiversity intellectually but also get at a gut level that our world is a living planet.
GS: Give us some sense of the incredible biodiversity there.
TL: Camp 41 itself is in intact forest, essentially intact all the way to the Guianas with intact flora and fauna, a Harpy Eagle nest 200 meters from camp, jaguar we never see but who see (and smell) us. It is forest primeval. Over the years, we've counted 409 bird species in the project  – there are an estimated 1,300 species in the Amazon Basin. And 1,800 tree species, with an estimated 15,000 species found in the Amazon Basin.
GS: What have you seen as the impact of climate change on that Center's biodiversity and its environs?
TL: At a minimum we are experiencing more intense weather events like drought years and the opposite heavy downpours.
GS: You are credited for having created the study of climate change biology that you spell out in your new ebook, Biodiversity and Climate Change: Transforming the Biosphere. What else is on your agenda?
TL: Multiple speaking events: three weeks ago in Sao Paulo, Brazil at the University of Sao Paulo; Washington D.C. and Arkansas. Barely a week goes by without some public speaking event.
Tom Lovejoy, in his crusade to conserve of biodiversity, has served the presidencies of Reagan, George H.W. Bush, and Bill Clinton. He was also instrumental in the creation of the PBS Nature series he cites as, "the most popular long-term series on Public television."
For information or tickets to the April 25 Audubon Connecticut Environmental Leadership Award Benefit, at the Belle Haven Club, visit http://ct.audubon.org/environmental-leadership-awards-benefit