March 28, 2019
Editorial: CCFPP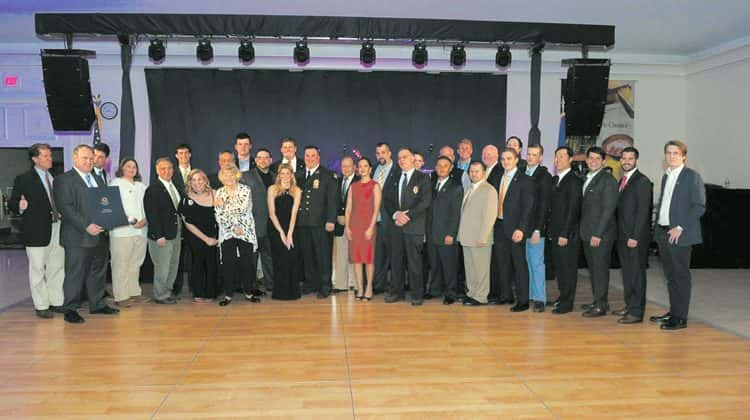 Trivia question: What town organization is 92 years old, has protected us and our homes during even the fiercest of storms, answered over 1,000 calls last year and is comprised of all volunteers? If you answered the Cos Cob Fire Police Patrol, you are correct.
What is the Cos Cob Fire Police Patrol, you may be wondering? The original concept of the Fire Patrol dates back to the New York Board of Fire Underwriters of the early 1800's. The New York Board of Fire Underwriters was an organization that insured personal and business property. Its job was to patrol New York City's streets in search of fires. If a fire was discovered, the patrolmen sounded off ratchets, a high screech, to warn people in the building or homes to evacuate to safety. One fire patrolman would then run and get the patrol wagon, containing fire salvage equipment. The Fire Patrol would assist in saving valuables items in the buildings. As a result, the Fire Patrol received its name from the Fire Insurance Industry. Since then, it has been tradition for Fire Patrol members to wear red fire helmets to distinguish themselves at the fire scene, a tradition that continues today.
Our Cos Cob Fire Police Patrol was established in November 1927, after members of the Cos Cob Volunteer Fire Company identified the need for a separate fire salvage and scene control company. On May 1, 1928, The Cos Cob Fire Police Patrol was officially organized and held its first meeting with the election of James Tomney as Captain, Chief Officer. Since then, it has had a rich, intertwined history as part of our entire Greenwich community.
Today, the Patrol operates as an all-volunteer company under the structure of the Greenwich Fire Department. The Patrol provides many valuable services to residents and first responders including firefighting, salvage operations, traffic operations and scene and lighting control at emergency calls. When your basement floods and you call the Fire Department, it is actually the Patrol that comes to the rescue. The Patrol has its own command staff, all of whom are highly trained (in fact every member of the Patrol must go through rigorous training), led by Peter Yeskey and Sebastian Dostmann.
The Patrol is incredibly active. Last year alone, it responded to more than 1,000 emergency calls, representing over 2,000 volunteer hours. Along with service members, many associate members, honorary and veteran members collectively volunteered over 5,000 hours to the Town and its citizens through community outreach, support, meetings and training. The numbers are very impressive, especially when you consider that there are 45 members of the Patrol. This is a group of dedicated volunteers.
When the Fire Patrol first began in New York City, it was funded by a two percent fire tax that was levied on the city's commercial structures. While we certainly do not want another tax in Greenwich, we do need to support our own Patrol. If you are free Saturday night, consider attending the Cos Cob Fire Police Patrol's benefit at the Water Club, honoring Rick Kral and all he does for our community. Rick is the owner of The Water Club and Beacon Point Marine and long-time volunteer with the Chamber of Commerce, RTM and many other organizations in town. His recognition is well deserved.
Organizations like the Cos Cob Fire Police Patrol are what make Greenwich special. When you consider the fact that the Patrol is made up of volunteers who undergo 100 hours of training, we all owe them our gratitude and appreciation. Thank you Cos Cob Fire Police Patrol for all that you do for our community.
Visit its websitae for more information at www.cfpp.org. Donations are tax deductible.
Tags:
CCFPP
,
greenwich