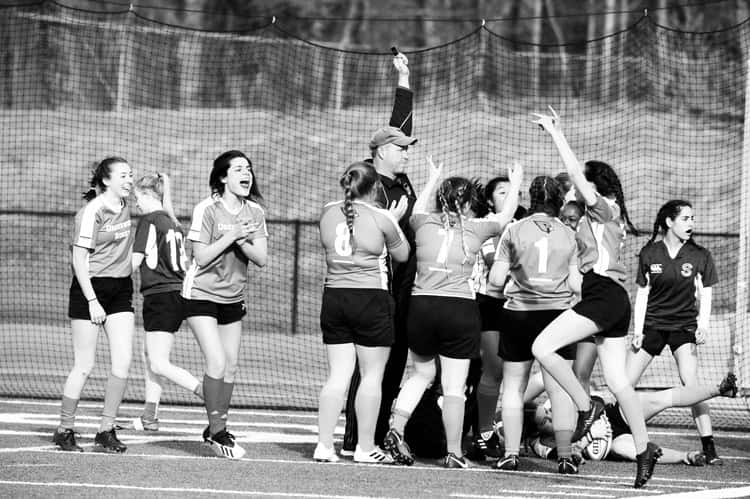 No longer "girl power," we're pretty sure it is just plain old power. No matter what you call it, we would like to say congratulations to the Greenwich High School girl's rugby team. These young women are tough, and not just because they're playing rugby.
This past week they played their first varsity game against the number 1 ranked Southington. While the outcome of the match was not what was hoped for (i.e.: they did not win) the level of play and competitiveness left no doubt in the minds of all who watched that girl's rugby at Greenwich High School is off to a fantastic start.
One parent expressed concern to a player with blood on her leg. Her response? "Not my blood." Rugby athletes are notoriously tough.
Indeed, in speaking with Stephen Walko, who played rugby during the 1987 season when it was still just a club sport, he recalled a game played in rural Pennsylvania. He said the match was played on a corn field in the middle of nowhere that had simply been mowed. When you fell, you might be hitting a stone or a corn stalk," he recalls. "It hurt!"
Walko says, "It was the camaraderie that made it what it is. It was about the team."
Fast forward 32 years and Mr. Walko's daughter, Nicole (wearing #13), has been instrumental along with Caitlyn Hone (#1), tri-captains Olga Wilson, Janel Codjoe, and Djuly Fleurant as well as many others, in moving girl's rugby from being a club sport to a varsity team. It has not been an easy task and it takes an incredible amount determination and drive, drive that must come from the student athletes rather than from parents.
These student athletes must agree to a series of strict commitments to ensure the sustainability of the varsity sport. They must agree to practicing 5 days a week. They must be coached by a licensed and registered professional. In this case Erin Martschenko continues on as their coach conditioning them from club to varsity.  They must also agree to an athletic code of conduct. They are agreeing to do what is necessary for their club team to be worthy of competing with varsity squads throughout their league.
A huge hat-tip must be given to head coach Erin Martschenko who has been with the team for several years now. She saw the potential. Moving from club play to varsity competition is a huge step, especially in rugby. The athleticism required to compete, the physical contact, the speed of the game all increase exponentially. Ms. Martschenko would not have helped guide her athletes to varsity had they not had the drive and willingness to take on the challenges and risks.
Greenwich High School has a long association with rugby, dating back the mid-1980's. It is a sport that is gaining a following in town, perhaps because of the number of ex-pats we have from Great Britain or just because of the competitive nature of the sport. Regardless, GHS has a very strong program.
Once again, the boy's squad is anticipated to make it to the state championships under the tutelage of head coach Joe Kelly. They won their session opener against St. Anthony's from Long Island 52-10. They have already been invited to the National High School Rugby Championships, to be held in Salt Lake City, Utah.
Greenwich is no stranger to success. We see it every day. Where it is most impressive, however, is when we see it originating from our children, especially when they are initiating an effort that takes such grit, determination, perseverance and patience. We want to congratulate the entire rugby program at GHS, but we want to say a special congratulations to the girl's squad as they embark on what we believe is already a successful program. Good luck to all.