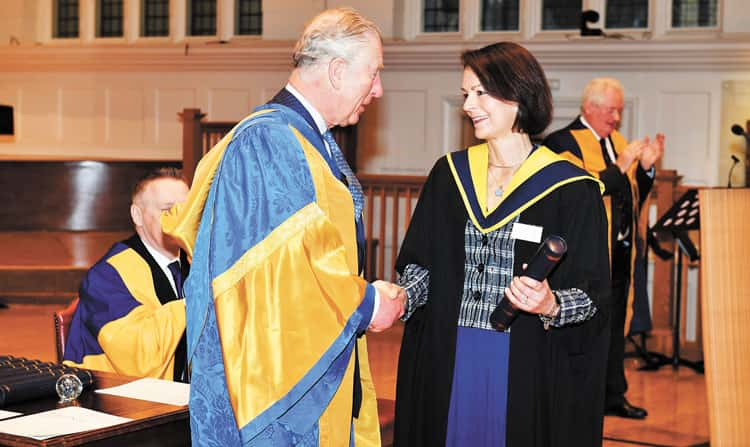 By Anne W. Semmes
Sentinel Correspondent
Victoria Robey has an Order of the British Empire for being honored in 2014 for her "Services to Music" in her adopted country of the United Kingdom. She is also the daughter of a beloved Greenwich resident, the late Lloyd Hull, who's been described as "perhaps one of the last of a generation of patriotic gentlemen."
Robey, who chairs the board of the acclaimed London Philharmonic Orchestra is now helping her family honor her father with a "Gala Evening" concert by the Philharmonic – their first Connecticut visit — on April 16 at the Palace Theatre in Stamford.
Besides honoring WWII Naval Officer Hull, whose musical tastes included Bach, Beethoven, Brahms, and anything big and bold (Beethoven, Sibelius, and Mahler are on the program), concert beneficiaries include the Greenwich-based Young Artists Philharmonic, with its youth orchestra comprised of children from high-risk socio-economic groups in Connecticut.
Robey's view is her "modest" dad would only have welcomed such an honoring "If there was a way it could contribute to the community he so loved."
She credits Greenwich's Ambassador-at-Large Bea Crumbine for alerting her to that community connection, the Young Artists Philharmonic. Crumbine is co-chair of the Connecticut Gala Committee of the American Friends of the LPO.
Robey came to live in the U.K. in 1984 after a childhood in Greenwich shared with sister Lisa (Weicker), brother Robert, father Lloyd and mother Mary Hull. Perhaps the thread of her musical passion is traceable to kindergarten, when her mother insisted on piano lessons. She then invited her to sing with her in the choir at Round Hill Community Church (where her mother continues) and supported her playing the flute.
Her Goldman Sachs employer placed her in London where she searched out classical music in those "great halls," the Royal Festival Hall — home of the LPO, and the Royal Opera House in Covent Garden where her husband-to-be (in 2014) Sir Simon Robey served as chair until recently. But there was a first English marriage with three children she shepherded into playing string instruments, and piano, and singing. A discovery of a portrait of her maternal great-grandmother posed with a violin seemed to hint at a family music-loving gene.
"She had studied with the great Brahms violin protege, Joseph Joachim," shares Robey. "Amazing really."
Robey engaged top teachers for her children from the Royal College of Music, where she came to know a renowned violin Professor Rashkovsky. The two saw the need to provide music education for young students from "very challenged backgrounds socio-economically." So, in 2007 they created the London Music Masters program that "aims to increase diversity and inclusion in classical music," and provide promising young artists with performance opportunities.  A "parallel objective" Robey would realize with the Young Artists Philharmonic.
Robey then joined the board of the London Philharmonic, succeeding to her present chairmanship in 2011. She's the first woman to serve since the Orchestra's 1932 founding by famed British conductor Sir Thomas Beecham. For her time serving on the Royal College of Music's board, she was presented with an Honorary Membership of the Royal College by its president, HRH The Prince of Wales. But Robey hastens to add, "I am a behind-the-scenes sort-of person."
Swimming in such supreme musical circles, the question has to be asked. In a given week how much music is Robey exposed to?
"On average…at least two to three musical performances," she said. "I try to get to all of the LPO's London performances, and, when I cannot get to something I usually try to go to a rehearsal."
She also tours with the LPO "for a part of any given tour, depending on where they are going."
Prior to the Palace Theater the LPO will perform at Lincoln Center.
She describes the years when Sir Simon was chairing the Royal Opera House, as a "super crazy" time.
"We were trying to juggle his ballet and opera evenings with my symphonic performances while still squeezing in recitals at Wigmore Hall, a great favorite of ours for so much brilliant chamber music," Robey said. "We were out up to even six nights a week, which is probably excessive, but we find it hard to miss things when we are leading from the front. And, of course, we genuinely love it."
Come summer, when the LPO moves off to the English countryside for the Glyndebourne Opera season, Robey gets a break.
"I only ever go to one performance of each of the four or five operas the LPO performs." And that's when the Robey's aim to "boycott all other classical music…and see films, theatre, play tennis or golf, go for walks on the Suffolk coast or generally hang out reading or enjoying the children (six between us like the Brady Bunch) and dogs."
One event she's looking forward to, having been granted the honorary "Freedom of the City of London" as an Alderman of the ancient city guild, the Worshipful Company of Musicians, is the privilege, dating from the 13th century, "to bring one's sheep to market in London over London Bridge."
She plans to share her sheep day with fellow honoree, friend, and conductor, Sir Antonio Pappano, Music Director of the Royal Opera House, a former Bridgeport, CT resident.
For tickets and information on the April 16 "A Gala Evening Honoring Lloyd Hull" with the London Philharmonic Orchestra, at The Palace Theater in Stamford visit www.palacestamford.org or call 203-325-4466.