March 13, 2019
State Rep. Fred Camillo to Run for Greenwich First Selectman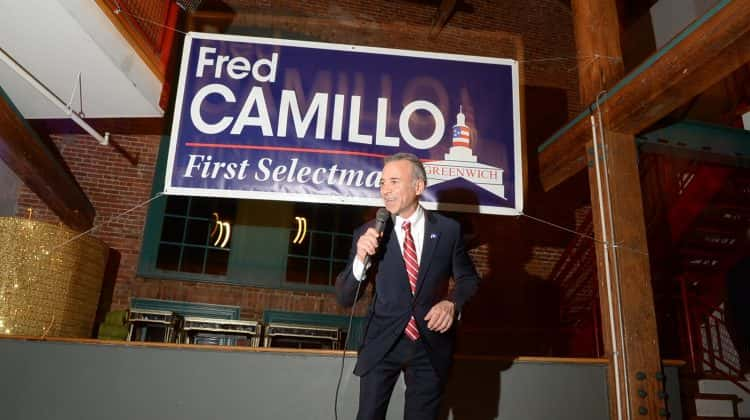 By Richard Kaufman
State Rep. Fred Camillo (R-151) has officially thrown his hat into the ring, as he formally announced his plans to seek office as Greenwich's chief elected official on Tuesday night at the Arch Street Teen Center in front of a large and boisterous crowd.
Camillo now joins Board of Estimate and Taxation member and fellow Republican, Michael Mason, as candidates for the position. Current First Selectman, Peter Tesei, announced last month that he will not seek re-election for a seventh term in November.
Attendees waved red, white and blue signs that said "Fred Camillo First Selectman" and "I'm With Fred" before Camillo was announced on stage by his former Hartford colleagues, former State Rep. Mike Bocchino and former State Sen. Scott Frantz.
"Every once in a while, you come across a truly extraordinary person who would make an extraordinary candidate for an office that means so much to us here in the town of Greenwich. It is an office that is near and dear to our heart, and it can make all the difference in terms of our quality of life," Frantz said. "[Fred Camillo] is a person who I've worked with for well over a decade, and I can tell you something: no one works harder than he does, no one loves this town more than he does, no one loves each and every one of you future and existing constituents more, than Fred Camillo."
Bocchino described Camillo as a "genuine human being," and said that if elected, he will work to represent all people in Greenwich, from youth to seniors, and those who have to work two jobs to make ends meet.
"Fred Camillo is a guy who is going to go out there and fight for them on their behalf every single step of the way. He's done it up in Hartford, he's taught us all some great lessons, and I guarantee you he's going to do it in the town of Greenwich for you," Bocchino said.
Camillo, a lifelong resident of Greenwich, pointed out that if elected, he'd be the first person to serve on the Representative Town Meeting, Connecticut General Assembly, and as First Selectman.
"But it's really not about a title, nor is it about the next logical step. I love my job right now at the state capitol, but I love my town more," Camillo said. " In 10-and-a-half years at the state capitol, I've learned a lot. It's a time that I'll always cherish up there. I've learned a lot of things, and one thing I have learned is that I never want to see my hometown be like Hartford."
Camillo went on to say that "Greenwich has been the best run town since the 1930's," mostly because of civic involvement from residents and strong leadership. Camillo praised Tesei for his service to the town and strong leadership as First Selectman over the last 11 years.
Tesei said on Tuesday afternoon at Town Hall that he's willing to help any candidate if he or she has questions about the job.
"I wish all the candidates seeking the position well. If I can be of service, offering information on elements of the job, and also what are issues we are currently facing, I'm happy to share that with any of the candidates who have interest," Tesei said.
"Is the town perfect? No. No town is perfect, no person is perfect," Camillo added. "The great Vince Lombardi once said, 'Always strive for perfection. You're never going to attain it, but along the way you may catch excellence.' That's what we, public servants, do every day. We try to make it better, every issue, every endeavor. That's what we do."
Camillo promised that if nominated by the Republican Party and ultimately elected, he'll follow the same mindset that has guided him through Hartford over the past decade.
"I will treat my first term as my last term… It's one day at a time, one year at a time, one term at a time," he said. "I want to hit the ground running if I'm fortunate to be elected. I will give everything, every fiber of my body to it. 
"I always remember what our 26th president said over 100 years ago: 'Do what you can with what you have, where you are.' That rings true today, like it did when Teddy Roosevelt first uttered those words. With that said, let's do it."
The crowd then erupted in cheers, and chanted in unison "Freddy! Freddy! Freddy!"
An endorsement from the Republican Town Committee will come on July 24. Should Mason or Camillo not receive the nod, they can seek candidacy through a petition which would force a primary. 
So far, no Democrats have stepped forward to announce plans to run for office. Selectman Sandy Litvack, who ran against Tesei in 2017, has yet to make a decision on his future. 
Greenwich has not elected a Democrat as First Selectman since 2001.
Tags:
Arch Street Teen Center
,
Fred Camillo
,
greenwich
,
Greenwich First Selectman
,
Town of Greenwich