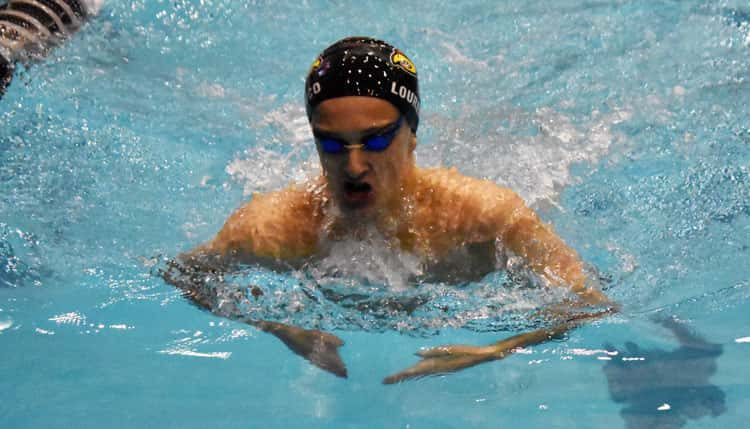 By Paul Silverfarb
Sentinel Editor
The Greenwich High School boys' swimming and diving team dominated the Connecticut Interscholastic Athletic Conference class LL championship meet earlier today, easily taking home the title with 911 points.
"It was a really good meet," said GHS head coach Terry Lowe. "We really had to step it up and we did just that. We had a good trials, but we weren't very fast. We knew that it was going to have to take a whole different level of performance if we were going to come out on top today and stand a chance during Opens on Thursday."
The next closest team to Big Red was fellow FCIAC foe Ridgefield, as the Tigers grabbed the silver with 598 points. In third place was Fairfield Prep with 537 points and Glastonbury High School ended the day fourth with 487.5 points. Rounding out the top five was Staples with 337 points.
"It was definitely a great meet," said senior Nicholas De La Sierra. "We had a lot of great times and were definitely determined. I felt great out there today. With all our training and our taper season, we have been able to improve and get better. We were very excited to get that victory today."
Leading the way for the Cardinals in the class LL finals was senior Stephan Todorovic. He took home the top prize in the 200-yard individual medley, netting a time of 1:51.08. He was just over two seconds quicker than Fairfield Prep's Richard Nolan, as he placed second with a time of 1:53.04.
"Stephan really had some great swims today," Lowe said. "We knew it was there and it was great to see him finally go into the mindset to make it happen. He looked really good out there."
Todorovic also competed in the longest event of the day, the 500-yard freestyle, and touched the wall second overall with at time of 4:36.98.
"I felt really good out there," Todorovic said. "At trials I was a little underwhelmed with my performance but today felt amazing. It was great to come out here and win a race and take second in another race."
Not to be outdone was Charlie Clark, as the GHS junior took home a top time of 46.57 seconds in the 100-yard freestyle.
And just like FCIACs, depth played a huge role in Greenwich's dominating class LL performance.
"The key thing was depth that got us over the hump," Lowe said. "We had some wins today and some really fine swims, but when you look in general at some of those top swimmers in the state, we are just a little bit behind them. We need to get that second and third guy in order to offset the fact that we aren't going to have that many victories."
To read much more on Greenwich's victory at the CIAC class LL championships, including more quotes from GHS athletes and Lowe, check out Tuesday morning's Greenwichsentinel.com and Friday's Greenwich Sentinel.