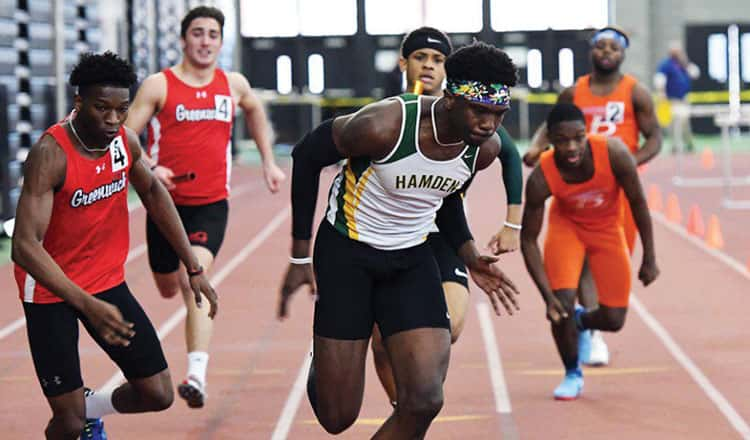 By Paul Silverfarb
Sentinel Editor
The Greenwich High School indoor track team will be representing the State of Connecticut at the New England High School Indoor Track Championships in the beginning of March, as both the boys' and girls' squads picked up some pretty impressive qualifying times.
During the Connecticut Interscholastic Athletic Conference State Open championships, held at the Floyd Little Athletic Center in New Haven, several Cardinals picked up times that automatically qualified them into the New England finals, which will take place March 2 at the Reggie Lewis Track Center in Boston.
"Overall I thought it went really well," said Cas Loxsom, head coach of the GHS girls' squad. "Everybody finished about where they were seeded. We nailed our individual events across the board. The three individuals that ran all made New Englands. That was a win for the distance group. Although the 4×400 didn't make New Englands, I think it is a blessing in disguise. We are going to get back to basics and have three weeks to get back and train for the relays we qualified for New Balance Nationals. We have some good opportunities coming up."
Leading the way for Big Red on the girls' side was sophomore Mari Noble. In only her first full year running indoor track, Noble has been nothing short of dominating. At the State Open meet, Noble came in as the top seed and didn't disappoint. She bolted to the front of the pack during the 3,200-meter run and led the majority of the race, crossing the finish line first overall with a time of 11:00.83.
"I think 90% of her run was just confidence in her run, her training and preparation for the race," Loxsom said. "She's worked really hard and has done what she needs to do. I think you can see that she was confident where she stacked up against the field."
The next closest finisher was Danbury's Daniella Grullon-Pena, as the sophomore was just under 11 seconds off the pace Noble set.
Loxsom said that it's always rewarding when one of his athletes takes home the gold medal. What made her performance even more impressive was that she was the heavy favorite and was able to live up to the lofty expectations.
"If everybody expects you to win, you can meet expectations or not quite live up to them," Loxsom said. "That's a lot of pressure to put on a 15-year-old but I think she handled herself like a champion. It was super impressive, and she knew the game plan. She went straight to the front and stayed there. I didn't want to put too much pressure on her and get crazy serious on her."
And Noble wasn't the lone Cardinal in the 3,200-meter run. Not to be outdone was teammate Caroline Webb, as the GHS senior was lights out throughout the event. Her time of 11:14.81 was good enough for fourth place overall and was mere inches faster than Avon's Rhiannon Richmond, who took home a time of 11:14.98.
"Caroline being a two-sport athlete has been a unique situation, so I'm very proud of her for being flexible and buying into a non-traditional training plan," said Loxsom. "She's continuing to improve every week and I think it's a trend that is going to continue. She wouldn't have been able to kick past two girls on the homestretch last year. She's working hard on improving so I'm thrilled she's seeing the results."
Keeping the good times rolling for Greenwich High was junior Zoe Harris. During the 1,600-meter race, Harris was in a battle for a top five finish. At the end of the day she finished the event third overall, posting a time of 5:09.10 and beat out two other competitors looking to grab the bronze.
Danbury's Stephanie Queiroz took fourth on the day (5:09.62) and Ridgefield's Tess Pisanelli ended up fifth overall with a time of 5:09.86.
"Zoe's coming along so well," Loxsom said. "She's in really good shape and I really think she's ready to run pretty quick. Over the next few weeks, I think she is on the edge of having a breakout performance. Her race looked great and she's in great shape, so that converts to a mile personal record for her. She's making progress and every week she is getting better. We're working on a whole group of skills to make her finish even faster."
Just missing out on an appearance at New Englands was the 4×200-meter relay team, as the foursome of seniors Cameron Castelli, Jordan Numme and Katherine Large, and junior Jada Williams took home seventh overall with a time of 1:49.50. Taking a top 10 finish overall was the girls' 4×400-meter relay team, as the group of Castelli, Numme, Harris and junior Demarest Janis finished ninth overall with a time of 4:12.86.
And now the girls' gear up for what Loxsom is hoping will be a memorable day at New Englands.
"That track at the Reggie Lewis Center has been the best track in the country to me," Loxsom said. "I had my best high school performance there and the only U.S. title I won was in Boston. It's a really good place to run fast. The bank is very forgiving and very advantageous for longer distance runners."
While the GHS girls' track team was faring well at Opens, the Greenwich High boys' squad also had a qualifier for the New England Indoor Championships.
The GHS 4×200-meter relay team has been making noise throughout the indoor season and the State Open championships was no different. Big Red's second place performance was good enough to qualify them to battle with the bet New England has to offer.
"Before the CIAC State Open meet and prior to the start of their 4×200-meter race in New Haven, Klein talked to his team and reminded them how hard they worked throughout the season and how well-prepared they were for the race," Greenwich High School boys' head coach Jeff Klein said. "The short answer is that they performed really well."
At Opens, the Greenwich foursome of seniors Lance Large and Chris Wint, and sophomores Hunter Clark and Zane Robinson-Nye were seeded first overall in the 4×200-meter relay and were in a back-and-forth battle with Bloomfield, Hall and Shelton for the top spot during finals.
Big Red finished the race second overall, posting a time of 1:33.21. They were able to inch out the victory against Hall (1:33.73) and Shelton (1:33.88), but fell by mere millimeters to Bloomfield (1:33.15).
"They were well-prepared, that's for sure," Klein said. "The goal was then to execute and do the best they can. If you can prepare, execute and perform the best they can, then it's a successful event. There was some tension and some stress that comes into play when it comes to executing and preforming under that pressure. I think we used all our hard work, had nerves of steel and went in there and did everything they could. They ran their best time and as a coach that's exact what you hope for. Obviously they just missed out on winning a state championship, but they couldn't have done anything better. You just have to walk away and congratulate the other team."
And while it might be frustrating for Greenwich to finish less than one second away from taking home the state championship in that 4×200-meter relay, Klein knows that the silver is nothing to sneeze at for Big Red.
"I was talking to them yesterday during practice about how there is over 100 teams that compete in indoor track in the State of Connecticut," Klein said. "When you end up second and you're that close to winning, that's pretty darn good. So you feel grateful and appreciative of everything they accomplished. Sure, they would have wanted to win. But I don't think you can walk away from that situation taking anything but the good.
Despite that second-place finish, Klein said that he was actually surprised with his kid's reactions. He stated that his foursome understands that the State Opens won't be the last time they will see Bloomfield this indoor season.
"We qualified for the New England championships," Klein said. "Their next goal is to work hard the next two weeks and try to be All-New England. That's what they are focused on. They moved on in a very positive way. That's what we hoped for and it happened."
But don't think that GHS won't use their State Open finish as a little extra motivation.
"I was looking at them during yesterday's practice and they were motivated," Klein said. "They worked really hard in practice yesterday. That's what you like to see. They bounced back exactly like a coach would hope they would bounce back. They look like they are ready to move on and take the experience from the State Open and see what else they can accomplish."
The Cardinals were able to reach great success in the 4×200-meter relay against the best the Nutmeg State has to offer. Now it gets even more challenging, as Big Red preps for participation in the New England championships, which take place March 2 in Boston, Mass.
Klein said that Massachusetts has a plethora of quick 4×200-meter relay teams and there are a few from Rhode Island as well.
"We have our work cut out for us," Klein said. "But it's not unrealistic that we can finish in the top six. We are going to have to perform even better. The good news is that we are moving on to a faster track.
And the track at the Reggie Lewis Center in Boston, Mass. will be a big advantage for Klein and his squad. While other New England schools have competed at their state level on banked tracks, Connecticut uses a flat track for State Opens.
"Most of the other states have their championships on a banked track and we know that is going to help us," Klein said. "That should help us get a few seconds faster hopefully. We know that if we run well, we will get faster and that will allow us to compete with some of the states that use the banked tracks. But we still have to perform really well."